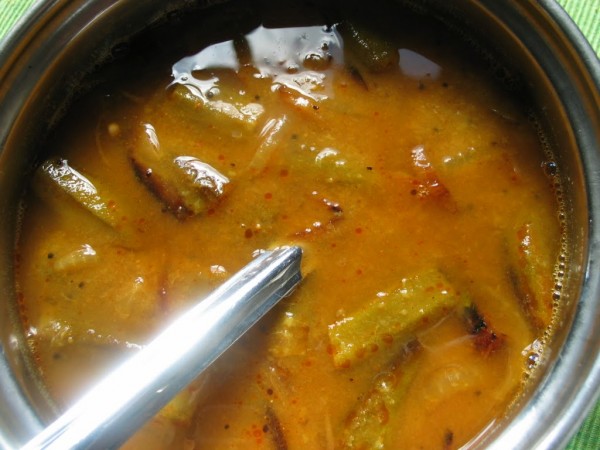 Hii everyone, this is my sambar recipe.Its too simple.My recipe is not so much sophisticated.Ingredients are easily available at home.I hope you will like my sambar recipe..:)
Ingredients
For Sambar Masala:-
2 Teaspoon Door Daal
4-5 Dry Red Chilies
3-4 Curry leaves
1 Teaspoon Methi Daana
2 Teaspoon Coriander Seeds
1 Teaspoon Turmeric Powder
1/2 Teaspoon Asafetida Powder
For Sambar:-
1 Large Tomato
2-3 Sambar Onion (If you don't have sambar onion, you can use 1 large ordinary onion)
3-4 Slices of Pumpkin ( Vertically Chopped)
2-3 Slices of Okra ( Horizontally Chopped with the distance of 1 inch)
4-5 Curry Leaves
1 Cup Toor Daal
1 Teaspoon Red Chili Powder
Method
1
Sambar is very famous and loved one recipe.Not only in south but in every corner of India it is being loved.
2
Roast all the ingredients mentioned in sambar masala and grind roasted items in grinder.
Now keep pan on a high flame and add 1 tablespoon of oil to heat. Add curry leaves, tomato, onion, pumpkin, okra on medium flame. Then add red chili powder, boiled toor daal and mix well. Then add sambar masala and salt. Make it boil and stir hot.
This recipe was contributed by a ChefInYou member.
Related Recipes You May Like
Be the first to showcase this recipe!

Your Name
Did you make this recipe?
Please click below to share your experiences while you were making this recipe. Thanks for your input!
Have a favorite recipe?
Know a family recipe your mom used to make? Or maybe a go to recipe that works everytime? Share it with your fellow foodies!