The best part I liked about making it all on our own was the Mascarpone cheese! I was like - what? Really? Me? I never knew getting pasteurized anything would be so hard to get! All I found was Ultra pasteurized stuff but whole foods saved me! At the end of making the cheese, the most amazing thing was the taste test which I put my better half through. I first gave him a small spoonful of the store bought Mascarpone cheese (remember the one I bought before I knew about the challenge?). Then I went and fed him another spoon of the home made Mascarpone Cheese. His quip, "
Hey! What's the idea of feeding me the same thing again and again?
I thought you wanted me to do some taste test? What is the other thing?
" - was the best thing I ever heard!!!!! Home made cheese which tastes like the shop bought ones - I mean what could be better than this?:) :) As for the Tiramisu - we loved it! Me, especially since this did not have the overpowering alcohol taste. This time I was drunk - but on the creamy delicoousness of the Tiramisu and not on Alcohol. Just the way I prefer it :) We were free to interpret it in our way than the traditional square pieces (which I did too). I used a trifle glass and did the layers. Cocoa dust on the top with some yummy dark chocolate covered coffee beans finished my Tiramisu presentation! :)
mangiate bene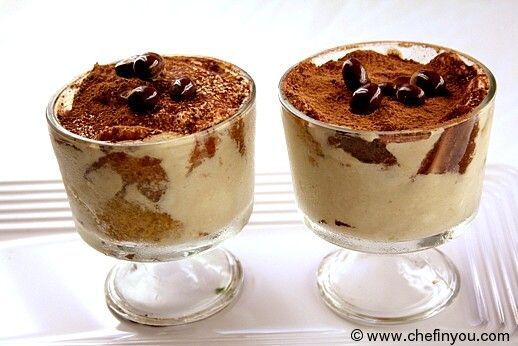 Making tiramisu from scratch requires about 2 to 3 days (including refrigeration) from when you start making the mascarpone to the time the tiramisu is served.