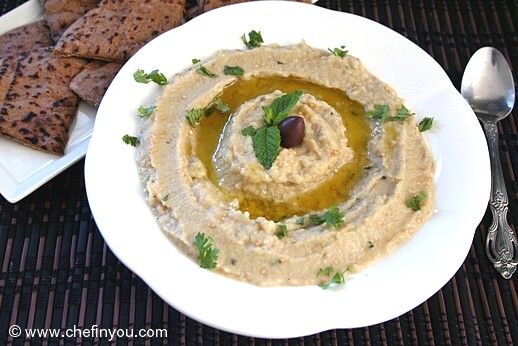 Nothing like dips and chips to make a weekend special. Even more so when there is an interesting movie/game going on. I have always been addicted to finger foods and this one is right on top. Making large batches is ridiculously simple and the result , for that little effort, mind blowing delicious.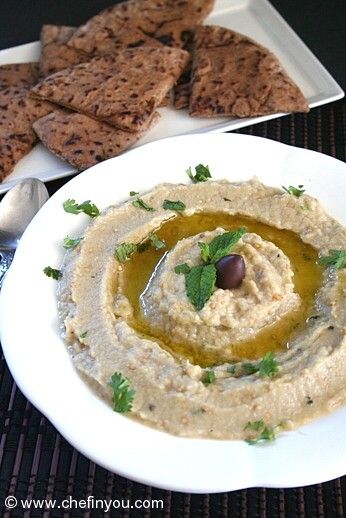 Baba Ghanoush or Ghanouj is a Middle Eastern specialty and a cousin to
Indian Baingan Bhartha
. Roasted Eggplant with its smoky flavor along with sesame paste and cumin makes this heart warming. There is only a wee bit of the eggplant taste, so those who hate eggplant - try this one out. You might actually like it :)
References
my kitchen notes : put together from various sources and adapted to our needs
Ingredients
2-3 med-large eggplant (about 2 lbs)
2-3 cloves of garlic, or 5-6 roasted, see Tips
1/4 cup Tahini, or as needed, see Tips
abt 3-4 tbsp lemon juice
1 tsp roasted cumin powder, see Tips
1/4 cup Extra Virgin Olive Oil
few sprigs of mint, divided
1 tbsp Parsley
salt to taste
Kalamata olives for garnish (optional)
Tips
1. Garlic :
If using raw garlic then 2 to 3 is more than enough since the flavor will be strong. But roasting mellows the strong flavor and gives it a delicious aroma and sweetness, hence you need more. We love to use it roasted and don't care much for the raw flavor.
2. Tahini :
Depending on the flavor of eggplants and the Tahini you are using, you might need to add in some more Tahini. Start with 2 tbsp and gradually add in more as per taste.
3. Cumin Powder :
Making your own powder is ridiculously easy. Just dry roast cumin in a skillet and grind it into fine powder. A
coffee grinder
can be put to a good use here.
Method
1
Place the eggplant on a baking sheet covered with aluminum foil. Brush the eggplant with olive oil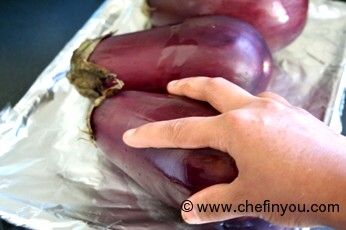 2
and poke it with a fork all over.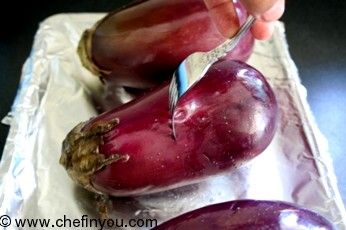 3
Broil it for 20-25 minutes on high, turning it every few minutes, until its skin blackened and blistered. You can do this process on stove top if you have gas burner, by placing the eggplant directly on the flames.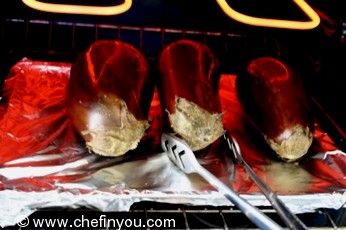 4
I placed by garlic along with eggplant until roasted. Cool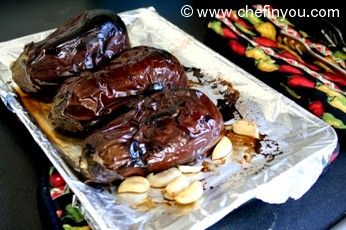 5
and then chop off the stem ends of the eggplant.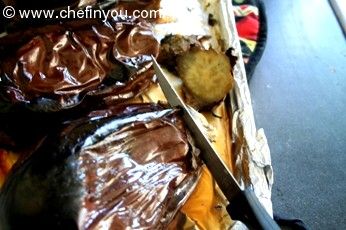 6
Peel the skin. You will find that it comes off easily.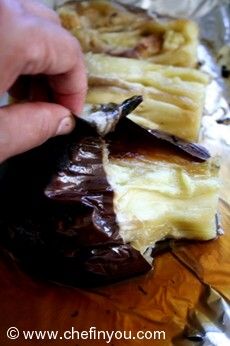 7
Meanwhile in a blender give the rest of the ingredients along with little mint (except the parsley, oil and olives), a quick swirl until combined.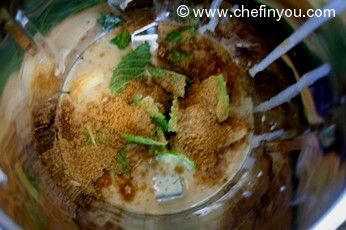 8
Add the eggplant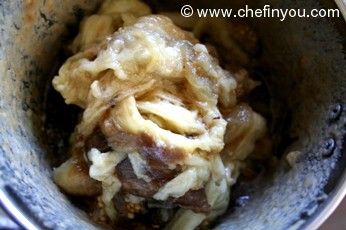 9
and process it into a almost smooth (a little on the coarse side) paste.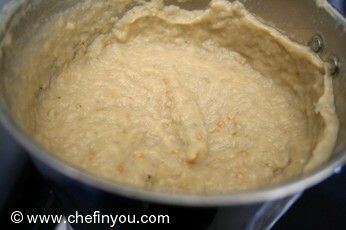 Garnish with parsley, olive oil, Olives and mint. Serve it with toasted Pita chips. I used Whole Wheat Pita chips and baked them for few minutes until toasted.
Related Recipes You May Like
Did you make this recipe?
Please click below to share your experiences while you were making this recipe. Thanks for your input!
Have a favorite recipe?
Know a family recipe your mom used to make? Or maybe a go to recipe that works everytime? Share it with your fellow foodies!