Indian Tulsi (Holy Basil )Tea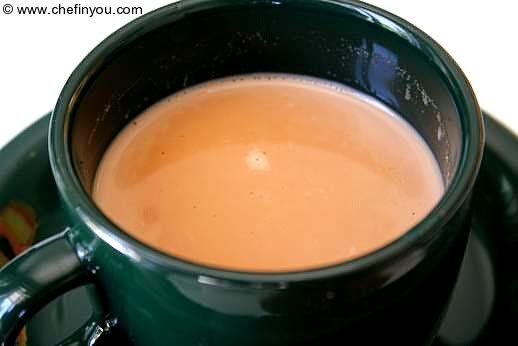 "
..100? what 100? who does she think she is kidding! She crossed 100 posts already!!!!
I read your mind dint i? You are right - It is not my 100th posts overall, but I sure hit my century for
Indian food
- which by the way will surely raise eyebrows of my dear friend to whom I insisted that making Indian foods alone is not going to be the forte of my blog, when I started out. She used to complain earlier that I rarely
made
posted Indian food, that I was not patriotic  to my country, that I would lose out on cartloads of readers because of my stubborn attitude. I have my own reasons for being the way I am which I don't think is important enough to mention here, but I have to insist that I certainly am patriotic enough (much much more than some I know!!!!!!!) and that if sole reason for me to have this blog was to market/earn money/to get more readers then I would not have lasted this long and the future of this blog will indeed be bleak! I have no endurance for anything that does not interest me enough.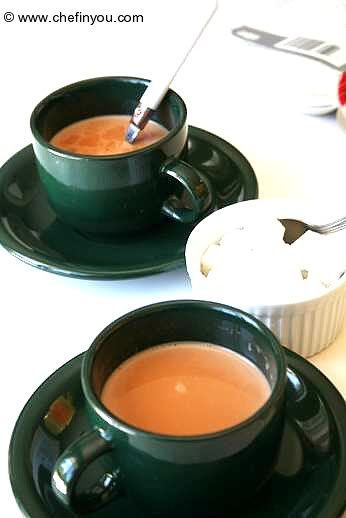 Having said all that my Indian cuisine has reached 100 at last and it has taken me about 2 yrs to do that!! Anyways when I got to know this mini landmark, I thought of making something with an ingredient very special to my homeland - Holy Basil. This is one of those rare plants which is called Tulasi (Sanskrit) or Tulsi in almost all Indian languages! Holy Basil holds a special place in India - Ayurveda having adopted it for many of its medicinal properties. Its nicknamed as 'Elixir of Life" and not without reason! "Headaches often?" "Heavy cold and coughs?","Stomach disorders?", "Heart related problems?"...."...."... Have Tulsi! I will let Wikipedia sing this
Tulsi's medicinal praise - more about it here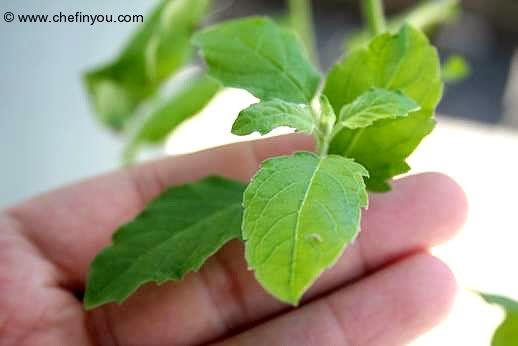 But why the tag "Holy"? Because it is considered immensely holy esp. for the followers of Vishu (namely Vaishnavites). "
Did you know that a single woman who prays to Goddess Tulsi will get married soon with a good husband? The childless will be bestowed with a healthy and beautiful baby and the ones suffering from illness can be cured if they pray wholeheartedly to Goddess Tulsi.
" say the devotees. For the very scientific minded, all I would say is that you should sit down with elders and listen to the various mystical stories. They are worth all your time. It reminds me of the time I spent with my grandmother listening to such stories. She had this unique way of being immensely expressive and manner of gesticulating that used to make us (all the grandchildren that is..) sit with rapt attention and gobbling up her every word! She used to have this big vessel full of food (being our dinner time..) and would take a little with her fingers (We Indians eat with our fingers...its priceless and not at all comparable to eating with spoon! Now you don't want me to get started on how you think eating with spoon are more hygienic - I can tell stories why you need spoons and we don't!) and pass it around in our outstretched hands while continuing with the story! Aaah! Those days!!!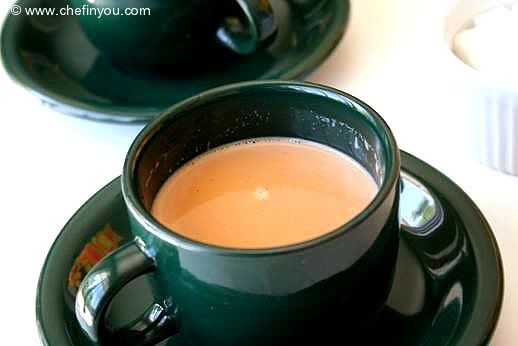 OK OK before I get completely lost with my memories,  let me come back to this post. Phew! Holy Basil a.k.a Tulsi Tea ( or should I say Chai Tea) was something my mother made while I was growing up. Not on a daily basis but esp. on those days when the home was filled with red noses! That used to be such a relief to our blocked nasal passage and relieve us of the irritating cough. You can enjoy this Tea in various ways : 1) You can make a chai tea in the manner described below 2) You can use dried Tulsi leaves to make the same tea if its available where you live 3) You can just seep all the ingredients except the tea leaves,milk and sugar and enjoy it like Tea (or is it Tea Tea!!??!!!) slightly sweetened with honey. ...enjoy it any way you like. Since the taste differs you can play around with the ingredients (increase/decrease) the ingredients given below and adjust it to your taste. The measurement is for 2 people
Ingredients
1/2 cup water
1/4 tsp fennel seeds
1/4 tsp cumin
1-2 cloves
2-3 green cardamom, crushed
1-2 tsp tea leaves (I use Indian red label)
milk and sugar to taste
Method
1
Bring the water to a boil in a saucepan. Dry roast the spices until aromatic.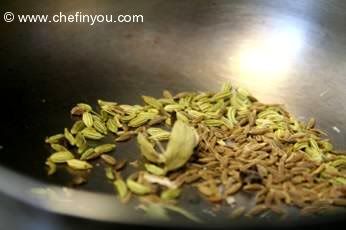 2
Now drop the spices into the water along with the tea leaves. You can alternatively powder the spices and use too.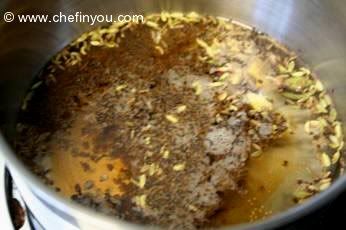 3
Add approx 6-10 Holy Basil leaves (depends on the size of the leaves). Or you can use 1/2-1tsp dried tulsi leaves.
4
Add milk to taste. If you prefer, you can add the milk separately later while serving too. I usually boil my milk along with this tea mixture. Whatever works for you - no hard or fast rules.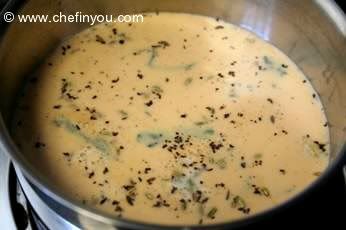 5
Now with a tea strainer, strain the tea and pour it into teacups.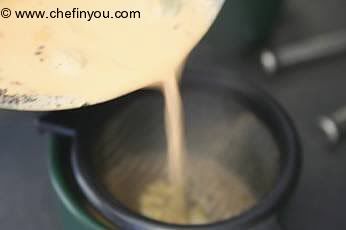 Add sugar to taste and serve Hot. For me my evening is considered incomplete if I can't enjoy a hot cup of tea, some snacks with one good Book! Now that's comfort people! And oh yes - Put your feet up too!
Related Recipes You May Like
Did you make this recipe?
Please click below to share your experiences while you were making this recipe. Thanks for your input!
Have a favorite recipe?
Know a family recipe your mom used to make? Or maybe a go to recipe that works everytime? Share it with your fellow foodies!