I just am not cooking it as fast as I am bookmarking the same. I will be a v happy and contended person if I can manage to cook at least 25% of that list! This time, out of the many "want-to-try" recipes, I finally took this recipe out - Buckwheat Blinis which I served along with Beluga Caviar.
"What Beluga Caviar? - Did I hear it right?"
- Oh yes! You did! Served it with the caviar since its traditional to the recipe so how could I have given it a miss now ;-) The recipe for the Caviar will follow next :) (smirking)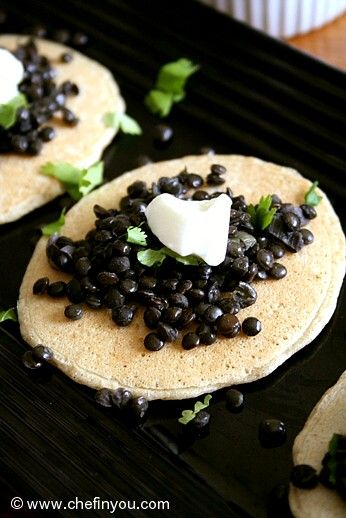 This recipe is from a book called "Vegetarian" and I followed the instructions verbatim for the blinis. I gave their Mushroom Caviar recipe a miss since I was using the Beluga ____ Caviar. These were immensely soft, chewy with an amazing bready texture! Who knew a pourable batter with yeast could make such a end result! Well I know
Ethiopian Injera
goes through similar process ending in such a fabulous result but this took much less time.I LOVED blinis and I am sure going to make this again and again! Its not difficult and takes just few hours to put together. This makes a great party appetizer.