For last few months I am in pursuit of
happyness
(
guess I am watching too many movies
) this Ethiopian delicacy called Injera.
HOW MANY BOOKS
have I researched, how many online resources have I waded through, is too brobdingnagian to elaborate here! Most of the resources contradicted each other. Many were more adept at giving shortcuts for a better taste than the real one. I mean no one would make such a dish classic  if it tasted
THAT
bad right!? Or would they? That's where so many questions arose. More than 6-7 sources claimed that Injera was made purely only with Teff flour. Made sense. So I eliminated many of my notes which carried recipes made with "self rising flour","wheat flour","rye flour??!","all purpose flour" etc.
Few other resources assured me that the highlight was the lengthy yeasty starter which made the spongy bread. Thus I eliminated few other notes which carried words "Baking powder" and "baking soda"! And now comes the problem! I did not have any recipe to work with! Either the starter had "other flours" in it or the starter was Teff but it had other flours in the main recipe!!! (
May be they were talking about other Injera! I wudnt know!)
It was confusing indeed!
I even tried searching for someone from Ethiopia, without success!
My husband actually even started doubting if he married a sane wife! Who gets fanatic about a silly flatbread and that too from somewhere called Ethiopia which in his mind is synonymous with Masai Mara? (Husbands - Go figure!) I am not even going to elaborate how much he probably freaked out when I made a stinker in the kitchen (not me - the starter did it!) ;)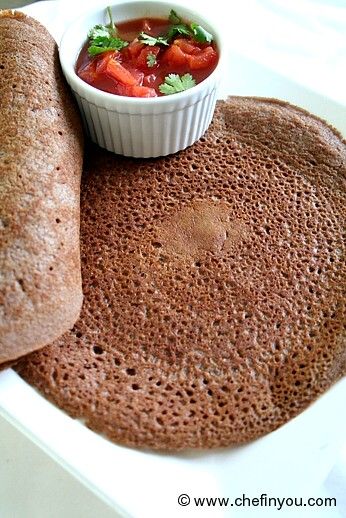 I finally zeroed on to two sites -
The Bread Chick
and
Apple Pie, Patis and Pate
(Thank YOU!!!!) whose recipes  made sense and looked totally logical from what I had read. According to the former link - I had to prepare a
stinker
Starter which was a 5 day long process! But I was determined. Once the starter is done, the rest of the process is a cinch! Yes, you can finally remove that cloth from your nose ;) And the bread - it was everything I was promised - Soft and Spongy! Only such a treatment could have made Teff flour taste this good
Basic Information
Yield
:
Makes 2 cups Starter and the batter (uses only 1/4 cup of starter) makes about 4-6 injera. Using all the starter will make around 30 Injera
Ingredients
For the starter - Takes five days. If you want to have some starter left over to make injera again, wait seven days.
3/4 cup water, room temp. (70 degrees)
1/2 cup teff flour
A pinch active yeast (about 1/8 tsp)
For the Injera
1/4 cup teff starter
1-3/4 cups water, at room temperature
1-3/4 cups teff flour
1/4 tsp salt
Tips
* although
Apple pie, Patis and Pate
mentions using wheat/white flour starter if making Injera for the first time, I went ahead with teff and I am not dissapointed.
Method
1
Lets start with the starter first! (Duh!) I followed Bread chick's instruction to the tee
Day 1:
Combine ingredients for the starter in a bowl.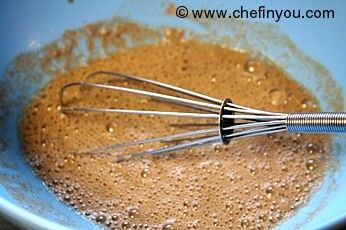 2
Loosely cover the starter with the lid/cloth and ferment for two days on the counter or someplace that is about 70 degrees. You should see some rising in about four hours. Let alone for 2 days.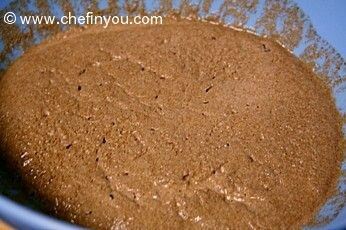 3
Day 3:
Stir the starter. This is when the stinker effect starts. The starter has a very yeasty and grassy smell. You will also notice that small bubbles on the surface now.
4
Feed the starter 1/3 cup teff flour and 1/2 cup water and loosely cover with the lid. Let alone for 2 days.
Day 5:
Starter should have separated into distinct layers. You would think that something has gone wrong with it - what with watery layer on top and dense muddy flour at the bottom! But that's exactly what we are looking for :) Stir starter, it should be slightly fizzy and have a very strong grassy aroma. Feed with 1/3 cup teff flour and 1/2 cup water. Loosely cover and allow to sit alone for at least 4 hours before using to make Injera. You should have about 2 cups of starter by now.
Note:
If you go to Day 7, follow Day 3 instructions for Day 5. You will have left over starter to make Injera again in the future this way.
( I just realized that I have forgotten to take a picture of my day 5 starter! Guess that stink got to me! )
Now lets go to the Injera recipe (verbatim from this link) Uses only 1/4 cup of the starter. If you want to use all the 2 cups of the starter increase the flour, salt and water accordingly
Mix. Place the starter in a bowl. Pour the water over the starter and stir to dissolve.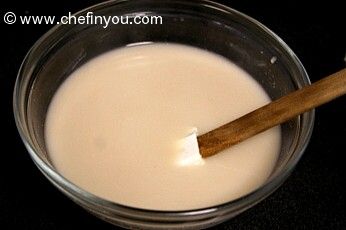 5
Add the teff flour and mix until the batter is smooth. It will have the consistency of thin pancake batter.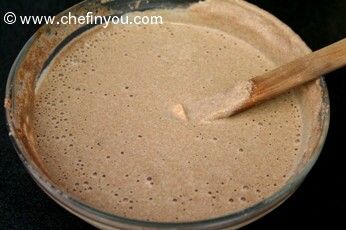 6
Ferment. Cover and let stand for 5 to 6 hours at room temperature. Reserve 1/4 cup of the starter for the next batch.
7
Add the salt and stir to dissolve.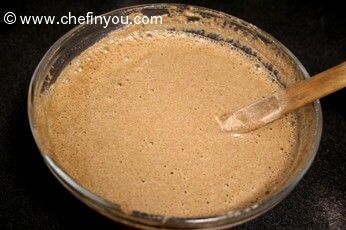 8
Heat a 10- or 12-inch skillet over medium heat (you'll also need a tight-fitting lid). Using a paper towel, wipe the skillet with a thin layer of vegetable oil. Pour about 1/2 cup (for a 10-inch skillet) or 3/4 cup (for a 12-inch skillet) of batter in the center of the skillet.
9
Tilt and swirl the skillet immediately to coat evenly.
10
Let the bread cook for about 1 minute, just until holes start to form on the surface.
11
Cover the skillet with the lid to steam the injera.
12
Cook for about 3 minutes, just until the edges pull away from the sides and the top is set.
13
The first 1-2 Injera's might be a slight disaster - Don't worry. The rest of them will be pillows! See 1 and 2 of mine down here? Sad :(
But from the next ones it will be amazing.Promise. You don't have to turn the Injera. Just cook it on one side. It does not get the spongy texture immediately. But let it rest for 3-5 minutes and it suddenly gets that amazing texture. There is no muddy, bitter taste of Teff either. Serve it with any spicy dish. Spicy dish goes very well this. I served it with some hot tomato stew. Great for scooping the side dish!!
Related Recipes You May Like
Did you make this recipe?
Please click below to share your experiences while you were making this recipe. Thanks for your input!
Have a favorite recipe?
Know a family recipe your mom used to make? Or maybe a go to recipe that works everytime? Share it with your fellow foodies!