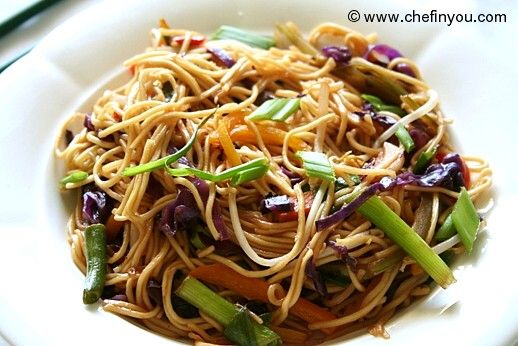 I try to incorporate as many different varieties of vegetables as I can, in a day to day meal. I also love to add as many colors as possible. The colors not only add to the vibrancy of the dish but they also denote the type of nutrition that particular vegetable is rich in. So more the colors, better it is for you.  I tend to buy those vegetables that I can easily use in my day to day cooking in bulk. Like these Baby bell peppers.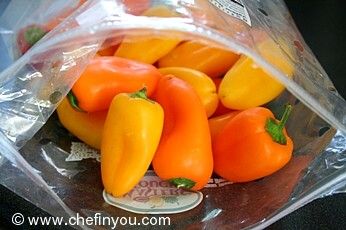 I saw a big batch of them at local Cost Co store and I couldn't stop myself from getting one. They look so adorable, don't they. It has yellow, orange and red mini bell peppers. Among the various recipes I made that week with these peppers, was this dish, which has a crazy fan following in India - Hakka Noodles. The name brings back memories of street foods and fast food stalls. This is an Indo- Chinese creation. It is one of my go to meals when time is short and inspiration is sorely lacking. Easy, quick to make, it is one of those delicious meals which plays a regular role in my house.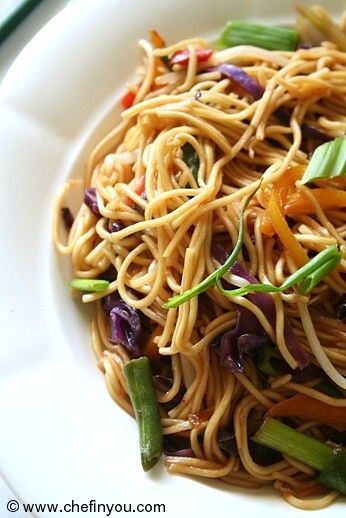 There are immense varieties of this famous dish available with each cook adding his/her own touch of creativity to it. I don't have a specific version since I tend to add ingredients whatever I have in hand on that particular day. Each time I make it tends to taste a little different. I sometimes add pan fried Tofu to this dish to add protein. On this particular day, I was inspired by colors and added as many different colors as I could.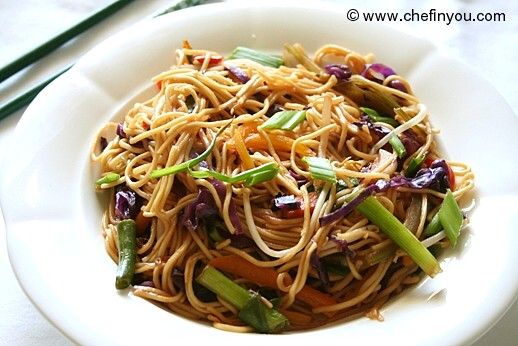 The purple cabbage, the multi colored bell peppers, beans and spring onions came together to make this beautiful dish. You can use any vegetables you have on hand on that day. Like tofu? Add few cubed tofu while stir frying to add protein to this dish.
References
my kitchen notes
Ingredients
1 packet Hakka Noodles (200gms, 7 Oz )
4 spring onions, sliced crosswise, greens and whites separated
about 1 cup purple cabbage, shredded
1/4 cup frozen beans
about 1 cup thinly sliced multi colored capsicum
1 medium carrot, julienned
1 medium celery, thinly sliced
1/2-1 cup bean sprouts
1-2 garlic, finely minced
1-2 tbsp low sodium soy sauce (depending on the brand, you might need less/more)
1 tsp vinegar(optional)
1-2 tbsp chilli sauce, as per taste (optional)
salt and pepper to taste
Tips
Note:
Try whatever vegetables you have on hand. Add Vinegar little by little depending on your taste buds. You can also add 1-2 tbsp Ketchup to the stir fry. If you want to create like the roadside stalls, add in more oil to the noodles in the middle of cooking. I have avoided excess oil to keep it healthy
Method
1
Boil the noodles as per the package instruction. Add salt, oil  to the water.
2
When it is about 85-90% cooked, drain the noodles and toss it lightly with cold water. Drain it completely and set aside until ready to use.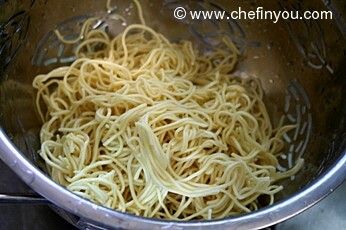 3
Meanwhile heat a wide skillet. If you own a Wok, then it is best to use it for this.  Heat about 1 tsp of oil until it smokes. Make sure you have all the vegetables ready by the side since its all about quick cooking. Add the garlic followed by spring onion greens, bell peppers, cabbage, celery, carrots and beans. Toss on high flame for 2 minutes. Don't leave the vegetables on their own since at this stage they can easily burn. You would want to keep tossing them.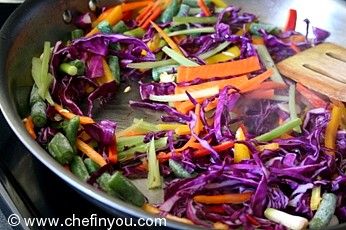 4
When you find the vegetables softening slightly , add the noodles, soy sauce, vinegar, salt, pepper, chilli sauce (and ketchup if using) , bean sprouts along with spring onion greens.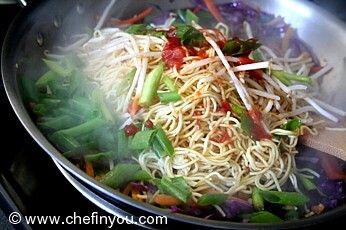 5
Give it a good toss and saute for another minute or so.
Serve hot and immediately.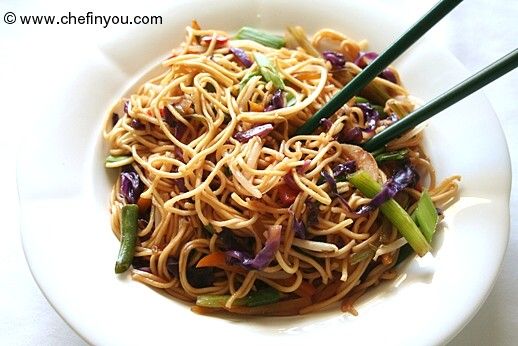 Related Recipes You May Like
Did you make this recipe?
Please click below to share your experiences while you were making this recipe. Thanks for your input!
Have a favorite recipe?
Know a family recipe your mom used to make? Or maybe a go to recipe that works everytime? Share it with your fellow foodies!