Eggless (Vegan) Mango Cake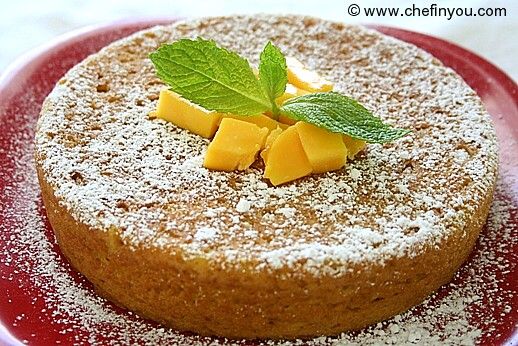 Its immensely sad knowing that the mango season is slowly going away for the year :( I thought it was gone when my better half came home one evening last week with a big basket of mangoes. He informed me that a Mexican grocery was selling it and they looked fresh - so he got them. They were succulent and v sweet. Came as a pleasant surprise and I was immensely overjoyed since I am a mango freak. Love them! The batch he bought had about 20 mangoes (It was on a sale - obviously!) and needless to say, I wanted to use all of them without any spoilage. While we enjoyed them as they are, I also managed to make some dishes with them among which was this cake.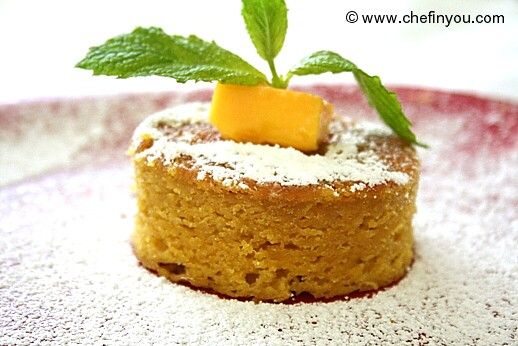 I was running out on dairy and had no eggs on hand,  hence this recipe from
Vaishali
was IT since its not only just eggless - its Vegan too. Cakes and cupcakes are interchangeable and the only care that one needs to take is the cooking time. Since cupcakes are small, they cook faster whereas cakes will take a little longer for the same batter. We are not crazy about frosting hence did not use any making this low on fat. I also managed to cut down on the recommended sugar since our mangoes were v sweet. If you see the picture above, you can see the texture of the cake. This recipe made a
slightly dense and moist cake.
The aroma of mangoes coupled with cardamom powder while baking, is something to be experienced. A keeper recipe.
Important Update
A few readers
who made this recipe had issues with the recipe. They felt it was dense and chewy without the sponginess. Hence, I thought I will update the post with my comments for such cases. Usually the fat from say
butter, dairy etc
along with the airiness from
Eggs
are what that gives that remarkable flakiness, sponginess and richness to a cake. Needless to say
Vegan cakes
with this little fat (only 1/3 cup oil) will be on the dense side. But unlike many other recipes that I have tried this one managed to stand out with only a lightly dense and melt in the mouth texture. Here are the possible reasons that could make this too much dense.
Overmixing the batter - Such cake batter should be handled v gently, I had mentioned that only a gentle mix is enough..overmixing will make it more dense.
Overbaking - even a little extra time like say 5-8 minutes can harden the texture of the cake. So the cake could have overbaked.
As for tasting delicious - thats entirely dependant on the quality of the mangoes used. Were they sweet? Was the sweetness enough? Did you get the mango taste in this cake? The mix of cardamom and mangoes was v prominent to our taste buds...
Basic Information
Cook Time
:
30 min to 1 hour
Yield
:
One 8 inch and 2" deep cake
Ingredients
1-1/2 cups all purpose flour
2 tsp baking powder
1/2 tsp salt
1 tsp cardamom powder
1-1/2 cups mango puree (I added +2 tbsp extra) -(see Tips)
1/3 cup canola oil (I reduced 2 tbsp since I added extra puree)
2/3 cup granulated sugar (I cut down about 2 tbsp since my mangoes were sweet)
1 tsp vanilla
Tips
1.
Mango Puree :
Alphonso Mangoes work
THE
best for this recipe. You get canned alphonso mangoes in all Indian stores. If you are using canned Mango puree cut down few tbsp of sugar from the recipe since canned ones tend to be too sweet already. I used fresh mango puree which were naturally v sweet hence used a little less. But if you are mangoes are not very sweet, use 2/3 cup measurement.
If you want to
Bake using Microwave
pls refer to these articles:
1)
How to Bake in Microwave
2)
How to Bake in Microwave Convection Oven
For making
Substitutions
please refer my handy chart:
1)
Baking substitutions
2)
Egg Substitutions
Method
1
It took me about 4-5 mangoes to make about 1-1/2 cups of fresh puree. I skinned the mango and added the pulp to a blender.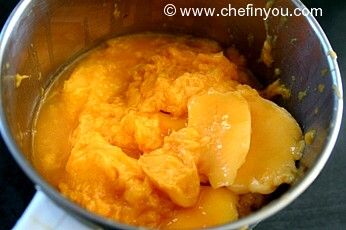 2
Pureed them into a smooth consistency. I got a little more than 1-1/2 cups hence used them all and reduced the oil to compensate for moisture in the batter. The result was still good.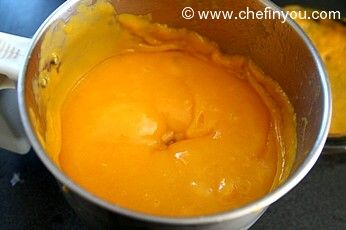 3
In a bowl, I sifted the flour along with salt and baking powder together.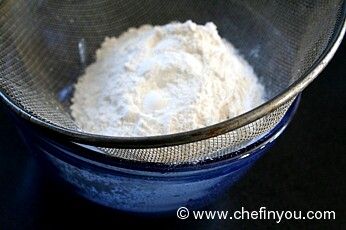 4
Add the cardamom and give it a quick mix until blended.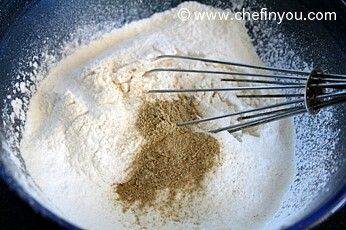 5
In another large bowl, add rest of the ingredients together and whisk well until smooth.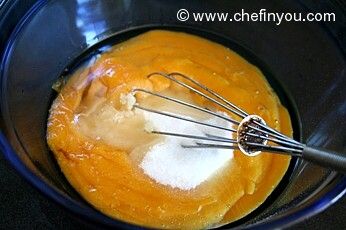 6
Slowly add flour little at a time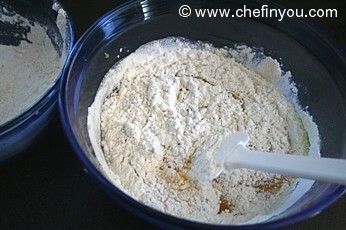 7
and give it a gentle mix. Don't over beat the batter.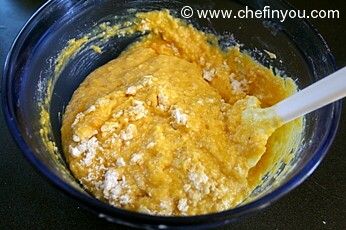 8
Pour the batter into a well greased cake tin and smooth the top.
9
Bake in a preheated 350 F oven for 30-40 minutes or until a skewer inserted in the center comes out clean. My oven gets heated v fast hence I always reduce the temperature few notches from the recommended one. So I baked the cake at 320F for 20 minutes and it was done for me in that time. Adjust according to your oven.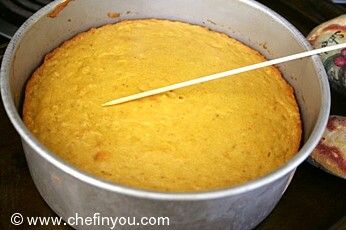 10
Let it cool for sometime. You will find the cake leaving the sides after cooled.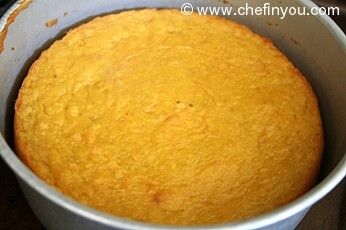 Dust with powdered sugar or pipe in frosting or serve them as they are. I dusted little powdered sugar and garnished with few fresh mango slices and mint leaves. You can also cut them out into small circles like I did in one of the previous pictures to make small individual serving as a dessert or simply bake them in a muffin pan to make cupcakes.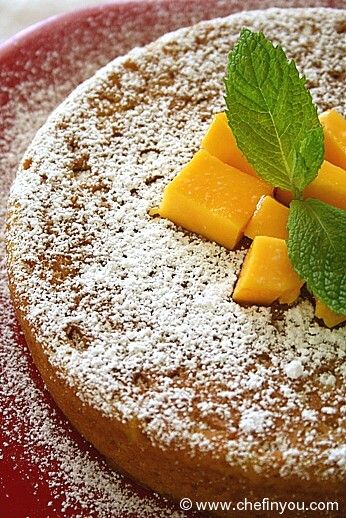 Related Recipes You May Like
Did you make this recipe?
Please click below to share your experiences while you were making this recipe. Thanks for your input!
Have a favorite recipe?
Know a family recipe your mom used to make? Or maybe a go to recipe that works everytime? Share it with your fellow foodies!