Suddenly remembered
this recipe from Giada
that I have been meaning to make for a long while ever since I saw it in her show. One thing that beats me is while everyone is busy grabbing the throat of
Paula Deen
for killing Americans with her cooking, how do they let
Giada
get away scot free? There is always an immensely "healthy" dose of oil, butter and cheese in all her recipes (I am not even going to the calorie count in the meat she uses - cos I wouldn't know!!) I do not comply to her policy of dousing vegetables with oodles of butter and cheese just to make it interesting to Kids. The fact that the dish probably ends up tasting of only cheese is not really doing the "healthy" vegetables a favor!  I have tried like  6-7 of her recipes and I have always managed to cut down at least half of the fat she uses easily and still f
inding the dish v flavorful
. This dish undergoes the same treatment...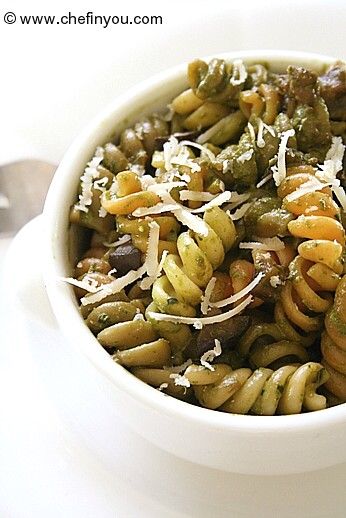 I managed to cut down on the huge amount of oil and cheese in making the pesto and also the oil in cooking the eggplant. As I always insist, adding so much fat naturally will impart lot of flavor to food - we don't need chefs to tell us that! Its cooking and retaining the flavor with little fat is what needs effort and thinking! The only Chef I find for such tasks in the whole of F
ood Network is Ellie Krieger!
She is my favorite.