Indian Brown Rice Pudding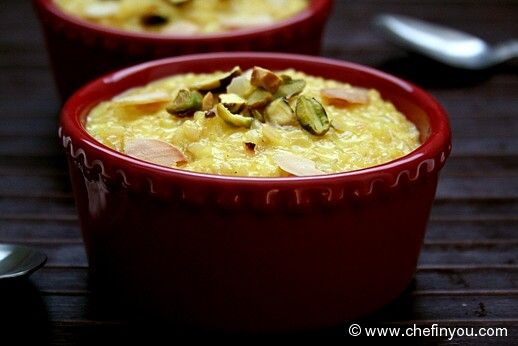 We all know the benefits of brown rice, so I am not going to bore you to death by listing it out. The point of this post is to tell you what a good girl I have been by buying a huge bag of brown rice. What I don't want to tell you but forced to is that I have not been as diligent in using them promptly! I get so excited whenever I visit Whole Foods - like a kid lost in toy land. Items one after the other end up in my cart and eventually in my pantry. I try out few ingredients for the next few days and then it dwindles to the usual fare. Those "healthy" stuff get ignored. So in my new goal of finishing up my pantry items, I listed out the ingredients that I was going to use and Brown rice was among them.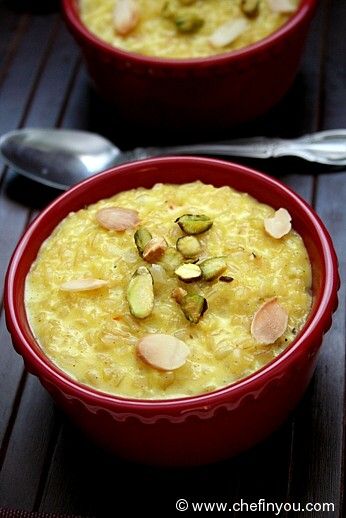 I had been meaning to try brown rice pudding for ages. I love the traditional Indian Rice pudding and so naturally was curious how this one would turn out to be.  It was yummy. I would normally have used Short grained brown rice for this but since I had only the medium grain (Now I did not want to buy short grain just to make this and add it to my 'chuck-your-pantry-items" list! Totally would beat the purpose, right? But it was delicious.  I could eat it instead of the meal. It was that good. It did not make me think "Nutrition" or "health food". It just made my palate light up with the first spoon!  I added only about 4-5 tbsp of sugar (I think!) since we like it with less sweet along with using 2% milk (that's what I had on hand) so it also turned out to be a low calorie treat. Next time you want to enjoy a guilt free dessert after dinner, make this! Its so totally worth it :)
Basic Information
Prep Time
:
30 min to 1 hour
Cook Time
:
30 min to 1 hour
Ingredients
1 cup brown rice (short grain works best. This time I used medium for this but the result was still satisfactory)
3 cups 2% milk (use soy milk for vegan option)
2 cups water
1/4 - 1/2 tsp nutmeg powder
1/4 - 1/2 tsp cardamom powder
generous pinch of saffron
sugar to taste ( use honey or any other sweetener)
couple of tbsp of sliced and toasted almonds and pistachio nuts
Method
1
I soak the grain usually for 30min to 1 hour. This is optional but I personally find that it reduces the cooking time considerably.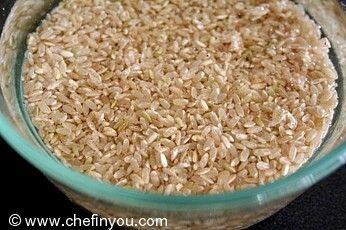 2
Heat the water in a saucepan and then add the rice.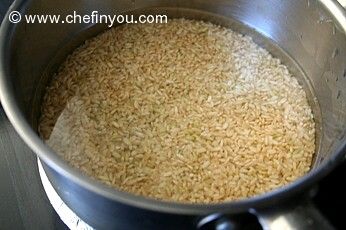 3
Bring it to a boil.
4
You will find in about 10-15 min most of the water has been absorbed by the rice.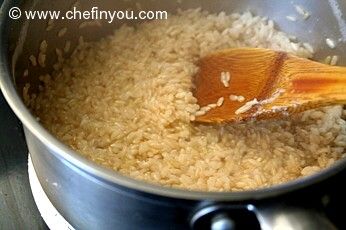 5
Now add in the milk, bring down the heat to low-med, cover partially and let it cook for another 10-15min. Take care to stir it on and off, so that it does not stick to the bottom.
6
Add the sugar, saffron, spices and give it a stir.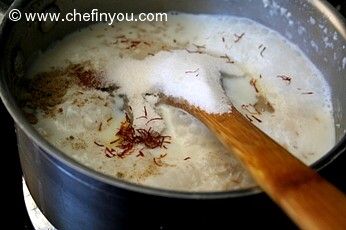 7
Cook for another 10 min until the rice is tender. You will also see that most of the milk has been absorbed. You can add in additional milk, if required at the time of serving.
Garnish with toasted sliced almonds and Pistachios (or any other nuts you prefer). I am assuming that this process can be quickened by using pressure cooker and cooking the brown rice with milk. I haven't tried it yet personally though I follow that method to make my
Indian rice pudding.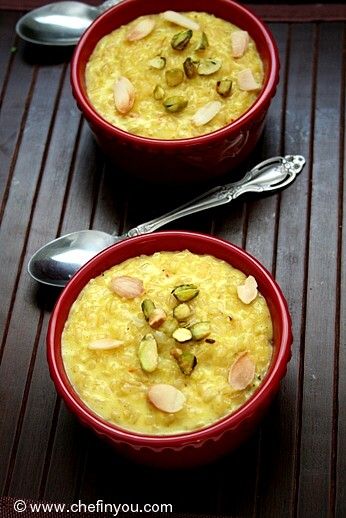 I also think that you can further make this creamier by adding evaporated milk and add raisins too.  This makes for a hearty guilt free pudding which is nutritious to boot.  Sending this over to
Siri's WWC: Brown Rice event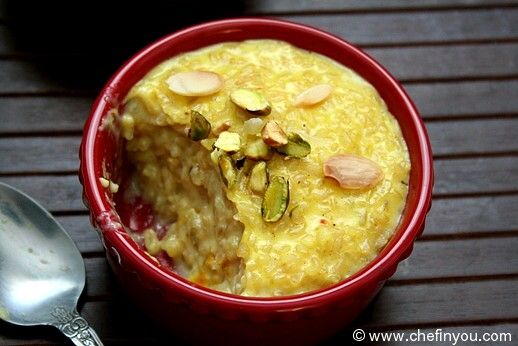 Related Recipes You May Like
Did you make this recipe?
Please click below to share your experiences while you were making this recipe. Thanks for your input!
Have a favorite recipe?
Know a family recipe your mom used to make? Or maybe a go to recipe that works everytime? Share it with your fellow foodies!