Lo Mein with Mustard Greens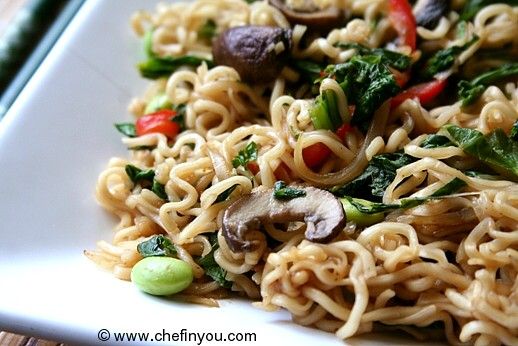 I love my husband's cafeteria. The variety they provide is innumerable. Its a wonderland for a foodie. Now if you ask my husband, he will say the complete opposite. Of course, you would have to agree with him more cos he is the one doing all the eating. For me, just the menu alone gives all that satisfaction cos it provides ideas for preparing the same (or similar...ahem or so I have my husband believe...) at home. I have access to his menu card for the week online that I refer to for ideas. My husband for his part tells me ingredients (or what he thinks are in it!). Its sad that the chefs here cannot make a luscious vegetarian meal...why does the word "vegetarian" make them assume its all grass, weeds and leaves?? Oh yes..otherwise its bland tofu which is kept ...bland. If they spend even quarter of their energy that they do in making those non vegetarian dishes and putting a wonderful sounding Veggie menu in making it one...it would have been blissful for non meat eaters.
Anyways, few weeks back I happened to come across a wonderful sounding Vegetarian Lo Mein with Mustard Greens in their menu card. My husband took a photo via his phone since he had no idea what were few of the ingredients. It was simple enough - Mustard leaves (well the menu card told me that! :)), Edamame, red bell peppers, mushrooms (couldn't decipher which) along with some sauce. Based on this and with help from few online links, I prepared this meal for him on a weekend customized to our tastes. This was quick to put together, easy to prep, nutritious (thanks to the greens and protein rich edamame) and needless to say delicious. Its a versatile recipe which you can adapt depending on your taste buds. Here is how I put it together.
Ingredients
10 Oz. Chinese lo mein noodles (or use fresh lo mein noodles/spaghetti)
1 onion, thinly sliced
about 1-1/2 cups mushrooms, stems removed and sliced ( I used a mix of cremini and shiitake)
2 inch ginger, thinly sliced
2-3 garlic, or as per taste (I kept them whole since we love garlic)
1 red bell pepper, julienned
1 generous cup of frozen edamame
about 7-8 cups of mustard greens, chopped (1 large bunch)
2 tbsp of hoisin sauce (or as per taste)
5-6 tbsp soy sauce (or as per taste)
1-2 tbsp sesame oil
Method
1
Prepare the noodles as per packet instructions. I usually drain the water and rinse it lightly in cold water after cooking. I also toss it with little sesame oil (abt 1 tbsp or as needed) to lightly coat the noodles. Set it aside.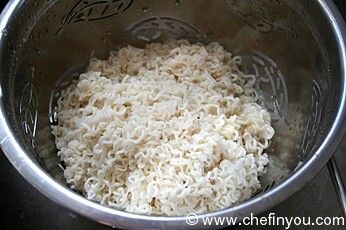 2
Make sure to keep all the vegetables prepped since we are going to be cooking all of them on high heat and quickly.  In a skillet, add 1 tbsp of sesame oil/peanut oil on high heat. Add the garlic, ginger and onions.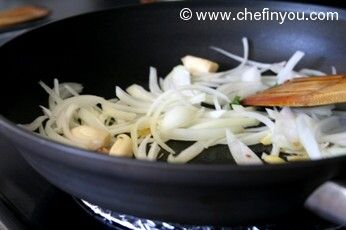 3
When slightly soft, add the bell peppers and mushrooms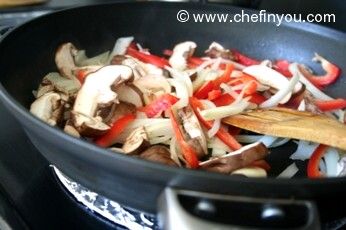 4
When the bell peppers get slightly soft yet retain their crispiness, add the mustard leaves.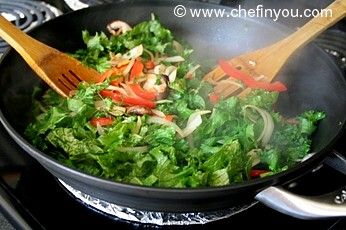 5
When the leaves start wilting, add the noodles along with the frozen edamame.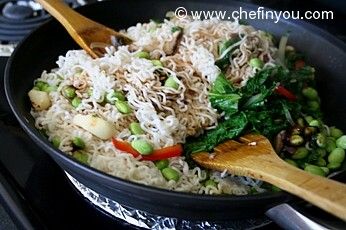 6
Add the soy sauce and hoisin sauce and give it a quick toss to incorporate all the vegetables together.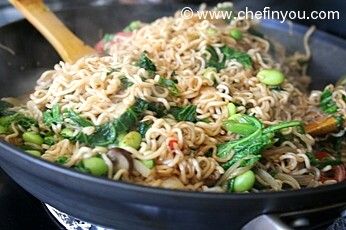 Serve immediately and hot. This is a one pot meal in my household but I am guessing you can serve it with some chilli sauce/ketchup. Linking this post to
Slightly Indulgent Tuesday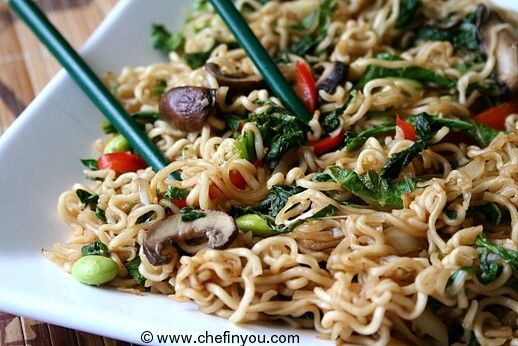 Related Recipes You May Like
Did you make this recipe?
Please click below to share your experiences while you were making this recipe. Thanks for your input!
Have a favorite recipe?
Know a family recipe your mom used to make? Or maybe a go to recipe that works everytime? Share it with your fellow foodies!