Easy Chocolate Pistachio Fudge
I am among the rare "species" whose bane is NOT chocolate. It does not turn me on nor does it take me into some gastronomical ecstasy. In fact plain chocolate makes me irritated cos I hate the chewy-gooey feeling it has, leaving my teeth in brownish distaste - both look wise and feel wise. Then why this post - you ask?  Because it has pista in it. Oh yes - Nuts and wafers in chocolate is totally doable for me. The crispy/nutty texture with chocolate is something I like (not to make me crazy about it though - but better than "hate"). Another thing I like is making chocolaty goodness for friends and loved ones cos it has takers everywhere. I LOVE seeing the faces brighten up when I give them goodies made with it. Like the two little darlings I made these for.
We were visiting a friend who has two kids. They are most charming, well behaved and the cutest I have met here. It only seemed right that I give them something as sweet as them :). I usually have this itch in my fingers which makes it impossible for me to follow recipes verbatim. But with this one, the itch did an invisible act. Such is this Nigella's recipe - no room for improvement. Its perfect just like her. As gorgeous as the chef herself.  How can a 50+ old woman look like the way she does??? God is sure not fair I tell ya! OK before I go into the "Why God dint make me look half as good" rant - lets go to her recipe!
In which angle does she look 50+??!!
Basic Information
Yield
:
About 32-36 pieces
Ingredients
175 grams (6oz) Dark Chocolate, chopped (see tips)
200 grams (7oz) sweetened Condensed milk
15 grams (0.5oz) unsalted Butter
75 grams (1/2 cup) unsalted Pistachios, coarsely chopped (with shells removed)
Pinch of salt
Tips
Use dark chocolate that has at least 70% cocoa solids. I used Godiva brand. Nigella says that you can also use equal amount of semisweet chocolate instead.
Method
1
Place the chopped chocolate, condensed milk, butter and salt into a heavy-based pan.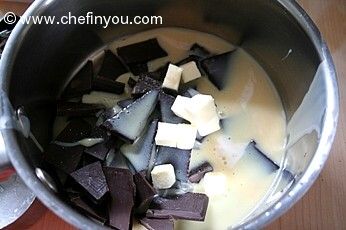 2
Place it over  low heat and stir until melted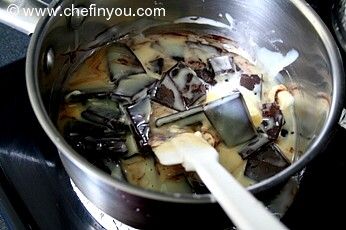 3
and well combined.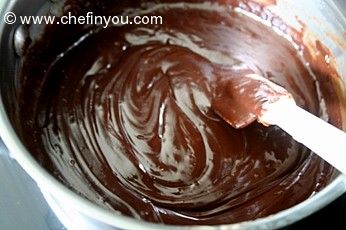 4
Add the nuts to the melted chocolate mixture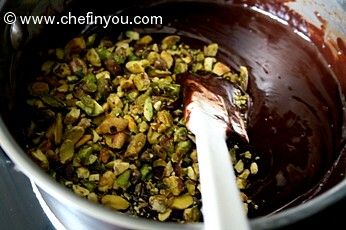 5
and stir well.
6
Pour this mixture into a square foil tray ( I used a baking pan lined with greased wax paper),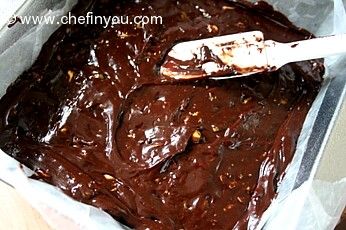 7
smoothing the top. I think I used a 7 inch Square pan. The size of the pan for this doesn't really matter. The smaller the pan, more thick the chocolate fudge will be and larger will make thin ones.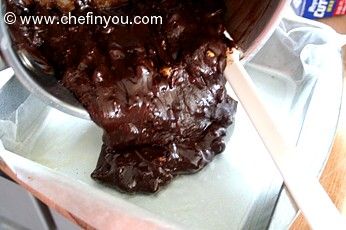 8
Let the fudge cool, then refrigerate until set. Cut into small pieces. You can cut 6X6 lines to make approximately 32-36 pieces.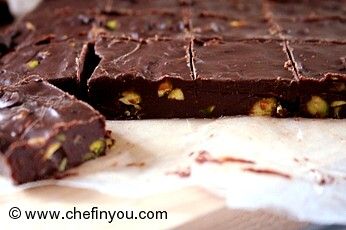 Now its all ready to be packed up and gifted. Make sure its chilled or else it will melt on ya :) What are you waiting for?  In the words of my chocolate crazed gal pal 
"Take a bite and experience chocolate heaven"
:)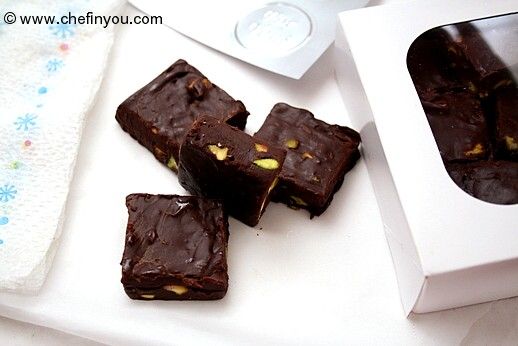 Related Recipes You May Like
Did you make this recipe?
Please click below to share your experiences while you were making this recipe. Thanks for your input!
Have a favorite recipe?
Know a family recipe your mom used to make? Or maybe a go to recipe that works everytime? Share it with your fellow foodies!