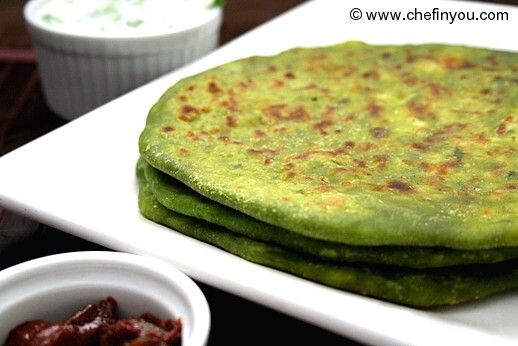 I always have Spinach and Paneer in my fridge.  They are commonly and most often used ingredients in my kitchen, especially the paneer. So I use it in various ways. Rotis / paratha is a regular at our dinner table although I have started packing it for my husband's lunch. Paratha is a great way to pack in nutrition in its stuffing with easy ways of mixing and matching ingredients in order to make some hearty lunch for us. They are easy to eat and are filling with minimal effort in the kitchen. To make the variety is immensely simple too. Like these Palak (Spinach) Paneer (Indian cottage cheese) Parathas. You have heard of the famous Indian side dish "Palak/ Saag Paneer". Its similar to that in the form of flatbread.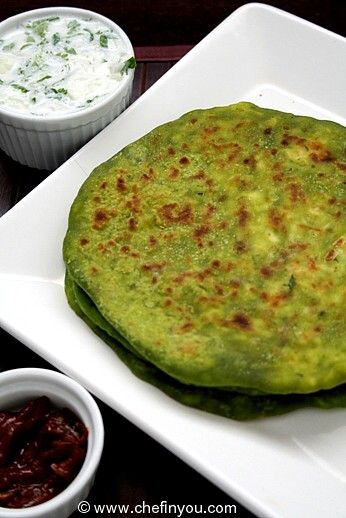 We all love Palak Paneer combo don't we? So, I thought why not for a paratha. Have been making this for 4 years now and its still in the wanted list :) I have used v. minimal spices for this, but since its so versatile, you can add more seasoning to the paneer stuffing or to the cover. Its your palate and your preference. You will find that this paratha will dance to your creative tunes.
Basic Information
Prep Time
:
30 min to 1 hour
Yield
:
Around 8-12 parathas depending on the size
Ingredients
For the stuffing
2-1/2 cups grated Paneer
1-2 green chillies (as per taste)
1 tsp cumin seeds/fennel seeds (optional)
little salt to taste (the cover has salt too - so use accordingly)
few springs of cilantro, chopped
Tips
Since this was made in the morning hustle bustle, I have kept the ingredients to the minimum. But you can add more spices/herbs for variety. For this recipe I replaced 1 cup wheat flour with Oat flour for the Cover.
Method
1
I prepared the cover, the dough, the same way as mentioned in the
Hara Bhara paratha
post.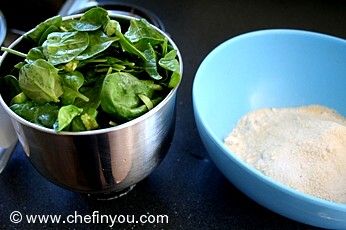 2
Ground the spinach with curd and mixed it to the dough. The only difference is that I added some Oat flour for more nutrition. Its not necessary but optional.
3
Add the ingredients for the stuffing together in a bowl and give it a mix.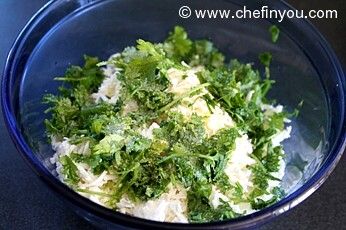 4
Take small balls of dough. Roll it out into a small circle on a well floured surface. Make a small ball of the stuffing and place it in the center of the dough.
5
Bring up the sides towards the top and pinch it to seal the stuffing.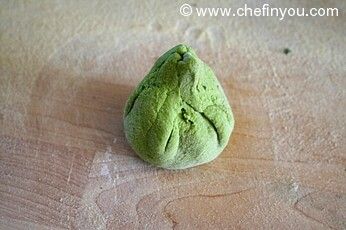 6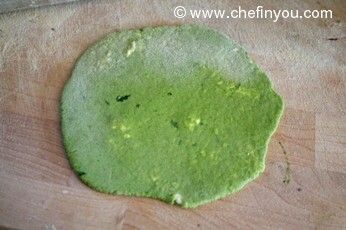 7
Place it on a greased skillet. Cook for 1-2 minutes.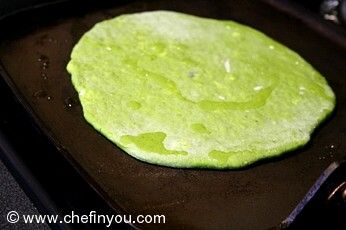 8
Turn and repeat when you see red spots on the bottom.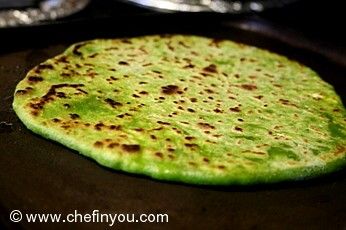 Nutritious Spinach with delicious Paneer stuffing is not only delicious but v filling. There is also some protein from the paneer and the curd. You can use low fat paneer if you want to cut down on some of the fat.  Serve this with pickle or
Raita
.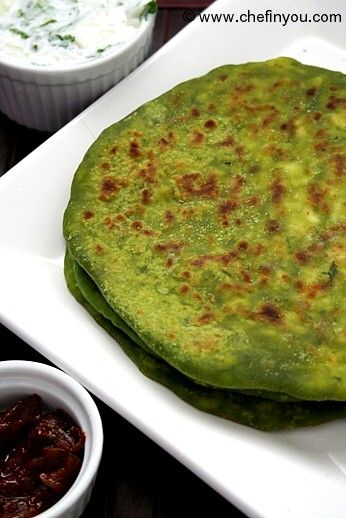 Related Recipes You May Like
Did you make this recipe?
Please click below to share your experiences while you were making this recipe. Thanks for your input!
Have a favorite recipe?
Know a family recipe your mom used to make? Or maybe a go to recipe that works everytime? Share it with your fellow foodies!