Banana Cupcakes (Eggless)
This happened few months into my marriage. I was trying to get myself to eat fruits on a regular basis. I even started noting the days I have been eating them. Once during one of the calls home, I was proudly recounting about this newly acquired good eating habit and praising myself in the process. My mom was obviously happy at my "turning a new leaf" when came a silent quip from my "new" husband. "Oh yes! She is indeed eating fruits daily now with utmost diligence. Now, all that's left is for her to expand her definition of fruits to something other than apples and bananas, especially bananas!" Then continued another 20 minutes of conversation - more so laughter at my expense with me sulking in the corner refusing to talk to "unappreciative people!". But it was a revelation for me, myself cos I did not realize that all I had been indeed consuming "regularly" in the name of fruit(s) were bananas with an occasional apple thrown in. Guess you now know the LOVE I have for it.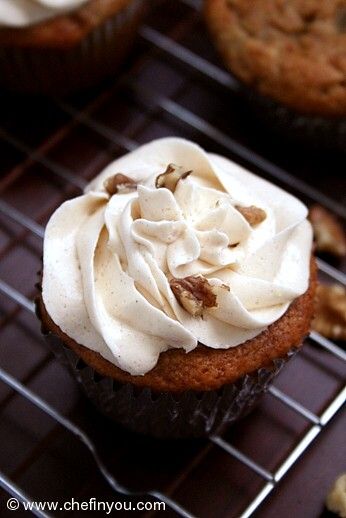 Changes I Made: Needless to say, bananas have never been in my "going-to-spoil-soon" list ever! But that happened recently and I am going to conveniently blame it on the round-the-clock schedule with work and a baby for even forgetting to eat my favorite fruit. Seeing them "I-am-so-ripe-that-I-am-going-to-burst-soon" was nerve racking to say the least. I popped them into the freezer and the first thing I made out of them were these cupcakes. I skipped the eggs from the recipe since I did not have them on hand. Since frozen bananas add additional moisture to the batter, I reasoned that I could afford to cut out some of the moisture (and fat in the process). Hence out went some of the butter since bananas are buttery enough for me :) I had wee bit of walnut oil left in my pantry - exactly 2 tbsp - hence used them up along with vegetable oil which also replaced some of the butter from the recipe. Towards the end of baking, the aroma that wafted from the oven is something to be experienced. These made moist, chewy, fluffy, light cupcakes that was all about the bananas and nothing else. Since I had used a bit of walnut oil, I add few chopped pieces of toasted walnuts to add some nuts in the bargain to my frosting. This turned out to be a favorite recipe for us.
Ingredients
For the Banana Cupcakes
1-1/2 cups all-purpose flour
3/4 cup sugar
1 teaspoon baking powder
1/2 teaspoon baking soda
1/4 teaspoon salt
2 tbsp Walnut Oil (see Tips)
2 tbsp Vegetable oil
6 frozen Bananas (or enough to make 2 cups pureed bananas) (see Tips)
1/2 teaspoon pure vanilla extract
Few walnuts for garnish (optional)
For the Honey Cinnamon Frosting (optional)
1-1/4 cup powdered sugar
1/2 cup (1 stick) unsalted butter, room temperature
1 tablespoon honey
1/8 teaspoon ground cinnamon
Tips
1. If you do not have walnut oil, simply replace it with additional Vegetable oil.
2. If using regular bananas, use additional 1/4 cup of liquid - either by way of butter or oil or any other flavorings you can think of.
3.The Frosting is not Vegan and is optional to this recipe. But you can probably use Agave or any other sweetener if Honey is not acceptable to you.
Method
1
For the Cupcakes: Preheat oven to 350 degrees. Line a standard 12-cup muffin pan with paper liners. In a bowl, whisk together flour, sugar, baking powder, baking soda, and salt.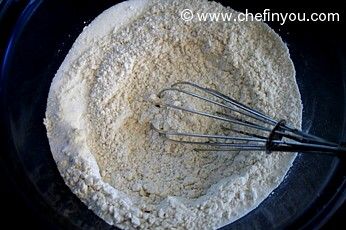 2
Thaw the Bananas. I let it sit out for around 20 minutes.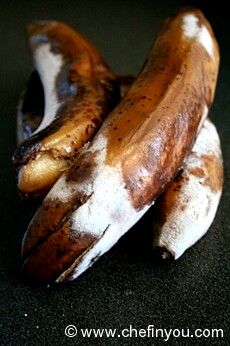 3
Peel the bananas and drop them in your processor. Puree them until smooth. A quick pulse of about 4-5 times should do it.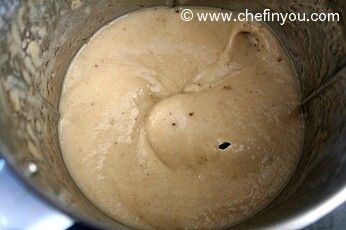 4
Make a well in center of flour mixture. In well, mix together oil, pureed bananas  and vanilla.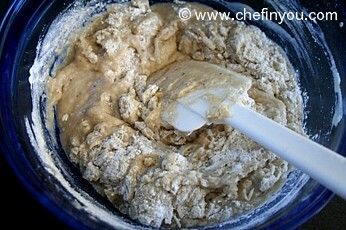 5
Gently fold the dry with the wet ingredients until combined.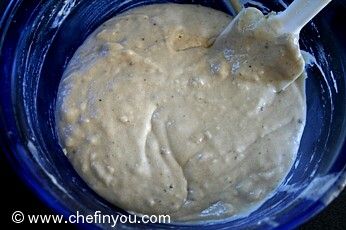 6
Dividing evenly, spoon batter into muffin cups.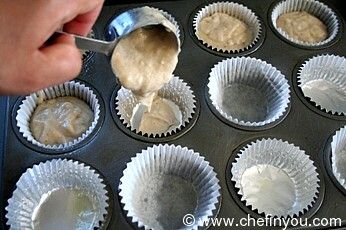 7
I used a 1/4 measuring cup to divide my mixture.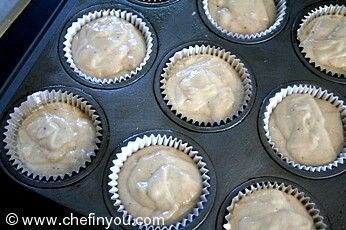 8
Bake until a toothpick inserted in center of a cupcake comes out clean, 25 to 30 minutes.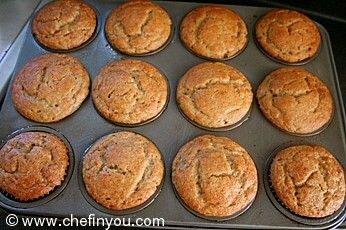 9
Remove cupcakes from pan; cool completely on a wire rack.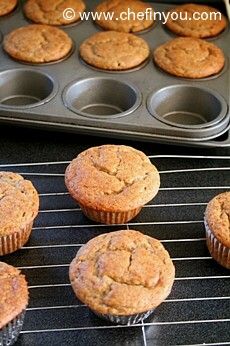 10
For the Frosting:  Take all the ingredients for the frosting in a medium bowl.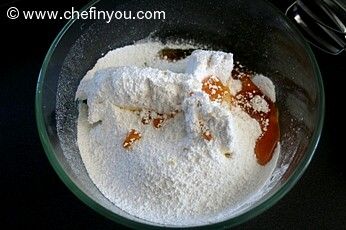 11
Using an electric mixer, beat it  until smooth, 4 to 5 minutes.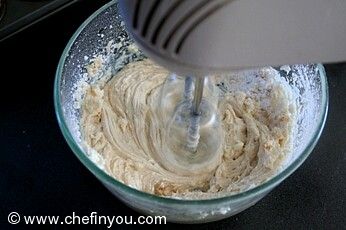 12
Take the walnuts and dry toast them in a skillet. Chop them coarsely.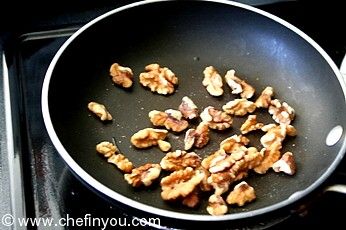 13
I used a piping bag to top the cupcakes.
14
But it is optional. You can simply spread them on top of the cupcakes too. Though I personally think that the frosting is optional (also there are no takers for sweet stuff in my house), my colleagues at work loved them with the frosting.  It  was a massive hit and they insisted that I recommend it for this cupcake :) I sprinkled it lightly with toasted walnuts.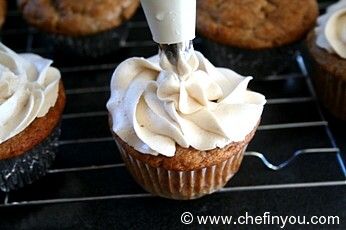 15
The cupcakes were moist and those who enjoyed it were overjoyed to know that this moist and tender crumbed cake was butterless and low in fat with a total of only 1/4 cup of oil in the (12) cupcakes. So those wishing to avoid the fat, you can skip the frosting and enjoy them as they are.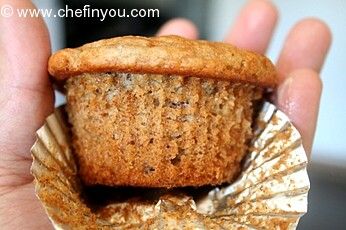 16
Can you see the spongy insides? These were fluffy, light and very flavorful.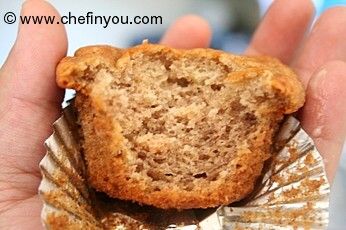 We enjoyed them the day I made them (for evening tea) and for breakfast the next morning after warming them up slightly. It makes a great breakfast too.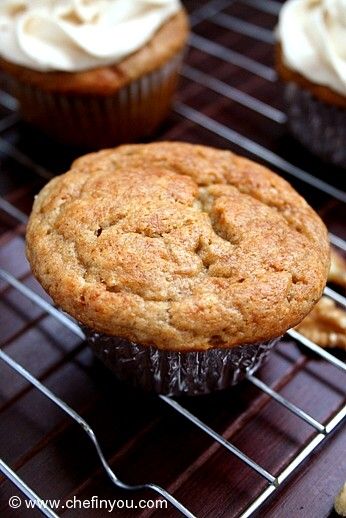 Related Recipes You May Like
Did you make this recipe?
Please click below to share your experiences while you were making this recipe. Thanks for your input!
Have a favorite recipe?
Know a family recipe your mom used to make? Or maybe a go to recipe that works everytime? Share it with your fellow foodies!