Dan Dan Mian (Spicy Sichuan Noodles)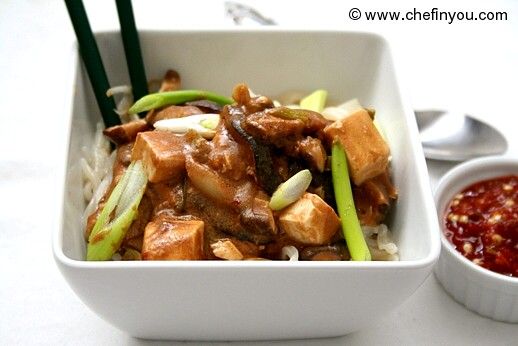 We love Sichuan anything - the vegetarian version of course!. So much so that our first year of marriage saw us visiting only a Sichuan restaurant, ordering the only 3 dishes that we do, all the times we had to eat out. We did not eat out much though - I was all into cooking (aren't most of us in the first year of marriage?) and the husband had had enough eating out throughout his single life to eat "anything" the wife dished out in the name of food. So the weekends saw us going to this one place (again and again..), so much so that the minute they see us, they knew what we were going to order. Years down the line, as recent as last week, we still have a local sichuan place that we visit who (once again) don't ask us what we want when they see us. They know!. It always goes like this -
Them: "Hey! welcome. How are you?"
Us: "Doing great! You?"
Them: "Same here (some regular banter). So, the usual?"
Us: " Yes."
Them: "In a minute....."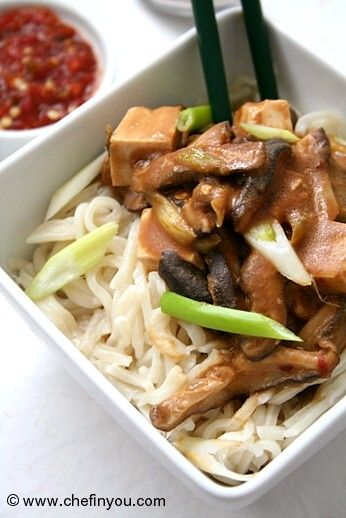 There is no necessity to give us a menu, no need to ask our spice level, anything. We know they hope that one day we will change something and shock them. I know they welcome it. We want to, but we always keep that for "the next time" and we never do (till date at least). I dunno what that makes us - a boring couple? or people with similar palate immensely content about the very same dishes? However you word it, the underlying fact is - we LOVE sichuan food. Period. So other than the "usual affair", I sometimes feel the itch to try something "different" at home too that's sichuanese. Hence this recipe. Almost everyone I have known, loves noodles. Now mix in some spice and heat, it becomes a household name.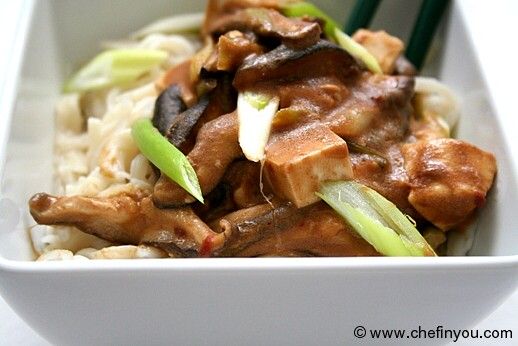 Changes I Made:
I came across this recipe from the Best International Recipe cookbook that had Pork and fish sauce in it. I made it vegetarian by using Tofu and Shiitake mushroom to give it the meatiness and volume along with more soy sauce to replace the fish sauce. The plum sauce went in cos...err...I had some in the fridge
and cos I have this unexplainable itch to throw stuff randomly in a pot at times.
Other than that, I have kept the recipe as it is from the book. After quite a long search I managed to find the "Asian sesame paste" in one of the Asian stores. But you can use Peanut butter instead as the book suggests. I have personally not tried it since I found the sesame paste but am sure it will equally lip smacking good like this one.The only gripe we had with this recipe when I made it - it was not enough! Got over way before we could say "Burp!". Its pretty simple once you have the ingredients assembled. Then its mostly mix, toss and combine types. The soft, noodles with saltiness from the sauce and heat from the white pepper and sichuan peppercorns makes this addictive. Its not "burn your mouth" kinda hot, its the "making you feel warm" kinda hot, if you get my drift. (if you don't, then you have another excuse to try this recipe out ;)) The tofu and mushrooms give this dish the body and the heartiness.
Ingredients
2 tbsp Soy Sauce
1 tbsp Plum Sauce (optional)
White Pepper, ground, to taste
2 tbsp Asian Sesame Paste (see Tips)
1/2 tbsp Rice Vinegar
1/2-3/4 cup Vegetable Broth (or water)
1 tsp Vegetable Oil
1 tbsp minced Garlic
1/2 tbsp Ginger paste
1/2 tsp Red Pepper Flakes
1/2 tbsp toasted Sesame Oil
9 oz. fresh Chinese Noodles
2 Scallions, sliced
1/2 tbsp Sichuan Peppercorns, toasted and ground
6 oz. Shiitake Mushrooms
Tips
If you
don't
find Asian Sesame Paste (not the middle eastern Tahini), then you can substitute smooth Peanut Butter instead. A few toasted and crushed peanuts can be used as a garnish in that case. Since Sesame Paste is little salty, additional salt is not used in this dish. If your Sesame paste has a pourable consistency instead of spreadable consistency, then use only 1/2 cup broth/water. You can add 1 tbsp Chinese Rice Cooking Wine or Dry Sherry to this recipe.
Method
1
Cook the fresh noodles as per the instructions in the packet.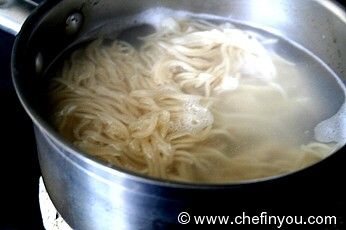 2
Meanwhile in a pan, mix together the soy sauce, rice wine (if using), plum sauce, pinch of white pepper, sesame paste, vinegar and the broth.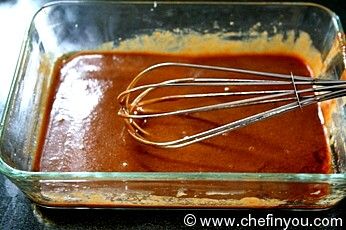 3
Add the tofu to this sauce and set aside for about 15 minutes for the flavors to infuse.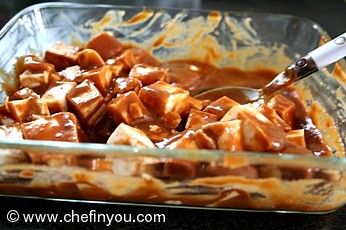 4
Meanwhile in the skillet, heat the vegetable oil until shimmering. Add the mushrooms, 1/2 of sliced scallions, garlic, ginger and red pepper flakes and cook until the mushrooms get soft - about a minute or so.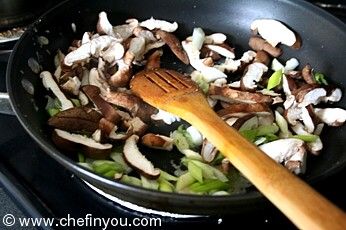 5
Now add the Tofu along with the sauce to the mixture.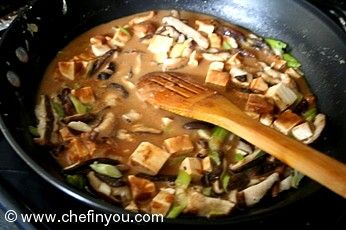 6
Bring it to a boil then reduce to a simmer over medium-low heat and cook until slightly thickened - about 4-5 minutes. Off the heat and  stir in the sesame oil. Cover and set aside.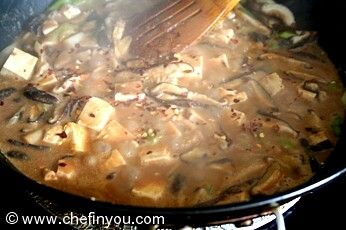 7
Drain the cooked noodles and then divide it in individual bowls.
Ladle a portion of sauce over the top. You can sprinkle it with more scallions (crushed and toasted peanuts if using peanut butter), bean sprouts and Szechuan peppercorns for the heat. I additionally served it with red chilli paste.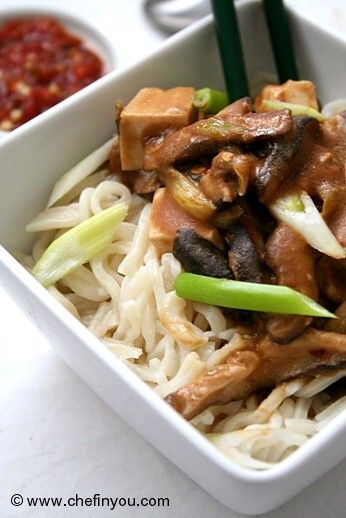 Related Recipes You May Like
Be the first to showcase this recipe!

Your Name
Did you make this recipe?
Please click below to share your experiences while you were making this recipe. Thanks for your input!
Have a favorite recipe?
Know a family recipe your mom used to make? Or maybe a go to recipe that works everytime? Share it with your fellow foodies!