The Changes I Made
Since we all have our tastes, I made the following changes from the original recipes. It keeps in mind both our requirements and also the fact that I made use of what was available in my pantry. Instead of Swiss Brown mushrooms that the recipe called for, I used cremini mushrooms. The Basil got replaced with cilantro. The regular wholemeal breadcrumbs was replaced with wholegrain flax seeds bread crumbs that I had in hand and which I freshly ground to make the crumbs. The 1 egg used in the original recipe got replaced with 1 heaped spoon of tomato paste. Also I did not have either the sweet chilli sauce/ arugula or semi dried tomatoes. So I used chilli garlic sauce to our taste, spinach leaves and sun dried tomatoes in oil respectively.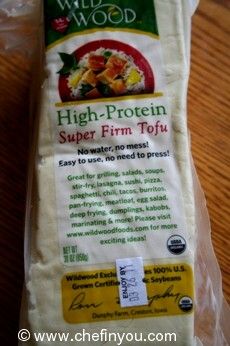 I am guessing you can use Extra firm Tofu, pressed well with paper towel to drain the water , for this recipe. But I use the one which does not come with water. This is a super firm variety and it holds up very well when it comes to grilling, frying, stir fries, burgers etc and I use it regularly. I get it from
Whole Foods.
Please note that I am not paid by the company to talk about them. I mention it cos I use it regularly and it works well for my needs.