Angel Cake with Cherry Berry Coulis
Egg white is my family's best friend. It started with cutting down yolks cos of cholesterol. You sure have to think about it if you are emptying one family size egg carton each week! - only that here we are talking about one person - the husband. So, I started using more egg whites with some yolks. Well, now it turns out, his taste for yolks has depleted and he doesn't like it as much as he used to! But that's for another post. I remember the very first time I made this cake. I had separated the egg whites for an omelet and in the last minute did not get to make it. I did not like to keep it in the fridge and looked around the net for something that used a reasonable quantity of egg whites.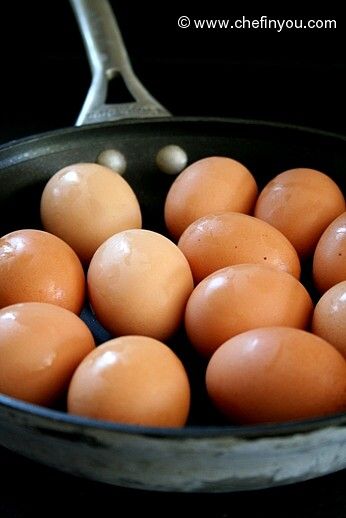 I chanced upon this recipe for Angel Food Cake and was intrigued. I was a naive baker then but still picked up courage to try it out. The end result looked so good that I was ECSTATIC to say the least. It was like "I" made this beauty. I will leave it to your imagination to conjure up my husband's face, when he enters home to a jumping wife, who screams her heart out when he tries to grab a piece from it ("Are you kidding me? How can you think of spoiling it? can't you see how beautiful it looks?"). Of course his comment of "Well- what's the point of this cake then?" fell on deaf ears :) :)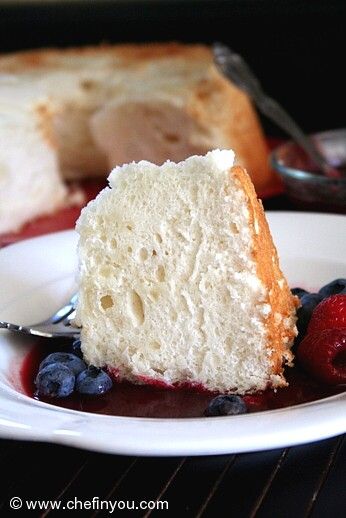 After that I have made this cake a lot more times (without the excited tantrums though!) and this Alton Brown's recipe comes looking (and tasting) like million bucks - every single time. I am totally in awe of AB. He is the king of cooking, or to be precise, in explaining what's what and why's why in cooking. He makes me want to get more scientific and learn how stuff works in general.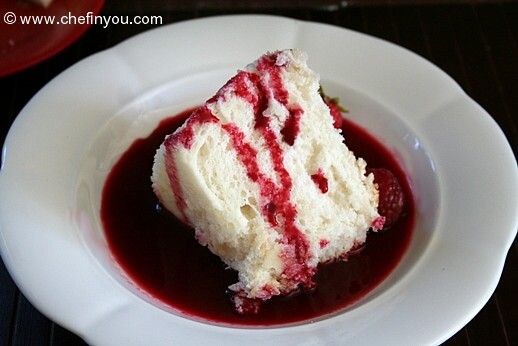 This cake is immensely light, spongy as a cloud with a subtle sweetness. I do not care for eggs or the eggy taste/smell. But with these berry coulis, even I couldn't help myself from gobbling up a large piece. And of course, the fact that these are ridiculously protein rich (and for practically ZERO fat) just about eased me into their direction. These berry coulis are bursting with the sweetness and tartness of berries and luscious cherries. Make them while they are in season 'cos nothing beats the taste. Instead of refined sugar, some honey adds to the sweetness of this sauce. All in all - these are perfect for summer, be it for a party, a family gathering, a special occasion or most importantly - just you :)
References
recipe courtesy alton brown; tips and techniques, courtesy Alton brown and few from my own research from various sources.
Basic Information
Prep Time
:
30 min to 1 hour
Yield
:
Makes 10-12 Servings
Ingredients
For the Cake
1-3/4 cups sugar, divided
1/4 tsp salt
1 cup cake flour, sifted
12 egg whites, at room temperature (see Tips)
1/3 cup warm water
1 tsp Vanilla extract
1-1/2 tsp cream of tartar
For the Berry Cherry Coulis (Sauce)
4 cups of berries (strawberries, raspberries, blackberries, blueberries) & cherries
Honey to taste
Tips
1.
Egg Whites:
Using room temperature eggs, tend to produce more volume. To bring it to room temperature, simply place your eggs on counter top for 15-30 minutes (depending on the climate). If you are short on time, then simply place the eggs in a bowl and place the bowl over warm water (not hot) for 5-10 minutes.
Method
1
Preheat oven to 350 degrees F. Sift 3/4 + 2 tbsp sugar with the salt and the cake flour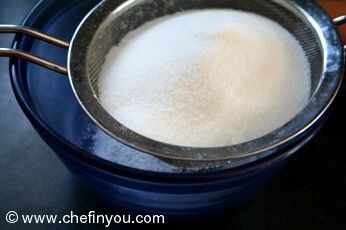 2
and combine well.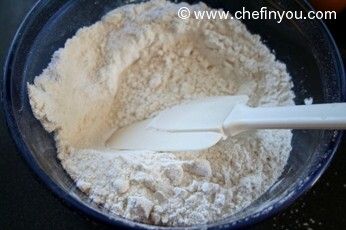 3
Be careful to separate the egg whites from the yolks since even a wee little bit of yolk can make this a flop show. Just to be safe, I break open and separate each egg first in a small bowl and then making sure its yolk free, drop it to the large bowl (make sure the large bowl is clean and dry) . Freshest eggs separate easily.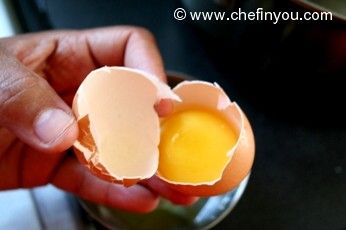 4
Now you can either use a copper bowl or a large stainless steel . Do not use aluminum or wooden bowls since aluminum can turn the egg whites into gray and wooden bowls tend to generally absorb other flavors from earlier usage  and that might retard the egg whites. If using Copper bowls, you can skip Cream of tartar since copper bowl contains an ion which reacts chemically with egg whites that in turn helps to produce fluffy whites. If using stainless steel, use a vessel that has straight sides.
5
Using a whisk, thoroughly combine egg whites, water, vanilla extract, and cream of tartar.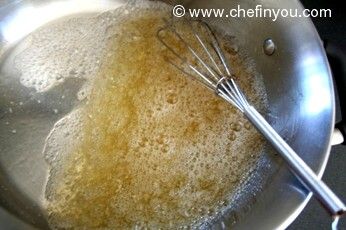 6
After 2 minutes, you will notice its more foamy,
7
switch to a hand mixer.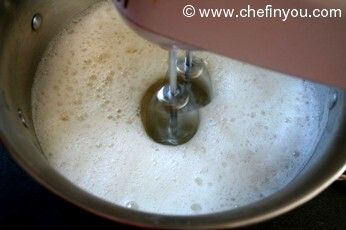 8
Slowly sift the reserved sugar, beating continuously at medium speed.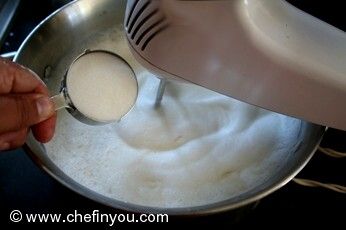 9
Once you have achieved medium peaks, (do not let it sit for long )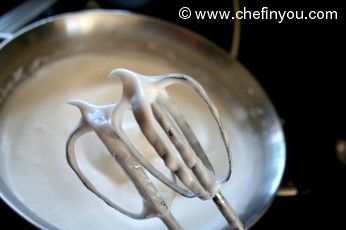 10
sift enough of the flour mixture in to dust the top of the foam.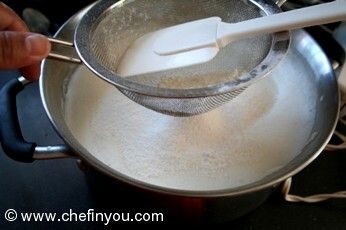 11
Using a spatula fold in gently. Continue until all of the flour mixture is incorporated.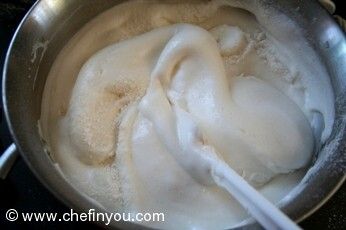 12
Carefully spoon mixture into an ungreased tube pan. A tube pan is traditionally used for this cake, since the cake rises quite high and it needs the support of tall sides. Without the "pillar" in the middle the cake would sink "plop" in the middle. You do not grease it since the egg whites tend to stick and this stickiness is what that helps the cake to climb in the first place :) [Gee - At times Science isn't that mumbo jumbo as it looks to be! OK may be its the food language that did it for me, but nevertheless ...;))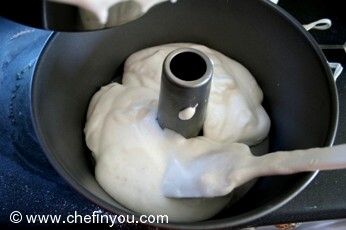 13
Once transferred, do not pat or bang the pan on the counter top. It will help the air escape from the batter and we don't want that to happen. Just give it a slight half spins.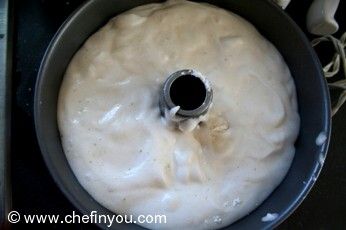 14
Bake for 35 minutes before checking for doneness with a wooden skewer. (When inserted halfway between the inner and outer wall, the skewer should come out dry).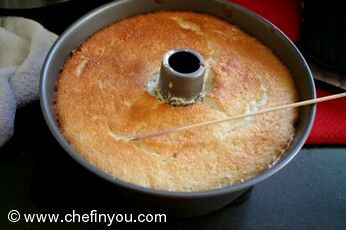 15
Place a cookie sheet on top of the pan.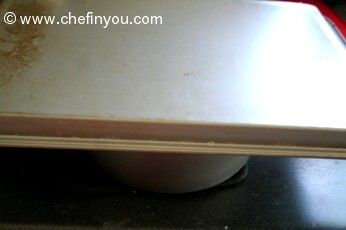 16
Then cool it upside down for at least an hour before removing from pan. This is done in order to set the cake first. Removing it before cooling completely will plop the cake in the middle.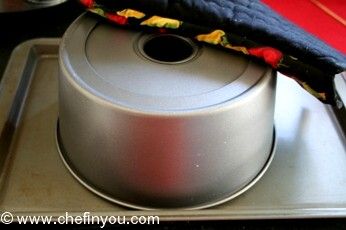 17
Once cooled, turn it upside down. Using a knife, cut down on the sides to loosen up the pan. It will be sticky, hence do it gently.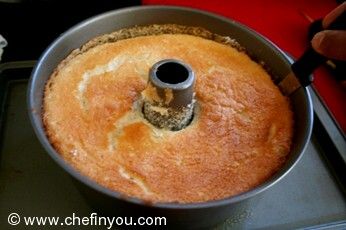 18
Remember to do the same in the middle too.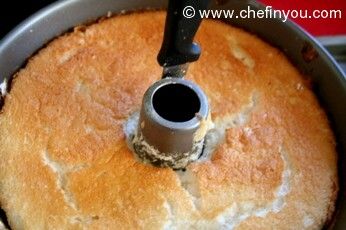 19
Turn it upside down again and then repeat for the base.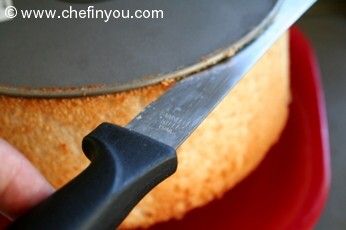 20
Remove the base of the pan. There...the cake is ready. A little of my cake still managed to stick tight to the bottom - but hey, nothing like scraping off sticky cake from the cake bottom! (Yes! I give excuses for a bad job - so what! Hmffff.....)
Cut a piece and enjoy with Berry-cherry coulis and an additional garnish of berries. I prepared the
Berry Cherry Sauce this way.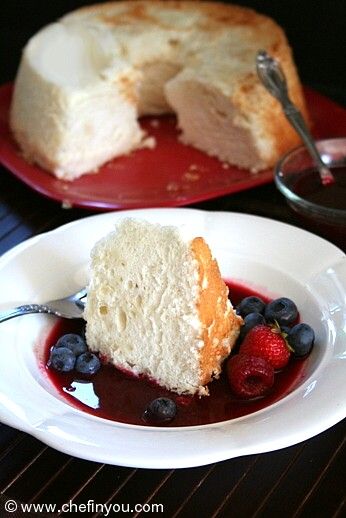 Trust me, that spongy cake soaked in sweet-tart sauce tastes so refreshing though light. When you talk about eating dessert yet not worrying about calories - then this one "takes the cake" (Pun intended!).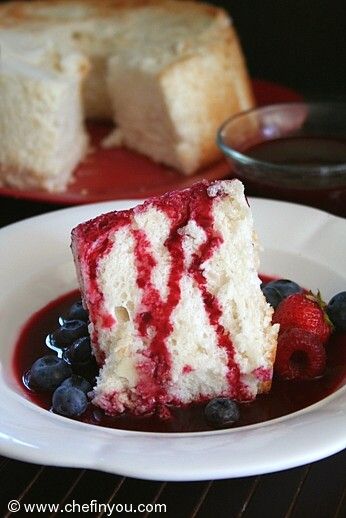 Related Recipes You May Like
Did you make this recipe?
Please click below to share your experiences while you were making this recipe. Thanks for your input!
Have a favorite recipe?
Know a family recipe your mom used to make? Or maybe a go to recipe that works everytime? Share it with your fellow foodies!