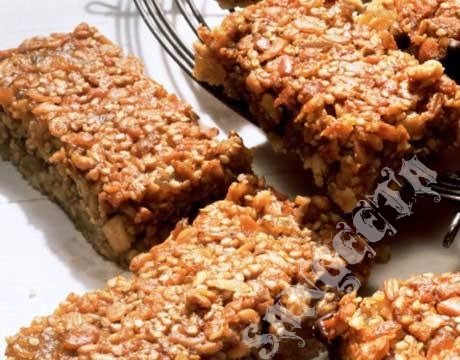 We're passionate about sports and fitness, health and wellness. That's why we started Power Bar to begin with They're in the diet section as meal replacement bars, and they're in the sports section as "power" bars. Truth be told, a nicely balanced ...meal after work out or can carry n munch 4 those ,who don"t have much time to sit n eat during working hrs.....:)
Basic Information
Yield
:
around 8-10-small size
Ingredients
* 1/2 cup honey
* 1/2 cup peanut butter
* 1 cup nonfat milk powder
* 1/2 cup mixed flakes
* 1/2 cup chopped dried fruit
* 1/2 cup shredded dry coconut
Method
1
Knead all the ingredients together, adding enough milk powder to form a stiff but not crumbly dough.
2
Set in greased square tray,cut and use.
Note:
Roll in dessicated coconut or confectioner's sugar, if u fancy:)
This recipe was contributed by a ChefInYou member.
Related Recipes You May Like
Be the first to showcase this recipe!

Your Name
Did you make this recipe?
Please click below to share your experiences while you were making this recipe. Thanks for your input!
Have a favorite recipe?
Know a family recipe your mom used to make? Or maybe a go to recipe that works everytime? Share it with your fellow foodies!