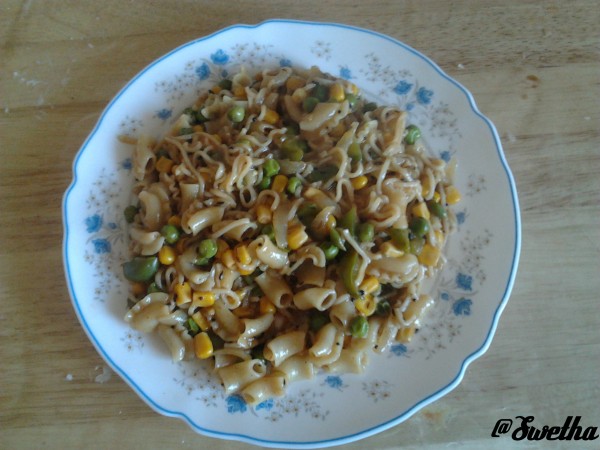 One evening I was feeling a bit hungry and started pondering my kitchen shelves for making something. Unfortunately, there was half packet Pasta and a noodles packet only left. So, I decided to try something new out of these and ALOHA the new dish was born.
This dish tasted very well and received a good appreciation from my hubby and his colleagues.
Since all the ingredients are easy to cook and quick boiling the recipe will require less cooking time. I had used boiled corns for a different taste and used Chilli Tomato sauce instead of tomatoes.
Ingredients
1/2 Pkt Pasta
1 cup Noodles
1 teaspoon Jeera(Cumin)
1 cup boiled corn
1 Capsicum
2 sprigs Spring Onions
1 cup Green peas
1/2 Tablespoon Garam masala
1/2 Tablespoon Oil
Salt to taste
1 - 2 Tablespoons Chilly Tomato Sauce.
Method
1
First parboil the pasta in water along with little salt and oil.
2
In a Kadai, add oil and jeera. Once the Jeera splutters add the onions, capsicum, peas, corn and fry it little
3
Add some water to the mixture and once the water boils add Garam masala and noodles to it. Once the noodles is half done add the parboiled pasta to it.
4
Once the pasta and noodles are fully cooked add tomato sauce to it.
This recipe was contributed by a ChefInYou member.
Related Recipes You May Like
Be the first to showcase this recipe!

Your Name
Did you make this recipe?
Please click below to share your experiences while you were making this recipe. Thanks for your input!
Have a favorite recipe?
Know a family recipe your mom used to make? Or maybe a go to recipe that works everytime? Share it with your fellow foodies!