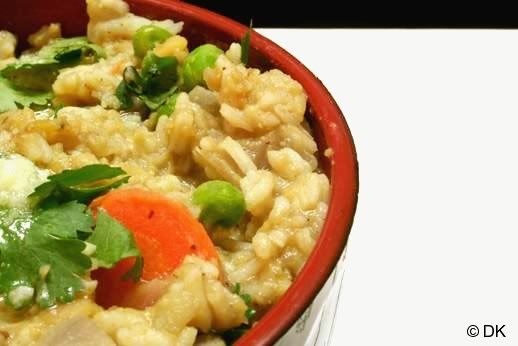 Bisi Bele Bath/Bisi Bele Huliyanna means Hot Lentil Rice in Kannada (Karnataka Cuisine) and it has been adopted by almost all the South Indian States. I also know of many North Indian friends who request me for this dish along with Idli's and dosas's. It has a warm appeal among so many people and no wonder its being made with umptieth versions. I follow my mom's version and it is as simple as it can get.
Ingredients
For Bisi Bela Huliyanna Powder
1 tbsp Toor Dal (pigeon peas)
1 tbsp channa dal (Bengal Gram dal)
1/4 tbsp Fenugreek seeds
1 tbsp Daniya (Coriander Seeds)
2-3 cloves
1 small cinnamon stick
5-6 dried red chillies ( or as per taste)
1/4 tsp Asafoetida
1-2 tbsp fresh grated coconut (you can also use dried)
Other Ingredients
Approx 2 cups of mixed boiled vegetables (peas,carrots,potatoes,beans,cauliflower)
1 small red onion, chopped (optional)
1 cup rice
1/2 cup cooked Pigeon peas(toor dal)
1 tbsp tamarind paste
1 tsp mustard seeds
1/4 tsp turmeric
salt to taste and few sprigs of cilantro and curry leaves to garnish
Method
1
Dry roast the ingredients (except the coconut) for the powder until aromatic and golden reddish yellow.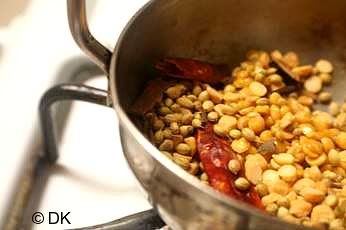 2
Grind these into a powder along with coconut and set aside.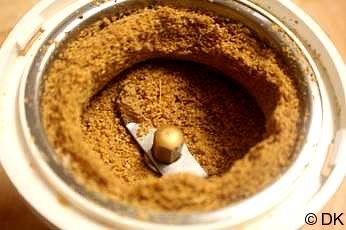 3
In a pan, in a tsp of oil, add the mustard seeds and when they start popping, add the onions till soft.
4
Mix the tamarind paste in 2 cups of water and then add this to the onions. Cook until the raw smell of tamarind leaves. Then add the boiled vegetables, turmeric, salt along with the cooked pigeon peas and mix well. Once they start boiling, sprinkle the prepared powder and mix lightly.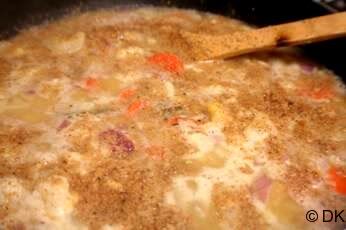 5
Now add the rice, garnish with the herbs and serve with few tsp of ghee on top. Make sure to serve warm, since the dish tends to thicken up fast. In case that happens, add a little warm water to loosen it up. Goes well with Papads, chips etc.
Related Recipes You May Like
Did you make this recipe?
Please click below to share your experiences while you were making this recipe. Thanks for your input!
Have a favorite recipe?
Know a family recipe your mom used to make? Or maybe a go to recipe that works everytime? Share it with your fellow foodies!