Ratatouille or Rat-a-tat-touille?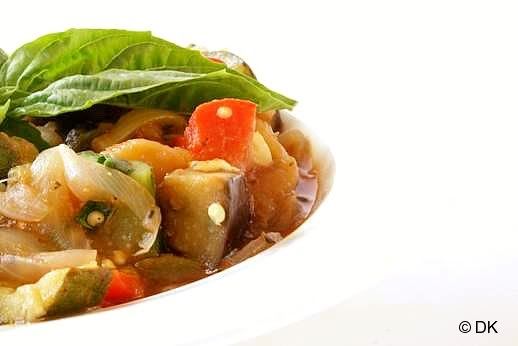 Ratatouille Niçoise is a celebrated and traditional vegetarian French stew. My husband during his stay at France has fond memories of it, thanks to having to eat only that most of the days due to minimal vegetarian dishes!:) I love it for the simplicity, for the vibrant color and uncomplicated taste.Indians can totally relate to it, in the sense, the method, the taste are not completely new to us, thanks to our own style of cooking.
Basic Information
Cook Time
:
30 min to 1 hour
Ingredients
3-4 tomatoes, seeded and chopped
1/4 cup tomato puree
2-3 cloves of garlic, minced
1 onion, chopped
1 tsp cumin-coriander powder
3 zucchini, chopped
1 large eggplant
1 large red bell pepper ( tri colors work too :))
Basil for garnish
1 tsp of Herbs de Provence ( or you can use mixed dried herbs like rosemary, marjoram, basil, bay leaf, thyme, lavender flowers etc)
salt to taste
Method
1
Place the eggplant and zucchini in a colander, sprinkle with salt and let it rest for about 30minutes until the bitter juices are extracted.
2
In a saucepan, add little olive oil and saute the sliced onions followd by garlic and bell pepper.
3
Cook for approx 2 minutes.
4
Rinse the eggplant and zucchini, dry it out a little and then add it to the onion mixture. Saute for 2 minutes and then add the dried herbs, coriander-cumin powder, cover the pan and cook for 20minutes until little soft.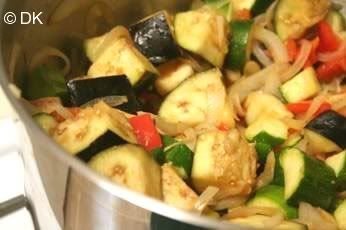 5
Add the tomatoes, puree with salt and pepper and cook for another 5-10 minutes until all the vegetables get soft.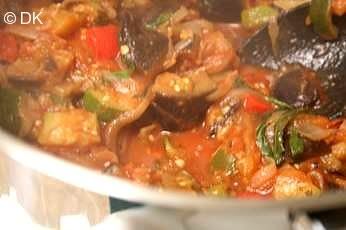 6
Serve warm garnished with basil or parsley.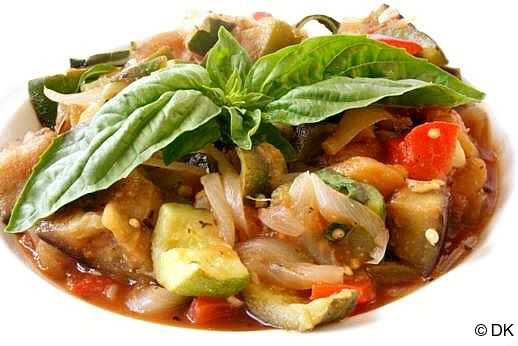 Related Recipes You May Like
Be the first to showcase this recipe!

Your Name
Did you make this recipe?
Please click below to share your experiences while you were making this recipe. Thanks for your input!
Have a favorite recipe?
Know a family recipe your mom used to make? Or maybe a go to recipe that works everytime? Share it with your fellow foodies!