Baked Asparagus with Kamut Pasta
Its amazing to know the number of varieties that one gets for Pasta nowadays. I am not talking about the shapes of the pasta but the kind of flours used to make the pasta - wholegrain, sprouted, wheat, buckwheat, kamut etc etc! Mind blowing I must say. Its been ages since I bought the original make - why go for it when you have so many yet to be finished! The last time I did my pantry check, I found I had some unused Kamut pasta spirals left. My fridge had some left over
Asparagus from my soup
of 2 days back.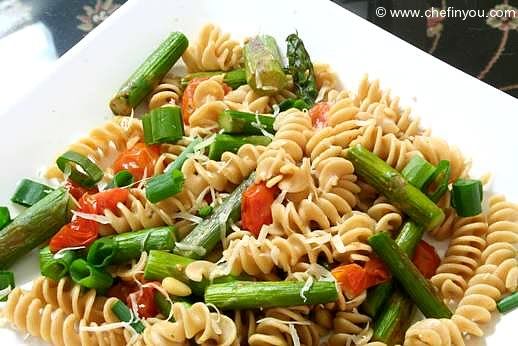 Thought of baking the asparagus crispy and crunchy and making a simple, quick and easy pasta dinner for us. The recipe is very fast to make with minimal steps and it is one healthy meal too. Nuts, Vegetables, wholegrain and healthy fats. Nothing to bargain isn't it. The recipe may sound lengthy but different steps can be done simultaneously thus saving time. Actually in totality, I finish this recipe in about 15 minutes. While baking the asparagus, Pasta can be cooked on the side. At the same time, you can start the actual cooking process. Now to the recipe, this is how I made it
Ingredients
Approx. 2 cups of Kamut Pasta spirals
about 10-15 Asparagus, stems chopped
1 cup cherry tomatoes, halved
2-3 scallions (spring onions), chopped
1-2 tbsp Garlic Oil (garlic fried in little olive oil)
1/4 cup of pine nuts
salt to taste
Method
1
In a zip lock bag, place the asparagus along with garlic oil. You can otherwise just put some olive oil along with minced garlic. Close the bag and shake it so that the asparagus is coated with oil.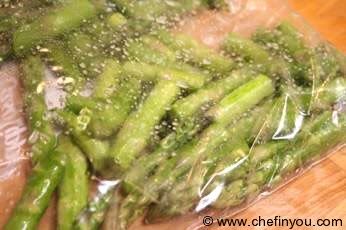 2
Bake these asparagus by placing them in a baking sheet at 400F for about 10-15 min (depends on oven - mine takes about 10m) until crispy.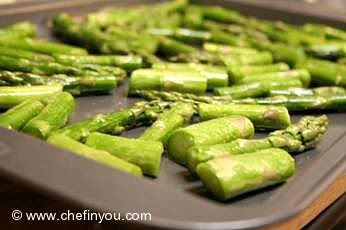 3
Meanwhile, cook the pasta according to Package instructions.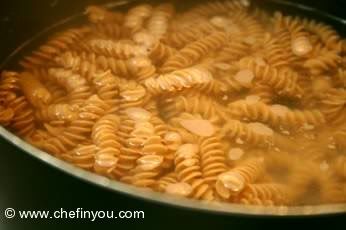 4
Toast the pine nuts in a skillet.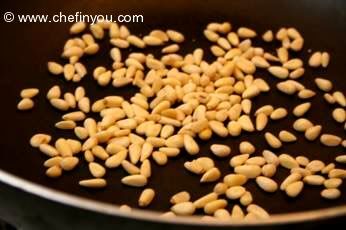 5
Once toasted, add the cherry tomato halves along with spring onion whites. You don't have to cook the tomatoes through. A little stir fry for 2 minutes should do.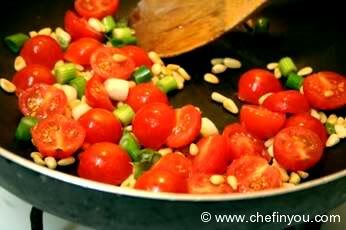 6
Add the cooked and drained pasta along with baked Asparagus.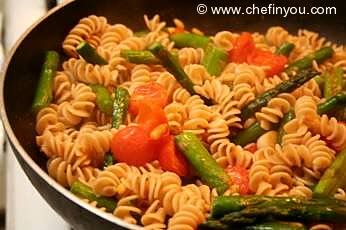 Give it a quick stir , you can add a little pasta water if desired. Garnish with grated vegetarian Parmesan and tada - you have a healthy, wealthy good looking gourmet lunch/dinner under 15 minutes.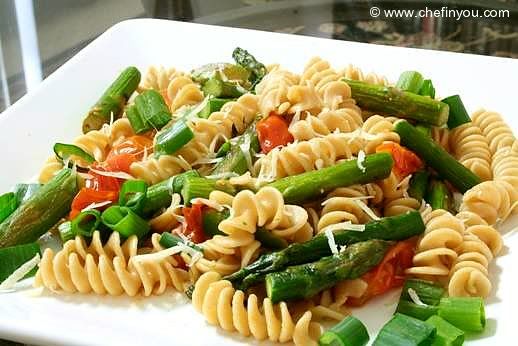 Related Recipes You May Like
Be the first to showcase this recipe!

Your Name
Did you make this recipe?
Please click below to share your experiences while you were making this recipe. Thanks for your input!
Have a favorite recipe?
Know a family recipe your mom used to make? Or maybe a go to recipe that works everytime? Share it with your fellow foodies!