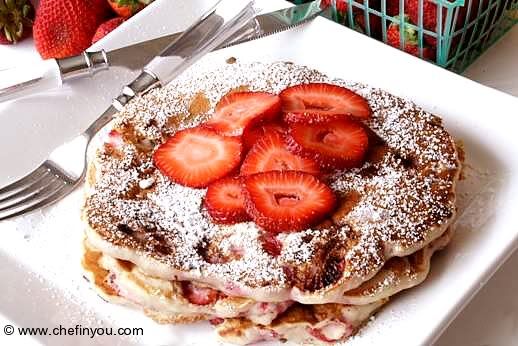 This post is a landmark for me -  very personal one at that! May be not that much a deal for you, but for me! OK OK coming to it - My first set of photos taken in the morning! Taken from 6:45 am - 7:30 am! Taken during usual routine day! Taken when I am usually frantic with lots of stuff in the morning! Taken with 'not-so-prim-and-proper-kitchen'!  I have never been one to have lots of props and pans or lighting's when I take my photos and mostly the photos amount to 10-15 pictures a post and most of them step wise pictures. Click and snap. Correct bit of lighting if required and post! Having said that I usually don't do these "photo shoots" (Sound cool! isn't it?) during morning, no time may sound a good enough excuse but to be honest, I am not a morning person. So last Wednesday, dunno it was one of those upbeat mornings - may be cos I was planning a Strawberry Pancake day!
Aaah! Strawberries do this to you, I think! What is so special about them that make them so gourmet?  Is it the delicious smell?  the taste perhaps? The beautiful rich red color? or is it because they are so expensive? I don't know the reason but they sure make me feel special. Last week, I got a super duper deal on these strawberries. Usually a small qty (pop 2-3 in the mouth and you have almost finished them kind!) costs me about $5. But this time I got a whole basket, (eat, use abuse yet I am still there kind!) for $4. We ate them till we couldn't, made
Strawberry Jam out of it
, still found lots more to go.
Freezed
(I am sleeping now for sure!)froze few more and thought of making this delicious Pancake!
I still remember the first time I ordered it somewhere - I was all looking forward to it and what comes to my plate? Normal pancakes with some strawberry syrup drizzled on top! Naaah, not my thing at all! When I say Strawberry Pancake, I imagine biting into some berries inside my pancakes, not just outside and certainly not like a syrup alone! So I did the next best thing that I can do in such cases - Stopped ordering them outside and made some at home. Excuse if the photos don't do justice to the real ones, it was morning remember? Now to the recipe - I think this is Ray Ray's recipe - I am not too sure , I have changed and played around enough not to even recall the original recipe.
Basic Information
Yield
:
Makes around 6 large pancakes
Ingredients
1-1/4 cups all-purpose flour
2 tbsp honey
2 tsp baking powder
1/2 tsp salt
2 egg whites, whipped lightly
1 cup milk
1/2 tsp vanilla extract
2 tbsp butter
Approx 2 cups strawberries
Maple syrup, powdered sugar and sliced strawberries to serve (optional)
Method
1
Add the dry ingredients together and stir well.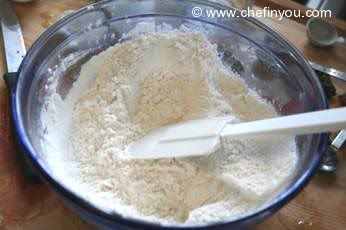 2
Now mix the wet ingredients together in another bowl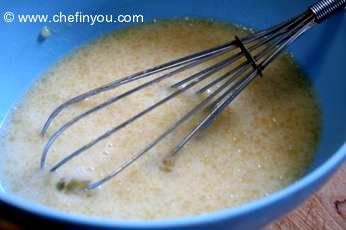 3
Very thinly slice the strawberries. You can chop them fine if you want. Just make sure they are not huge chunks but very thin pieces - otherwise it makes pouring out pancakes harder for you.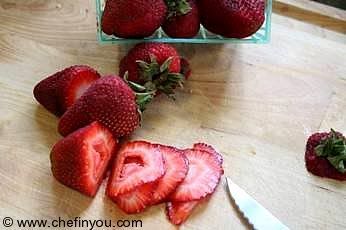 4
Now slowly mix the dry and wet ingredients together. Like how the Food Network Chefs say it - Make love to it - don't beat it and show anger at your husband on the batter! You can show them at something like this
French Bread
which needs all the muscle!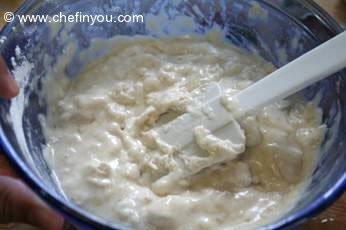 5
Now slowly stir in the strawberries and mix until blended.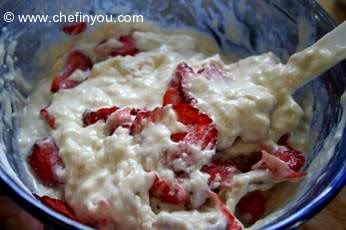 6
Grease the skillet lightly. Drop about 1/4 cup of the mixture on it.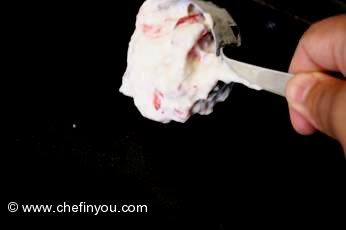 7
Spread it lightly. Now now you don't have to make a perfect round - I know I said Gourmet breakfast, but I also said it is at home, you are not at restaurant! Make a triangle if you want to! Its the taste and texture not the shape that matters
8
Now give a good look at the to-be-pancake. Admire the handiwork.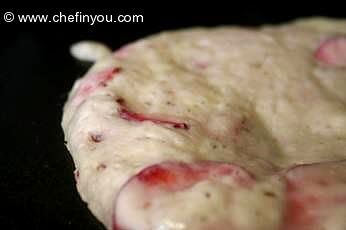 9
As you are watching, you will see the bubbles popping all over the surface. No, its not angry with you, nor have you really been sleeping during the process and left out anything. If it does that - You know you have done it right! Its supposed to do that and this is precisely what gives it the airy texture.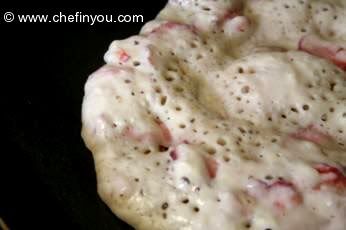 10
If you are up to it (I was when I made them), do a flip with the pan to turn the pancakes around - Now don't be too upbeat and stick it on the ceiling above! I don't think even your dog will take it too kindly if you serve that to it. Little less energy please for the over enthused....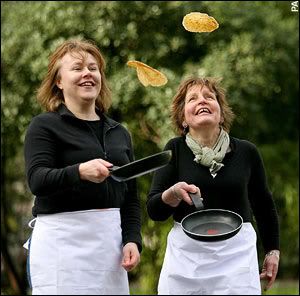 Image Source: http://www.telegraph.co.uk/
But if you don't want to be accountable to the house owner or something for the patches in the ceiling, use your spatula to flip it around!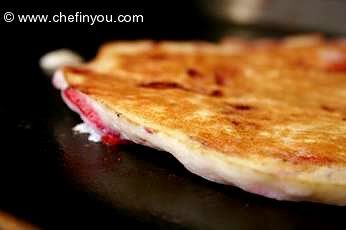 If you thought that this would be very sweet - take my word for it - its not. It can actually take some powdered sugar dusting to make it worthwhile for folks with sweet tooth.
Dust some, and pour out that maple syrup which has been lurking in your fridge ( God knows for how long!) and make it presence worthwhile! And yeah of course now you can add some sliced strawberries on top of it. This is what Strawberry Pancakes is all about for me! You can skip the syrup and instead make strawberry sauce to serve with too if you wish. You can use this
Berry Sauce here
if you prefer.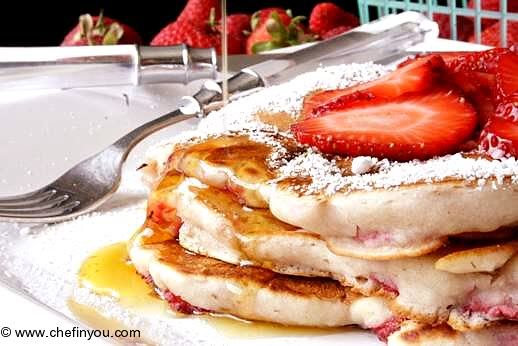 Related Recipes You May Like
Did you make this recipe?
Please click below to share your experiences while you were making this recipe. Thanks for your input!
Have a favorite recipe?
Know a family recipe your mom used to make? Or maybe a go to recipe that works everytime? Share it with your fellow foodies!