Pearl Barley Risotto with Butternut Squash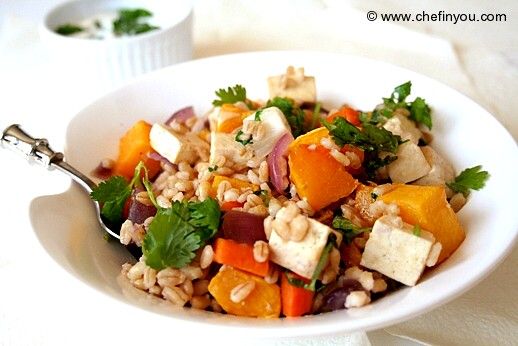 It was one of those dinners where I wanted something simple, fancy, very healthy - yet didn't want to really sit and slog in the kitchen. Fancy meal with not so much effort?? Umm... My brain cells started thinking. Then I remembered that I had some cooked barley from the previous night which I had refrigerated for a bread and was thinking if I could do something with it. I recalled one recipe from a DETOX book which I had noted down and I thought this was a good time to make that.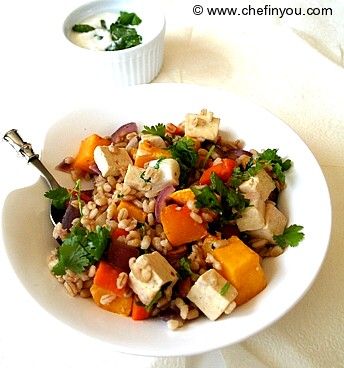 My idea of planning my day to day meal is that it has all the elements of Vegetarian Pyramid - its not possible every day to be perfect, but at least I try. Though getting enough vegetables every day for a vegetarian is not a big deal, it is of course to make sure that other nutrients like protein, vitamins etc are consumed enough too. Like I try to include greens as much as possible in a week, nuts, enough protein and other minerals etc.
This Barley Risotto helps to meet that need. I use wholegrain for the fiber, vegetables (squash,carrots,onions etc), Protein (tofu) and nuts (walnuts). I had this Risotto with Spinach Raita which not only has greens but also calcium and protein from Yogurt. It was filling, not so much work and was fancy enough to serve to guests too.
Basic Information
Cook Time
:
30 min to 1 hour
Ingredients
1/2 cup pearl barley ( cook it in pressure cooker for a faster cooking time )
1 small butternut squash, peeled, seeded and cut into chunks
1 large onion, chopped
2-3 garlic cloves, minced (or as per taste)
1 large carrot, chopped
1 cup, cubed tofu (use extra firm - or the hard tofu) [ or mushrooms if you want to ]
1 tbsp toasted walnuts, chopped
1 tsp or so fresh sage, chopped
few cilantro/parsley for garnish
salt and pepper to taste
Method
1
Place the butternut squash on a baking pan, toss it with 1 tsp. Olive oil and sage. Season with pepper.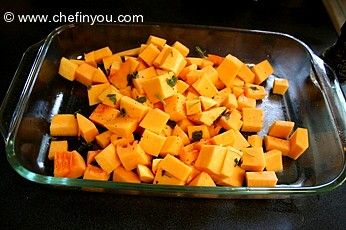 2
Roast it in a preheated 400F oven and cook for 20-30 minutes or until tender. Make sure to stir it in the middle so that it cooks evenly.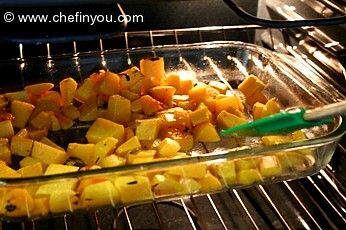 3
Meanwhile in a skillet, add 1/4 tsp of oil ( optional. I skipped it). Sweat the onions with little salt, add garlic. Once slightly soft add carrots and tofu until they come together.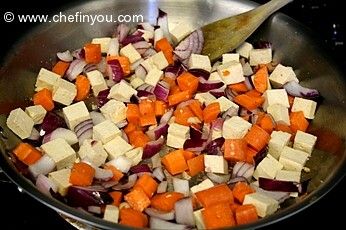 4
Next add the cooked Barley and squash - toss it until well combined. Taste and add more seasoning (salt or pepper), if needed.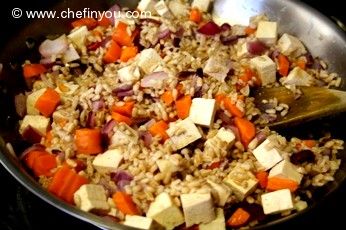 5
Garnish with lots of herbs and serve with any side dish of your choice or on its own.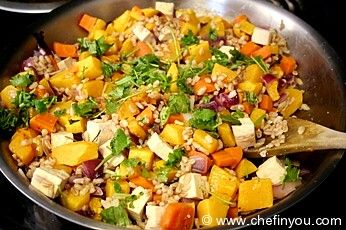 Low in fat and immense in nutrition, not to mention hearty. Sprinkle some nuts on top before serving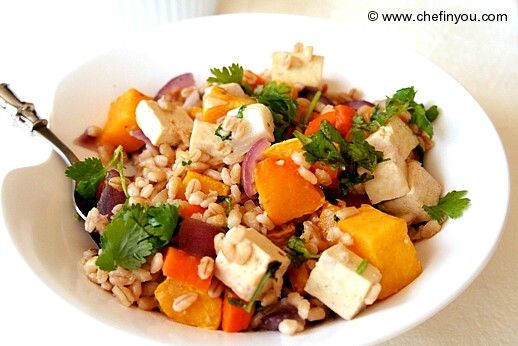 Related Recipes You May Like
Be the first to showcase this recipe!

Your Name
Did you make this recipe?
Please click below to share your experiences while you were making this recipe. Thanks for your input!
Have a favorite recipe?
Know a family recipe your mom used to make? Or maybe a go to recipe that works everytime? Share it with your fellow foodies!