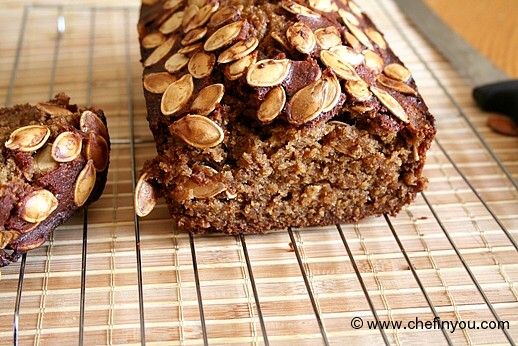 Regular readers of this blog would surely by now know my love for breads. Its amazing how breads can be made with almost anything and everything! With Pumpkins everywhere, it is inevitable that I would try a bread made with some. I had made some
home-made Pumpkin Puree
and the first thing I did was to use some for this bread.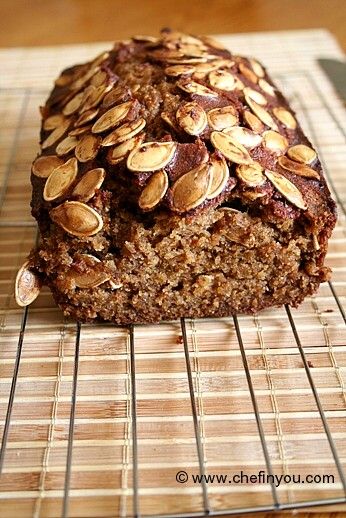 Taste Test
The variety for making Pumpkin breads are myriad and this time I used a recipe from Simply Recipes. I adapted the recipe to adjust the availability of the ingredients and also to make it low fat and tad bit healthier. I used some
Roasted Pumpkin Seeds (plain salt seasoning)
instead of the walnuts. I think 1/2 cup of pumpkin seeds turned out to be a bit too much for this bread. It results in mild crunch and then sort of becomes chewy. I ended up chewing the seeds more than the bread itself!!!!! Hence I think it would be a great idea to use either v few pumpkin seeds if at all or use Pecans/walnuts instead. I think Pumpkin seeds don't always work in baked goods. One
user had the same complaint when using Alton Brown's recipe
(see the one with the heading
"excellent!.. all except the pumpkin seeds.. maybe not toasted enough?"
). I know mine were toasted v well - they were v crunchy on their own - but somehow just didn't work that well with the bread. Everyone else in that thread also seemed to not use the seeds for some reason or the other. But the bread by itself was fantastic and slightly on the sweeter side. Its bit chewy with beautiful texture thanks to the addition of wheat bran. Use of Egg whites instead of whole eggs - enhances nutrition without adding any fat. It also contributes to the moistness of the bread along with healthy Canola Oil. The spices add a wonderful aroma and flavor to the bread. I would definitely make this bread again, but of course
without the pumpkin seeds
and use walnuts/pecans instead :)
**UPDATE**
Two readers of mine told me exactly what could have gone wrong with the pumpkin seeds.
Bergamot
and Chana (via e-mail) told me the seeds could not have worked cos they were unhulled. Only then, that it stuck me that I was using fresh pumpkin seeds (with the cover intact which makes it chewy) which are not hulled. The seeds which you normally get from the shops are hulled and in green color which will work v well for this recipe.
Just remember not to use fresh ones
. They are excellent as snacks but don't work well in baked goods. Thanks to them for pointing this out to me :)
Basic Information
Cook Time
:
30 min to 1 hour
Yield
:
Makes one 9X5 inch loaf
Ingredients
1 cup all-purpose flour
1/2 cup wheat bran
1/2 tsp salt
1 cup brown sugar
1 tsp baking soda
1 cup Pumpkin Puree
1/2 cup canola oil ( or any other vegetable oil)
3 egg whites, lightly beaten
1/4 cup water
1/2 tsp nutmeg
1/2 tsp cinnamon
1/2 tsp all spice
1/2 cup roasted pumpkins seeds ** or Walnuts ( see my Taste test above for using the seeds )
Method
1
Preheat Oven to 350F Oven. Sift the flour, salt, sugar and baking soda together. Then add the wheat bran.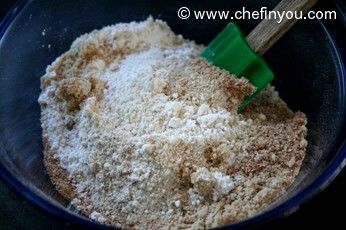 2
In another bowl,
3
mix the pumpkin,oil,egg whites,water and spices together.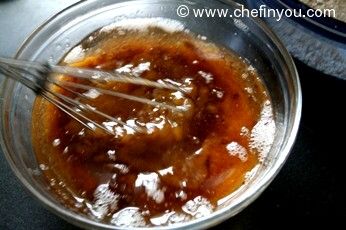 4
Slowly combine the wet ingredients with the dry stirring v gently.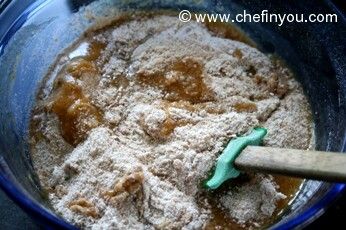 5
Add half of the nuts to the mixture.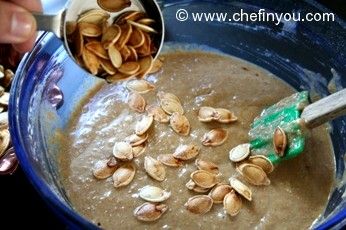 6
Pour into a well greased loaf pan.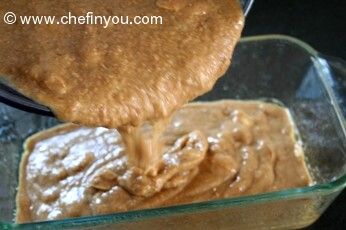 7
Top it off with remaining nuts.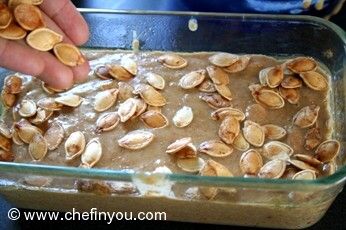 8
Bake for about an hour or until a skewer inserted in the center of the loaf comes out clean.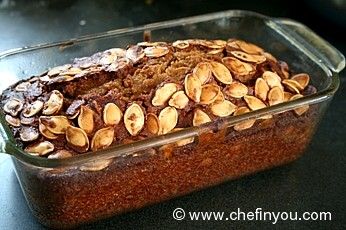 Let it sit for few minutes and then turn it out into a wire rack to cool.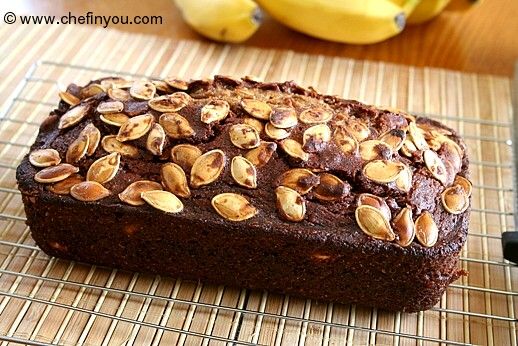 Slice it and enjoy!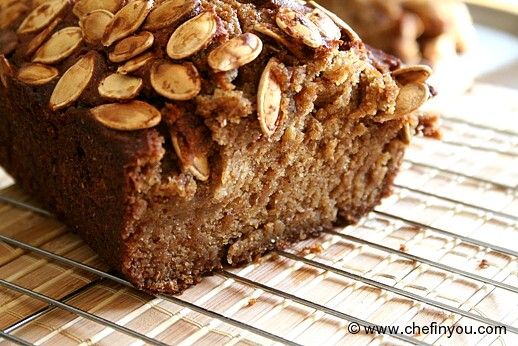 Related Recipes You May Like
Did you make this recipe?
Please click below to share your experiences while you were making this recipe. Thanks for your input!
Have a favorite recipe?
Know a family recipe your mom used to make? Or maybe a go to recipe that works everytime? Share it with your fellow foodies!