Roasted Pumpkin Seeds (pepitas)
Remember my promise for showing an use for all those
Pumpkin seeds which I got from carving these pumpkins?
Here it is - Roasted Pumpkin Seeds. One of the healthy and guilt free snack foods to have around in your pantry. Next time the craving hits you at wrong times, pop these into your mouth - it will cure you not only the craving but also add nutrition along with that satisfying crunch. There are so many ways of making this delicious and see my notes below for some seasoning ideas. The recipe is very simple and does not require much step wise pictures. But here it is anyways. I used Indian curry seasoning for my seeds
Basic Information
Cook Time
:
30 min to 1 hour
Ingredients
3 cups of Pumpkin seeds ( at least that's the qty I got from my pumpkin)
approx 1/2 tbsp to 1 tbsp butter/vegetable oil ( I used 2 tsp of vegetable oil - it still came out pretty good!)
salt to taste ( some recipes use 1 tbsp for 2 cups of seeds - use your discretion)
1/2 tsp. turmeric
1/2 tsp. Garam Masala
1/4 tsp. red chilli powder
Tips
See other possible seasoning:
Garlic salt and vegetable oil
Garlic Powder - use it if you want salt free seeds. You can add this right when comes out of oven and warm.
Vegetarian Parmesan
Curry Powder
Cayenne Pepper
Salt and Pepper
Any seasoning salt
Cajun spice mix
Lime
Italian dried herb mix
for a sweet spiced pumpkin seeds - roast them with brown sugar, cinnamon, nutmeg, a bit of chili and a bit of salt. (Thanks Laurie)
Method
1
Firstly clean the seeds in a colander using cold water. The cold water helps in getting rid of the strings/fibers of the pumpkin from the seeds. Remove as much as possible - since while roasting sometimes it gets burned spoiling the taste of the seeds. But a little pumpkin membrane here and there should not be a problem
2
There are two ways of doing this roasting process.
Method 1
Bring about 5 cups of water to a rolling boil. Add the salt and then the seeds and boil for about 10 minutes. Drain and dry in paper towels. Or if you have the time, you can air dry which takes at least 1-2 hours (depending on the weather and number of seeds). Follow the Method 2 from here on.
OR
Method 2
Instead of boiling, simply dry the seeds with paper towels. ( or as mentioned previous air dry for 1-2 hours )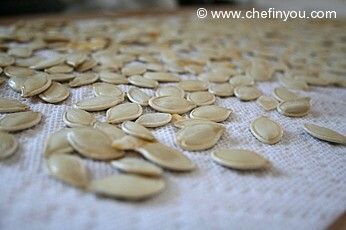 3
Take them in a bowl and toss the seeds with the seasoning of your choice until well coated. I used the Indian seasoning as given in the ingredients above.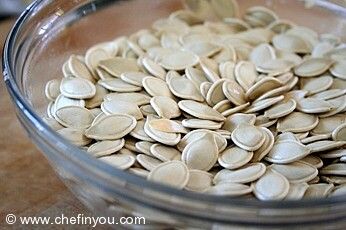 4
You can use other seasoning as given below or as per your requirements - time to get creative.:) Cover a baking sheet with foil and grease the foil. Or you can simply place the seeds in a single layer on a cookie sheet directly.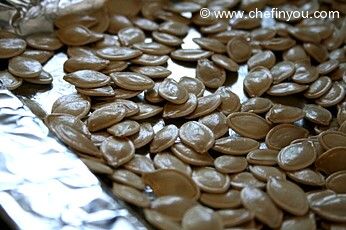 5
Bake in a preheated 250F oven for 30-45 minutes or until golden brown color. Don't forget to stir them once in a while in the middle of roasting in the oven.
Storing Pumpkin Seeds
Roasted Pumpkin seeds will keep well in an air tight container ( to retain the crunch) for 2-3 days max. If you want to extend its shelf life then pack it in a zip lock bag (use double bags - works better sometimes) and refrigerate. This lasts for a week and for anything longer than that, freezing is the best option.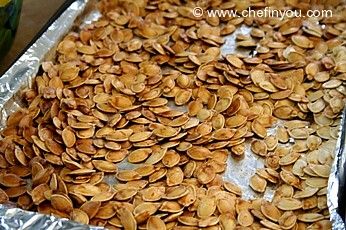 Then there is also another option if you don't have an Oven
Method 3 - Stove Top Method
Having no oven is not an excuse for foregoing this crunchy snack. In a saute pan, add oil/butter until melted in low heat. Add the seasoning of your choice and then the seeds. Stir to mix and keep stirring until it turns color and crackles. You can remove the hulls from the seeds after roasting. But I find it too cumbersome a process and enjoy it just as it is with the hulls!!!! If you are not impatient like me then do it once it has come out of the oven.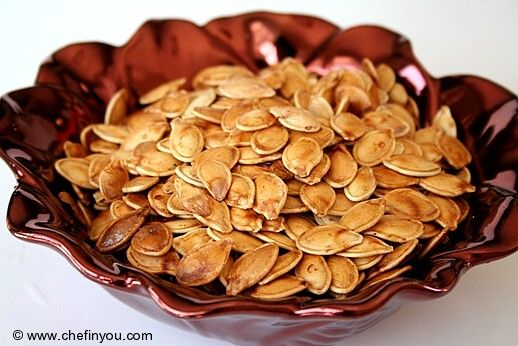 Related Recipes You May Like
Be the first to showcase this recipe!

Your Name
Did you make this recipe?
Please click below to share your experiences while you were making this recipe. Thanks for your input!
Have a favorite recipe?
Know a family recipe your mom used to make? Or maybe a go to recipe that works everytime? Share it with your fellow foodies!