Lentil and Bean "Meatloaf"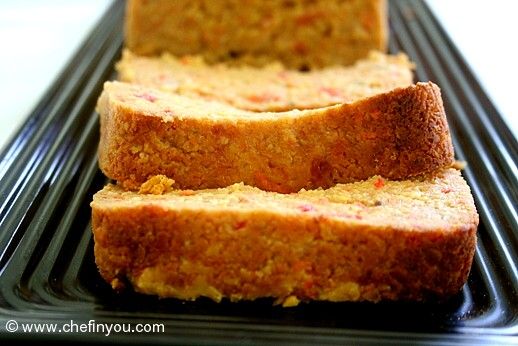 I received a recipe request from a dear reader 'Neha Vaswani' for a vegetarian alternative to the classic meat loaf recipe. I had never made a loaf per se which did not involve flour or a wholegrain in a prominent role. So set about checking out various recipes. This Lentil and Bean loaf is IT. We loved it so much and it was an instant hit. This recipe is inspired from various meat loaf recipes available online. I had decided from the get go that I was going to use red lentils for this recipe. I mean its easier to cook, its hearty and I thought it would provide the required 'body' to the recipe. But what about Protein?. Meat has so much protein.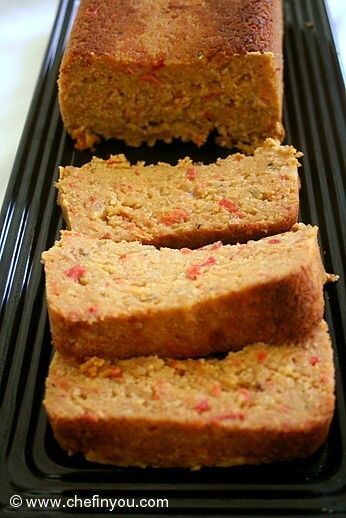 I thought adding beans would give that protein kick this dish needs and also help in the binding of the recipe without using eggs (for those not wanting to use eggs for this recipe). If you desire, you can also add 2 slightly beaten egg whites to this recipe.I had Pinto Beans in my pantry, hence went for it. Another protein enriching factor I went for was TVP - Textured Vegetable Protein ( or Soya chunks as available in Indian stores). Instead of using whole wheat bread crumbs which I normally do, I used whole grain and flax bread to make my bread crumbs (Omega-3 power enrichment) along with some vegetables (of course).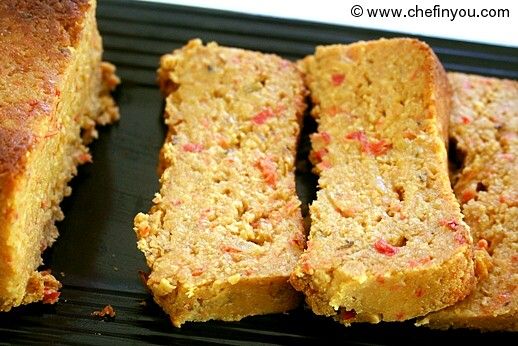 What is a meat loaf without cheese? hence added some cheddar to the mixture. The result was mind blowing. It had a crusty surface and insides were deliciously moist. For a minute I wondered if I would have to make something else for dinner since I only had some bowl of soup along with it!! I kept some steamed rice just in case - but believe me when I say this - this loaf filled us up like crazy! My rice was hardly touched. I will be sure to make this again.
Basic Information
Prep Time
:
30 min to 1 hour
Cook Time
:
30 min to 1 hour
Yield
:
Makes one 9X5 inch loaf - about 4-6 servings
Ingredients
1 celery, chopped (including the greens)
1 carrot,grated
1 onion,chopped
1 red bell pepper, chopped
1 15-oz can pinto beans
1 cup red lentils
1/4 cup TVP ( or soy chunks)
1 cup freshly made wholegrain and flax bread crumbs ( or use wholewheat bread crumbs or you can add ground flax seeds to the mixture)
1 cup cheddar cheese,grated
1 tbsp ketchup
1 tbsp tomato paste
1 tbsp cumin-coriander powder
1 tsp chili powder (or as per taste)
salt to taste
2-1/2 - 3 cups vegetable broth/water
Method
1
Clean the red lentils in cold water until the water runs clear. Place it in a pan along with the vegetable broth (start with 2-1/2 cups) and cook until cooked.
2
Add the soy chunks to it and let it cook for another 4-5 minutes until the soy chunks get soft.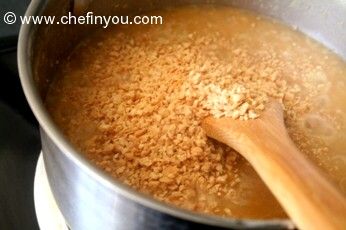 3
Make sure that this mixture is mushy and does not have excess liquid.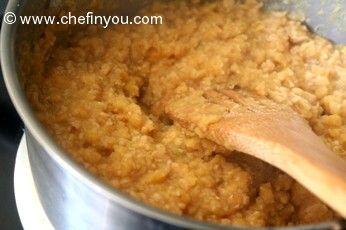 4
In a skillet, in 1 tsp of olive oil, saute the onions along with salt. When soft, add the carrots, celery, red bell pepper and cook until the vegetables get soft. Another 3-4 minutes. Now add the ketchup, tomato paste along with spices. Cook until the rawness of the tomato paste goes away.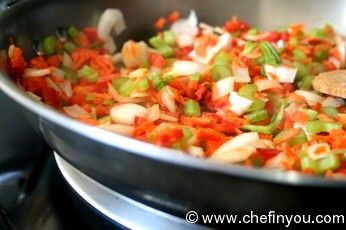 5
Process this mixture along with beans into a paste.
6
Add this to the cooked lentils (its mushy and does not need to be processed).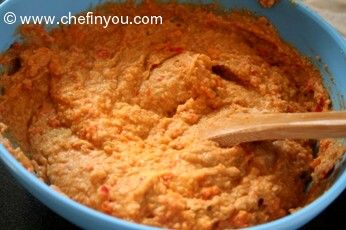 7
Now add the cheese and bread crumbs and mix well until blended. You can at this point taste this mixture to see if the seasoning is enough for your taste. Add more salt/pepper if you desire (or some cayenne pepper to increase the hotness of the dish).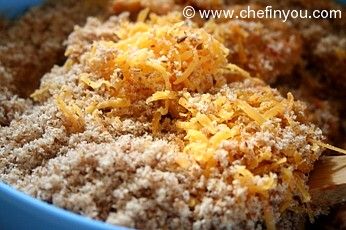 8
Transfer this to a greased loaf pan. Level the top.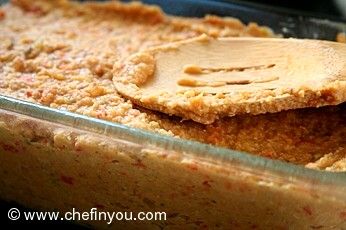 9
Bake in a preheated 350F oven for 1 hour. You will see the surface of the loaf looking crusty and sort of dry (but it actually provides a nice crunch).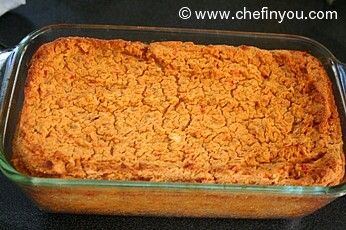 Cool a little bit, remove from pan, cut it into slices and serve - either warm or cold as per your preference.
Update:
I got quite a few queries asking me what to do if the loaf does not set and remains too moist even after baking. If your insides do not harden enough to form into a loaf, just place the loaf pan in the fridge for 1 hour or so. It will harden and you will be able to cut them like a loaf. You can always re heat the cut slices in the oven for few minutes (or m/w) before serving in such a case. We personally liked it warm. Its moist, hearty with the bean and lentils complementing each other well.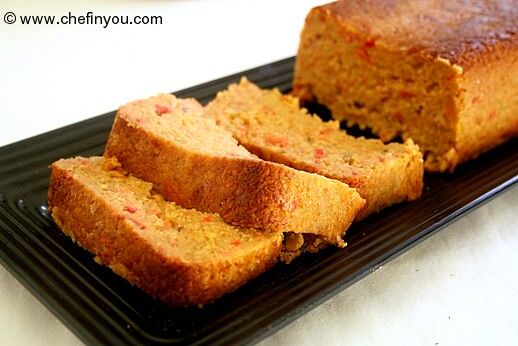 The cheese adds a delicious moistness to the loaf. In short this is a healthy protein rich dish. This dish finds its way to Srivalli's
My Legume Love Affair Event
, original brainchild being
Susan from Well-Seasoned Cook
Related Recipes You May Like
Did you make this recipe?
Please click below to share your experiences while you were making this recipe. Thanks for your input!
Have a favorite recipe?
Know a family recipe your mom used to make? Or maybe a go to recipe that works everytime? Share it with your fellow foodies!