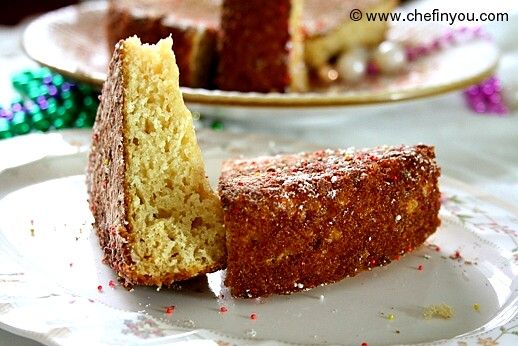 I now have 6 requests for Vanilla cake (with 5 of them for it being an eggless version!). Never figured out that Vanilla cake has such a special place in so many people's hearts. I have had some beautiful conversations with all these readers where each of them wanted the recipe for their own reasons. But the underlying fact was that it should be simple without any complicated ingredients that they can easily get at the stores. Anand (name changed for privacy reasons) told me that he wanted to appreciate his wife who was so supportive and hence felt that this Valentine's cooking something special for her would be a great way to thank her. Of course its a surprise and having not baked ever - he wanted a very simple recipe that he could follow. I shared with him this recipe and having gotten his "approval" ;) he asked me to post it for him to see the stages.
Payal and Saras
have been  regular readers of my blog and finally they both are ready to take the plunge into baking. Since Payal does not like chocolate that much (aah! at last someone after my own heart!), she wanted a vanilla cake.
Vineeta
also wanted a vanilla cake for celebrating this coming valentine with her husband. She informed me that since she was not good at decorating cakes, she never felt confidant enough to venture into making cakes. If she ever had seen my initial cakes, she would have started baking cakes ages ago! I think at the end of it all, its the thought that really matters. I still remember
my first cake
which came out beautifully
thanks to this recipe
but which I spoilt completely since I felt that itch to "decorate". I was dejected and embarrassed to show it to my better half for whom I made it for his birthday - but I was heartened when I saw him so ecstatic that I had "ventured" out of my comfort zone to do something special for him. So take the plunge, as I said its the thought that counts. But I will show you how you can dress it up a little in this post with stuff probably lying around in your house right now.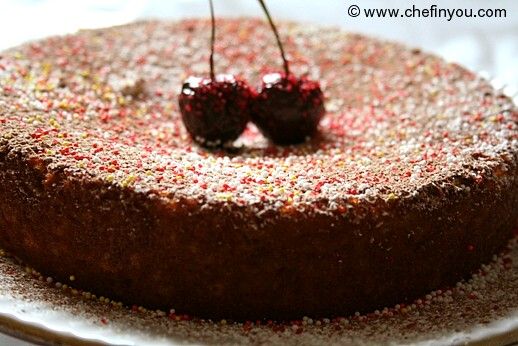 And finally as recently as 5 days ago I got a request for this cake
from Hema
who wants to make it for a Bday. So this cake which was the second cake I ever tried is for all your guyz. It has the simplest ingredients and so darn simple! Remember - If I can make it, so can you (and probably much better, I might add ;).
Ingredients
1 cup (140gm) all purpose flour (Maida)
3/4 cup (200 gms) sweetened condensed milk
1/4 cup (60ml) melted butter (or margarine)
1-1/2 tsp baking powder
1/2 tsp baking soda (soda bi-carb)
1 tsp vanilla essence
1/3 cup ( 5 tbsp/ 75 ml) of water
powdered sugar/ cocoa for dusting (optional)
few cherries dipped in chocolate for garnish (optional)
Method
1
Preheat Oven 400F (200C). Sift the flour along with Baking powder and Soda together in a bowl.
2
In another bowl, mix the condensed milk, butter, vanilla essence along with water. Stir well until combined.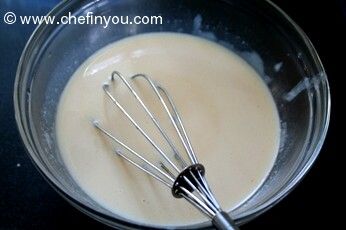 3
Pour the wet into the dry and mix gently. (Don't use your muscles here pls!)  The batter should be of a dropping consistency. Pour this into a greased (7") diameter cake pan. (If you can get your hands on a heart shaped mould, then you could use that to make a heart shaped valentine cake.)
4
Bake for 10 minutes and then reduce the heat to 300F (150C) and bake for another 15 minutes.  You know it is ready when the cake starts leaving the sides of the pan, get a brown tinge and as a further check - insert a skewer in the center of the cake and it should come dry and clean.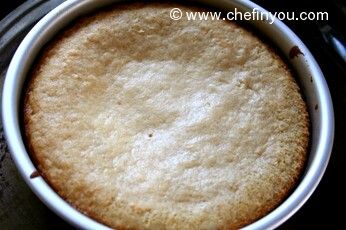 5
Remove from the Oven. Let it sit for few minutes (say about 5 minutes). Invert it upside down (so that the bottom is now on top) on a plate.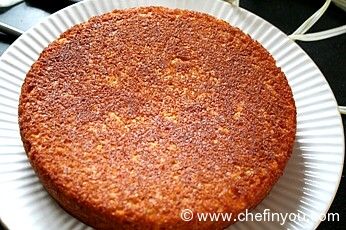 The cake now is ready. Wasn't that simple? Here are some simple decorations that I did. I dusted some powdered sugar along with little cocoa on top (what's a vanilla cake without chocolate? or as a matter of fact what's a birthday/valentine without chocolate? ;)) I had some colorful beads lying around the house (Don't ask me how it got there!) I just used them to decorate it a little more - just to be little fancy shmancy!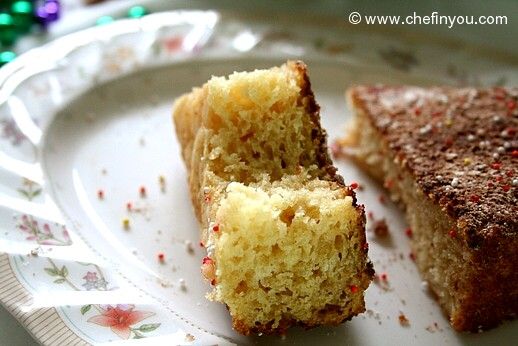 Related Recipes You May Like
Did you make this recipe?
Please click below to share your experiences while you were making this recipe. Thanks for your input!
Have a favorite recipe?
Know a family recipe your mom used to make? Or maybe a go to recipe that works everytime? Share it with your fellow foodies!