Chocolate Chip and Nut Muffins
Recently, I had a little visitor, who loves chocolate and walnuts. Every time he visits me, I have some
chocolate chip cookies
ready and waiting for him. This time for a change, I thought I will make something else for him with his fav. ingredients. I had been meaning to try this recipe which I flicked from a colleague who bought it for one of our work meetings. They were an instant hit and got over before we all could blink few times.  So, I thought why not give it a try.
I just made one small change to the recipe. Instead of using 2 whole eggs, I used 4 egg whites. Other than that, I kept to the recipe cos its that perfect. These are utterly moist with an absolutely addictive topping of chocolate chips, sugar, nuts and cinnamon. Its hard to stop at one - in fact, even I ate 2 of them myself, inspite of me not liking chocolates that much. My muffins were over too and I was lucky that I could save 1 of them for my husband! (Nope, not miserly. trust me! He doesn't like chocolate either!! Weird couple we sure are ;))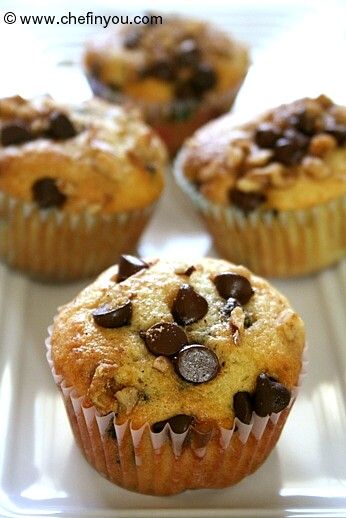 Without further adieu, here's the recipe. You can of course use your own substitute for the eggs in the recipe
Ingredients
1/2 cup butter, softened
1 cup sugar
4 egg whites (or use 2 eggs or to make it eggless - substitute 1/2 cup of any egg substitute you desire like vegetable oil, yogurt, Ener-G etc)
1 cup (8 ounces) plain yogurt
1 tsp vanilla extract
2 cups all purpose flour (maida)
1 tsp baking soda
1/2 tsp baking powder
1/2 tsp salt
3/4 cup semisweet chocolate chips
For the Topping:
1 tsp cinnamon powder
3-4 tbsp chopped walnuts ( I used a little of hazelnuts too)
2 tbsp brown sugar
1/4 cup semisweet chocolate chips
Method
1
In a bowl, cream butter and sugar together.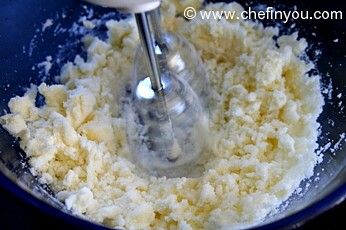 2
Add the egg whites slowly and beat it along with the butter mixture.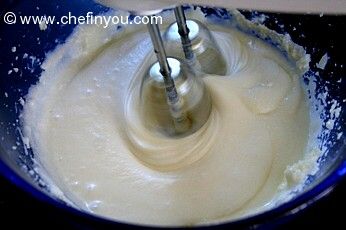 3
Add yogurt and vanilla and mix well.
4
Combine the flour, soda,powder and salt together in another bowl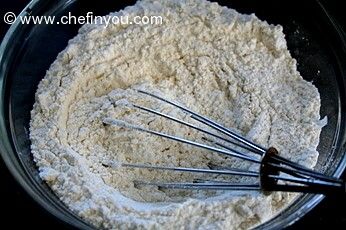 5
Add it slowly into the creamed mixture until moistened.
6
Fold in the chocolate chips gently.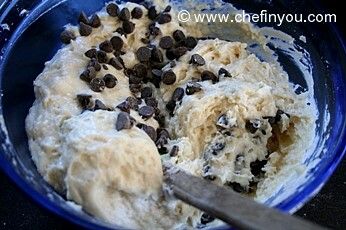 7
Line a muffin pan with paper-lined cups and fill it 2/3rd full with the batter.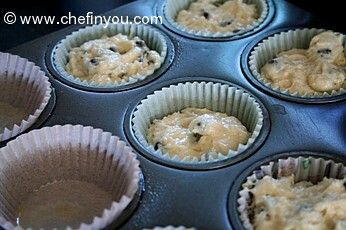 8
Combine the topping ingredients in a bowl.
9
Sprinkle this mixture over the batter.
10
Bake them at 350F for 20-30 minutes or until a toothpick inserted near the center comes out clean. Cool it for few minutes before removing them from the pan.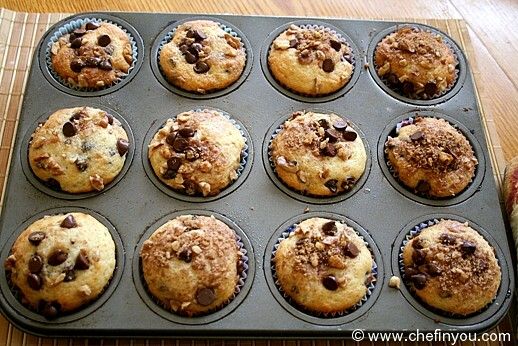 I think they will keep well if stored for couple of days - but I cant be too sure since there were none for me to store!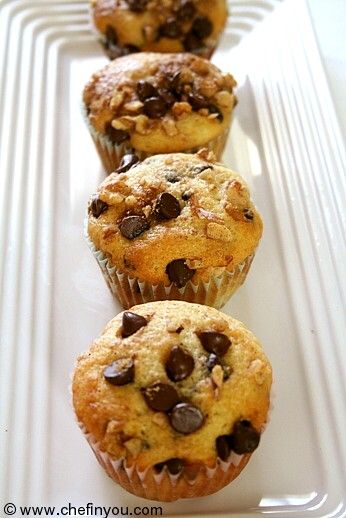 Related Recipes You May Like
Did you make this recipe?
Please click below to share your experiences while you were making this recipe. Thanks for your input!
Have a favorite recipe?
Know a family recipe your mom used to make? Or maybe a go to recipe that works everytime? Share it with your fellow foodies!