Anyways, talking about which reminds me of this funny comment I got recently. She mailed me saying - in her words - "
For being a self claimed chocolate hater, you sure manage to salivate all of us chocolate lovers with your amazing out of this world description of how your chocolaty desserts tastes! But if you hate it, why would it taste good to you?"
Interesting and very valid question! Well, to answer that - I don't HATE chocolate per se. I just dont love/like it enough. One bite tells the world to me - of its texture, of its taste, that flavor. My nasal workers inform me of the quality of aroma which wafts from the oven. My toothy friends inform me how chewy or crispy or nutty they are. And to decide that, all one needs is 1 or maximum 2 bites. That's where I stop while the real lovers will go on for few more.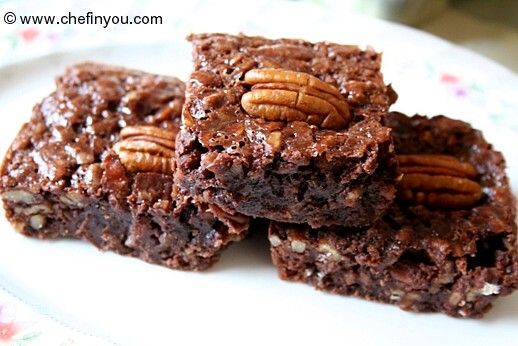 This Nutty Pecan Chocolate Maple Brownie or Square (whatever you call it) is one such chocolaty goodness. A recipe from a dear colleague Ellie, from whom I flicked cos everyone around me "
ooooohed
" and "
aaaaahed
" after a single bite. I knew that instant I had to get the recipe for all my chocolate lover friends and readers even before I tasted it. It was very nutty with all that pecan adding the crunch. I think the maple syrup made the top look like its parched or something, although it was anything but that. This is a must for sweet tooth owners. Now to the recipe which I adapted slightly