Paneer Lollipop ("Chicken" drumstick)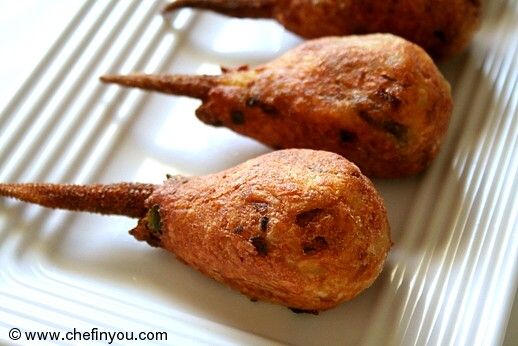 One of the main aims of this blog has always been to make a vegetarian or Vegan version of a non-vegetarian dish possible. Instead of going for the obvious "mock meats" as an substitute, I choose to use more natural and organic substitutes. Nothing against mock meats except that long list of artificial ingredients at the back of those boxes which scares me away! There is enough toxic in the body without even trying - why go and invite more trouble? Then to rectify we pop in more pills which pave way for more side effects. Its an infectious circle which I try hard to stay away from.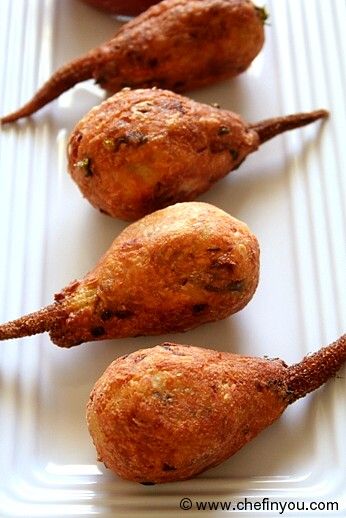 Mostly when the food apes the looks and feel of a non vegetarian dish and which uses similar spices might help to fool the taste buds. Of course, there will always be room for complaints, if you really want to :). Anyways, recently when there was a sudden shower among our midst, it was like a sure invitation for frying up something yummy! Well - sounds like a lame excuse but excuse nevertheless :) I was wondering what to make - something new, something special yet something which does not take the whole afternoon in the kitchen for few minutes of enjoying evening time. So, I remembered these drumsticks which I had in mind to be tried for a long time. This recipe is from famous Indian Chef Sanjeev Kapoor. It is a vegetarian version of the famous Chicken Drumstick or Chicken lollipop. The vegetarian version uses Indian cheese "Paneer" and potatoes to substitute the chicken. Like I have mentioned many a times, Paneer matches close to the texture of chicken (at least, that's what my non vegetarian friends tell me! I wouldn't know better)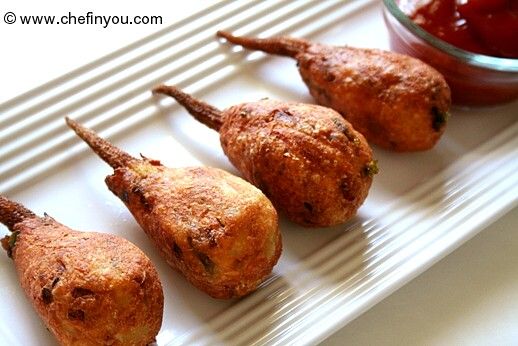 I made v slight modification to the process of the recipe to suit my laziness :) Other than that the recipe remains verbatim. I have given few tips to making the perfect crunchy yet free of all that clingy oil! You don't want a soggy lollipop. Its delicious and great for evening snacks or for entertaining sudden guests. Its sure a hit among kids.
Basic Information
Yield
:
Makes around 12-16 pieces
Ingredients
about 2 cups grated Paneer (200gms)
1 inch ginger, peeled and grated
3-4 cloves of garlic, minced
2-3 green chillies, thinly sliced (or as per taste)
2 large potatoes,chopped
1 medium red onion, chopped v finely
1/2 tbsp low sodium soy sauce
salt to taste
13-16 pieces of baby corn (i used the canned variety since I dont get fresh)
2-1/2 tbsp Cornstarch (or you can use cornflour/soyflour etc)
about 1/4 cup of all purpose flour (maida)
few springs of cilantro/coriander leaves, chopped
Method
1
Steam the potatoes with the skin. If you desire, you can peel it - I like to retain it for the nutrition value.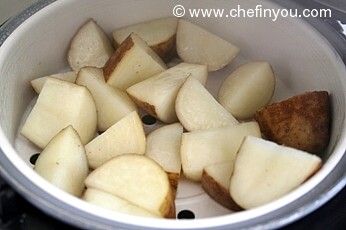 2
Once steamed, mash it well and add it along with the rest of the ingredients except all purpose flour.
3
You should get a thick. tight dough. Too tight, it will be crumbly so add few drop of water. Too soft, you wont be able to shape it into drumsticks. Add more paneer or cornstarch. Make small rounds of the dough. make sure its smooth.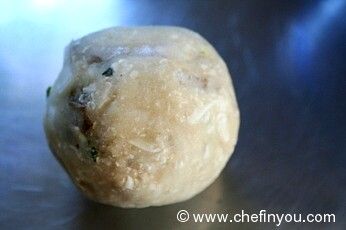 4
Now pierce the dough round with the thicker end of the baby corn.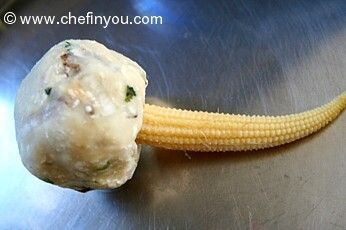 5
Slowly using your hands, shape them into drumsticks. Press down the dough over the baby corn so that the edges smoothens out along the edges of the baby corn - like a cone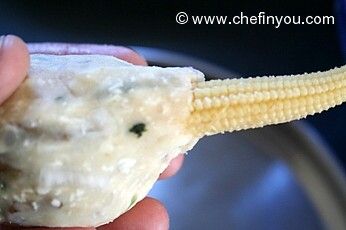 6
Shape them all likewise.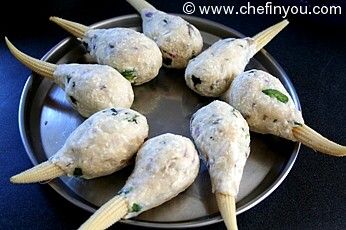 7
Depending on the amount of dough you use for each drumstick, you will make around 12-16 pieces. Place them in the fridge for some time - like 20 minutes. Though this step is unnecessary, I find that doing it this way before frying not only helps to keep the food intact without disintegrating but also seems to soak up oil less than norm. Remove from the fridge and meanwhile heat some oil for deep frying.
8
Place the all purpose flour in a plate and dust the lollipop with some flour. Remove excess flour by tapping it gently against your hands.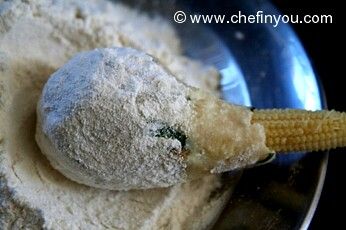 9
Now fry the lollipop/drumstick in batches in oil. make sure its evenly browned it all the sides. Too hot a oil will burn the outside faster. Too low, will make it soggy with oil. Med-high should work perfectly.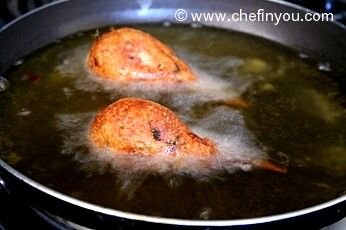 10
Drain onto a kitchen/paper towel.
Now serve them hot either with ketchup or with some chilli garlic sauce. You can also use sichuan sauce.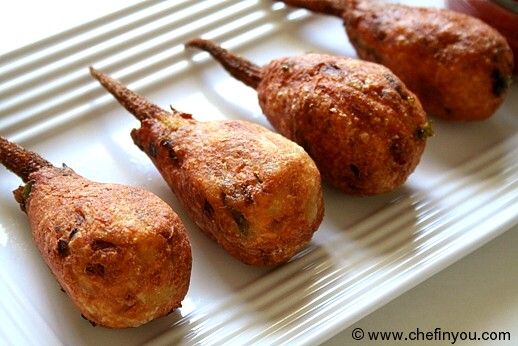 Related Recipes You May Like
Did you make this recipe?
Please click below to share your experiences while you were making this recipe. Thanks for your input!
Have a favorite recipe?
Know a family recipe your mom used to make? Or maybe a go to recipe that works everytime? Share it with your fellow foodies!