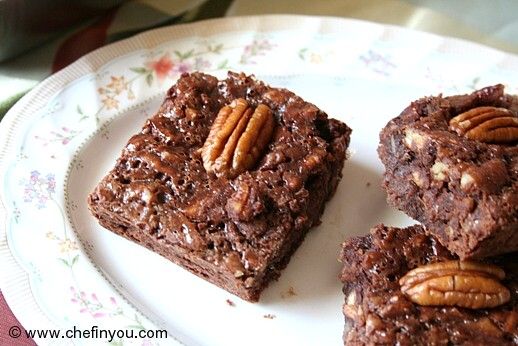 I usually am organized (ahem - to be more truthful, I try to be) when it comes to blogging. It really requires that I plan ahead/ cook ahead so that I am not out of drafts/photos when I want to do a post. With work and other commitments, you know that it becomes essential. But well last few months, things have been really crazy making sure that I ran out of all my drafts - I have practically just 2 or 3 more with me. While I was fuming about how hard my life is, my husband was like - yeah yeah! Its so hard reading wonderful comments every morning. Yes Indeed! So much hardwork! What does he know! Jealous of my readers! Totally!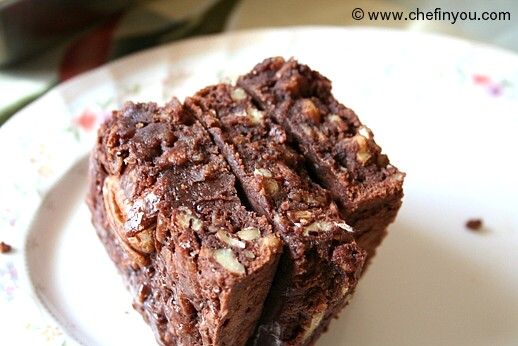 Anyways, talking about which reminds me of this funny comment I got recently. She mailed me saying - in her words - "
For being a self claimed chocolate hater, you sure manage to salivate all of us chocolate lovers with your amazing out of this world description of how your chocolaty desserts tastes! But if you hate it, why would it taste good to you?"
Interesting and very valid question! Well, to answer that - I don't HATE chocolate per se. I just dont love/like it enough. One bite tells the world to me - of its texture, of its taste, that flavor. My nasal workers inform me of the quality of aroma which wafts from the oven. My toothy friends inform me how chewy or crispy or nutty they are. And to decide that, all one needs is 1 or maximum 2 bites. That's where I stop while the real lovers will go on for few more.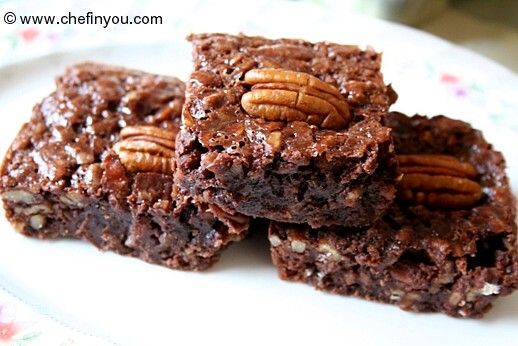 This Nutty Pecan Chocolate Maple Brownie or Square (whatever you call it) is one such chocolaty goodness. A recipe from a dear colleague Ellie, from whom I flicked cos everyone around me "
ooooohed
" and "
aaaaahed
" after a single bite. I knew that instant I had to get the recipe for all my chocolate lover friends and readers even before I tasted it. It was very nutty with all that pecan adding the crunch. I think the maple syrup made the top look like its parched or something, although it was anything but that. This is a must for sweet tooth owners. Now to the recipe which I adapted slightly
Basic Information
Cook Time
:
30 min to 1 hour
Yield
:
Makes 9 big pieces (one 8 inch square pan)
Ingredients
2 eggs (I used 4 egg whites, lightly beaten) (see substitutes)
2 tsp vanilla extract
1/4 tsp salt
1/4 cup sugar
1/2 cup all-purpose flour
1-1/2 cups pecans, coarsely chopped(or use walnuts)
1/2 cup maple syrup (see substitutes)
3 ounces semisweet chocolate chips (about 1/2 cup)(or use finely chopped semisweet chocolate) (see substitutes under sweeteners)
3 tbsp butter
few pecan halves for decorating (optional)
Method
1
Preheat Oven 325F. Line the bottom and sides of 8 inch square baking pan with wax papaer and lightly grease the paper. Whisk together eggs, vanilla and salt.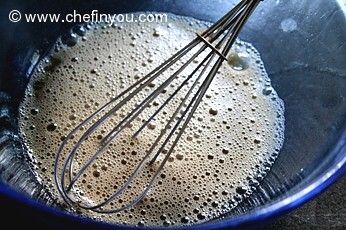 2
In another bowl, mix together chopped pecan and the flour.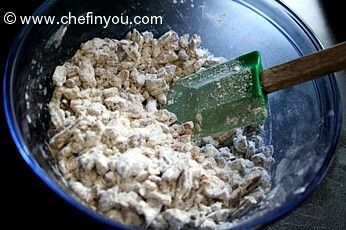 3
Meanwhile in a saucepan, bring the sugar and maple syrup to a boil. Remove from heat and stir in the chocolate and butter.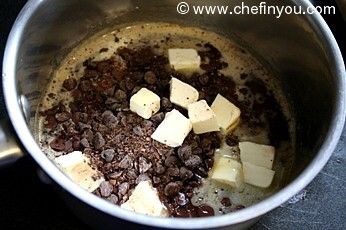 4
Blend it thoroughly with a wooden spoon.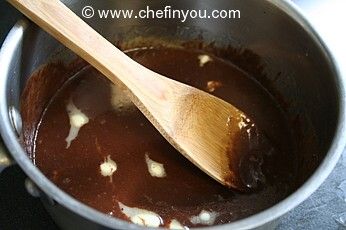 5
Mix in the egg mixture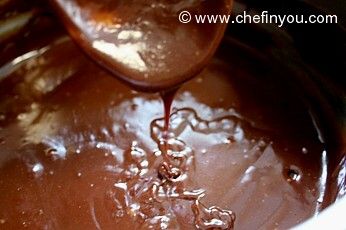 6
and then fold in the pecan mixture.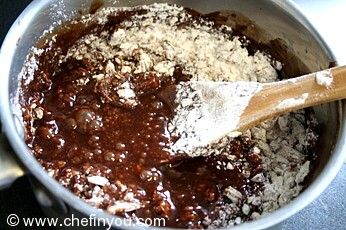 7
Pour this mixture into the baking pan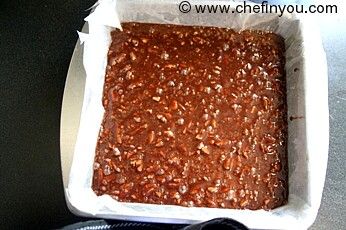 8
and bake until set, about 35 minutes.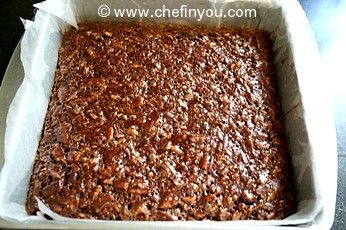 9
Cut them into squares and press pecan halves on top while its still slightly warm. Cool the pan for 10-15 minutes before unmolding.
Cool in a wire rack and enjoy. This is an rich treat, so it doesn't really need powdered sugar on top.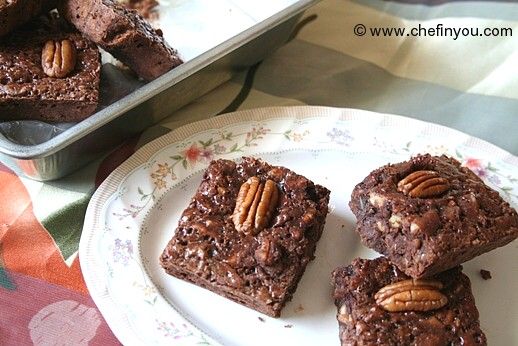 Related Recipes You May Like
Did you make this recipe?
Please click below to share your experiences while you were making this recipe. Thanks for your input!
Have a favorite recipe?
Know a family recipe your mom used to make? Or maybe a go to recipe that works everytime? Share it with your fellow foodies!