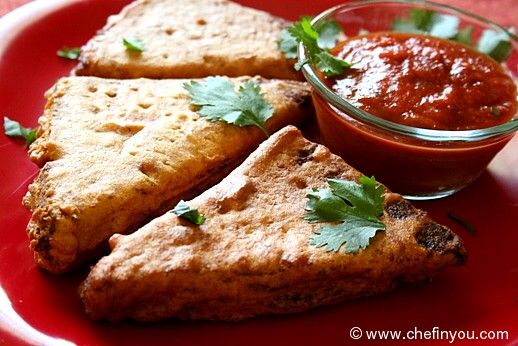 Evening snacks especially during winter with a hot cuppa chai is one of the best things EVER!  One of the (dis)advantages in my house is that my pantry is not suitable for quick snacking except for dried fruits, fruits, nuts and seeds etc. So for the "real"(!!) thing, I would be forced to make some myself :( I know I bought it on myself cos I have no control on fried stuff. I love chips (esp.  Jalapeno chips!), saltine crackers etc which I eat and eat without stopping. My better half jokes that I can survive with only those around. So with such a situation, I am better off not buying snacks and repenting later. I count on my laziness and lethargy on making them as and when craving hits me. Usually the craving disappears after some time - our brains are our worst enemy sometimes!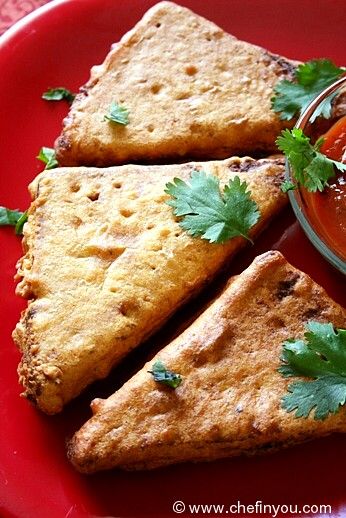 Anyways, the other day, when this rain started splattering the windows, I caved in to making something fried. I saw few stale wholegrain bread in my counter and thought will make something with them....Remembered my mom's Bread Pakoda. She would especially make this when we had leftover potato curry (which was v rare!) that would go as a stuffing in this. Its a famous
Street Food
in the
Northern parts of India
(no wonder - they are YUMMY). There is no specific recipe for the potato stuffing - usually some boiled potatoes with peas cooked and mashed. I think you can use any leftover veggie curries to make stuffing.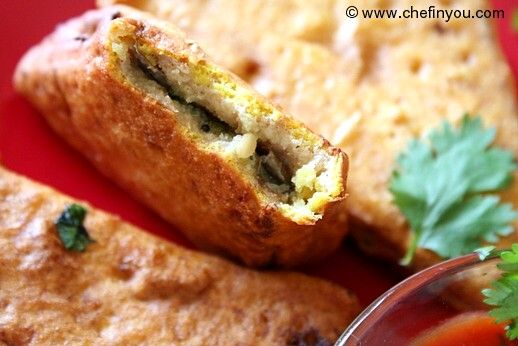 Just replace the wholegrain bread for white and make the stuffing little richer with butter, you might end up with the "
real
" thing. But I have tried to tone down on the additional bad calories except for the frying part (as if that's not enough by itself!). But this is one recipe that's immensely versatile and provides scope for creativity. Your family will love you for it, especially kids when they get back from school ;)
Basic Information
Prep Time
:
30 min to 1 hour
Ingredients
For the stuffing
2 potatoes (to make abt 2 cups mashed)
1 onion, chopped finely
1 inch ginger, peeled and grated
1-2 green chillies, thinly sliced (or as per taste)
1/4 cup frozen peas (boiled if using fresh)
1/2 tsp mustard seeds
1 tsp cumin seeds
1 tsp urad dal (split black gram)
1 tsp cumin-coriander powder(optional)
1/2 tsp garam masala (or use chaat/pav bhaji masala)
salt to taste
few curry leaves and cilantro to garnish
For the Covering
Around 8 slices of wholegrain bread
1 cup besan (chickpea flour)
1/2 cup rice flour
1/4 tsp turmeric
1/2-1 tsp chilli powder (or as per taste)
pinch of asafoetida
little salt (since the stuffing has salt too)
Tips
Note:
These measurements are approximate. You can adjust the ingredients as per your taste
Method
1
Slice the crusts off the bread. Its optional. Many a time, I just let them be. If slicing, you can use the crusts to make bread crumbs.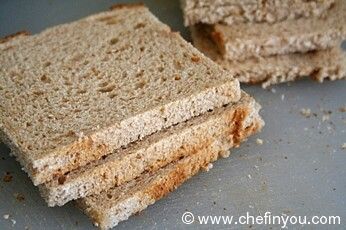 2
Meanwhile steam the potatoes. Alternatively you can boil them too.
3
Mash them well. I retain the skins for nutrition. You can peel them if you wish to.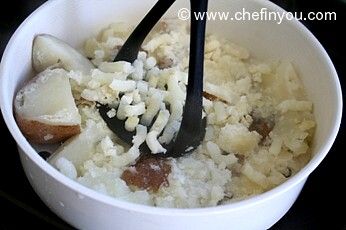 4
In a skillet, heat 1 tsp of oil. Temper the mustard seeds and when they start popping add urad dal, cumin seeds, ginger, chillies along with onions. Add the spices and salt and when aromatic add the mashed potatoes along with peas. Mix in the herbs. Taste and test for seasoning. Adjust accordingly.
5
Take one slice of the bread. Spread this potato mixture on one side of the bread. You can use more for a thick stuffed bread or a little - your choice.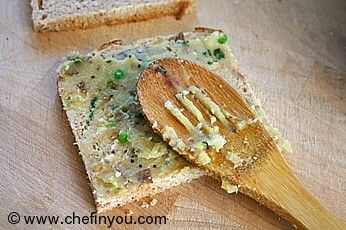 6
Place another slice on top.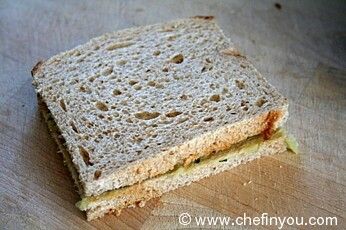 7
Press it tightly so that it holds together. The mashed potato will hold the bread in place.  Cut this diagonally to make two slices.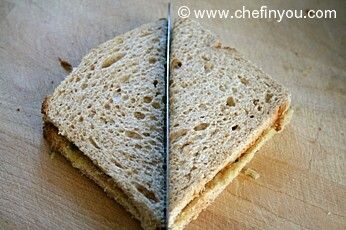 8
See that yummy stuffing in the middle?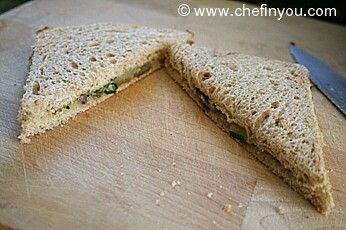 9
Mix together all the ingredients for the batter/coating in a bowl. add enough water to make a thick batter - which will help to coat the bread slices. Add tablespoon by tablespoon of water to avoid thin batter. You need medium consistency. Dip one stuffed slice in the batter and coat both the sides.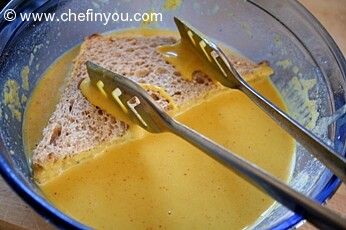 10
Drop this to med-high hot oil.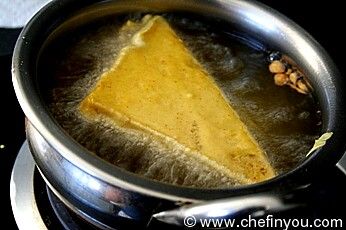 11
When you find the bottom turning red/brown,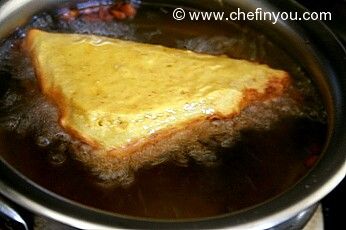 12
turn the other side
13
once done, drop it on paper towel to drain excess oil.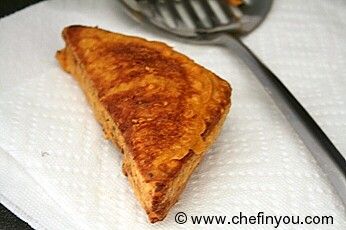 14
See the crunchy covering and the yummy filling inside?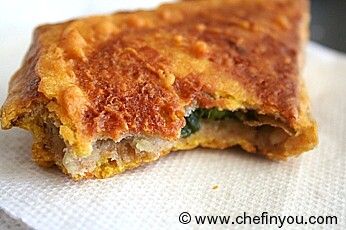 Serve with any condiment of your choice - chutney, ketchup or chilli sauce. Whatever you have on hand. These are great on their own too :)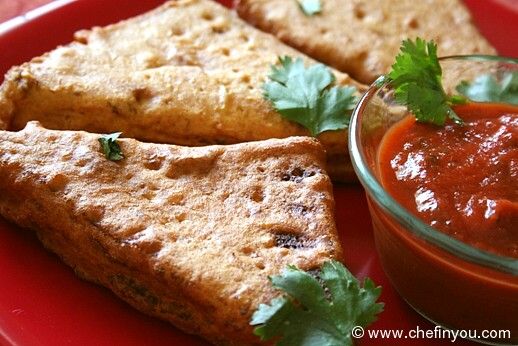 Related Recipes You May Like
Did you make this recipe?
Please click below to share your experiences while you were making this recipe. Thanks for your input!
Have a favorite recipe?
Know a family recipe your mom used to make? Or maybe a go to recipe that works everytime? Share it with your fellow foodies!