Agreed, that the strawberries looked awesome and luscious at the Farmer's market, but I still think my better half went overboard. He got this HUGE basket and I am forced to look for ways to use them. My
Strawberry jam
that I made just 2 weeks back is still unfinished and making it again did not sound that great to me. While going through the bookmarks folder in my browser, I came across this recipe from Gourmet.Com. They had used raspberries and I considered switching the berries.  I also reduced the fat from the original recipe and made minor changes to make this a guilt free dessert.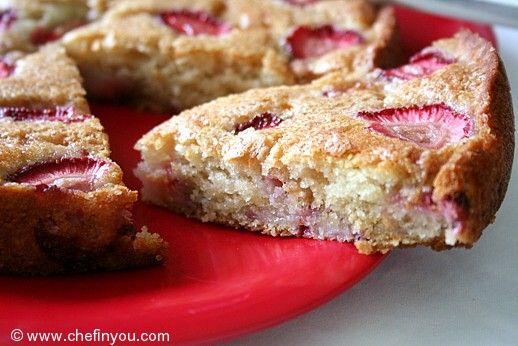 It missed neither that butter I partly skipped nor the rich buttermilk including the egg. The texture was
slightly fluffy and moist.
It was
not overly sweet
- the type we like. I also added cane sugar to top it which added to the look of the cake. Make sure
not to over mix
the batter.