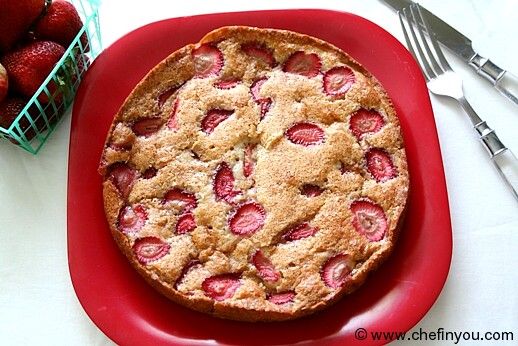 Ever since I discovered Greek Yogurt a year back, I have been using it extensively in my cooking and in daily diet. Until then I was forced to go with either whole milk or 2% fat free yogurt since the fat free types had ingredients which worried me. I personally am of the opinion that better whole fat than fat free with artificial ingredients. Since we have no idea of the long term effects, I am better off knowing what I have to do with whole fat - yes - exercise! Which on hindsight doesn't seem to be such a bad thing. So with this Greek styled Yogurt though is fat free, at least does not have scary stuff in the ingredients list. It has only live cultures which is what Indian Yogurt is anyways all about. So its like having best of both the worlds :) Though I am not against using fats for my baking, sometimes when it does not warrants the use, or if it can be made with less fat, I opt for that. Like in this cake recipe.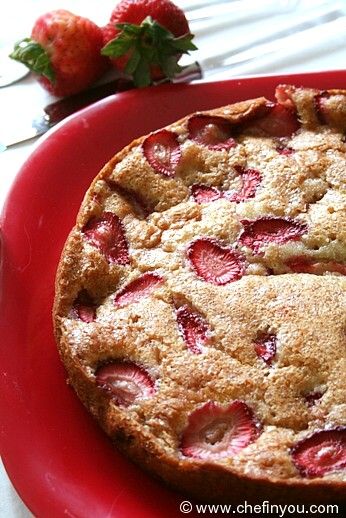 Agreed, that the strawberries looked awesome and luscious at the Farmer's market, but I still think my better half went overboard. He got this HUGE basket and I am forced to look for ways to use them. My
Strawberry jam
that I made just 2 weeks back is still unfinished and making it again did not sound that great to me. While going through the bookmarks folder in my browser, I came across this recipe from Gourmet.Com. They had used raspberries and I considered switching the berries.  I also reduced the fat from the original recipe and made minor changes to make this a guilt free dessert.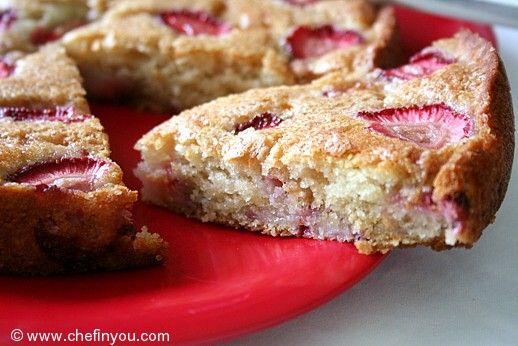 It missed neither that butter I partly skipped nor the rich buttermilk including the egg. The texture was
slightly fluffy and moist.
It was
not overly sweet
- the type we like. I also added cane sugar to top it which added to the look of the cake. Make sure
not to over mix
the batter.
Basic Information
Yield
:
Makes one 9 inch cake
Ingredients
1 cup all-purpose flour
1/2 teaspoon baking powder
1/2 teaspoon baking soda
1/4 teaspoon salt
2 tbsp unsalted butter, softened
1-3/4 tbsp vegetable oil
2/3 cup Sugar
1-1/2 tbsp cane sugar (or use regular sugar)
1/2 teaspoon pure vanilla extract
3/4 cup Fat free Greek Yogurt mixed with little water (or use buttermilk)
1 generous cup fresh strawberries, sliced thinly (about 5 oz)
Method
1
Preheat oven to 350°F with rack in middle.Grease a 9-inch round cake pan. Whisk together flour, baking powder, baking soda, and salt.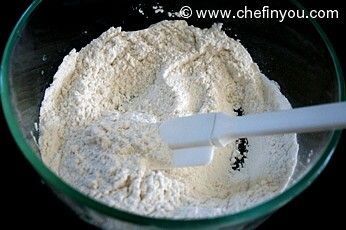 2
Beat butter,oil and 2/3 cup sugar with an electric mixer at medium-high speed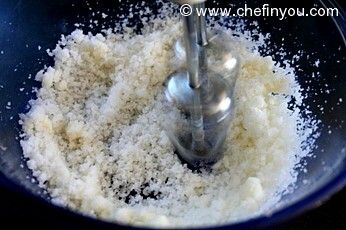 3
until pale and fluffy, about 2 minutes, then beat in vanilla.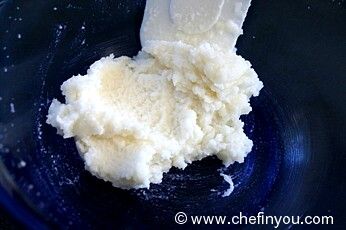 4
Gently, mix in flour mixture in 3 batches,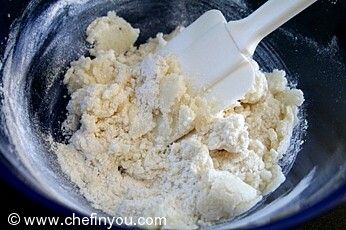 5
alternating with buttermilk,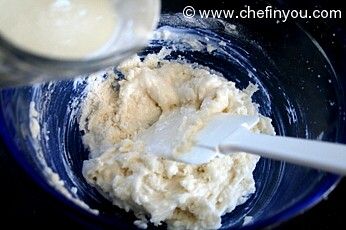 6
beginning and ending with flour, and mixing until just combined. Do not over beat the batter. Fold in the chopped strawberries.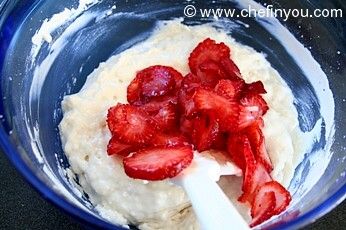 7
Spoon batter into cake pan, smoothing top.
8
Scatter sliced strawberries evenly over top and sprinkle with remaining 1 1/2 Tbsp sugar.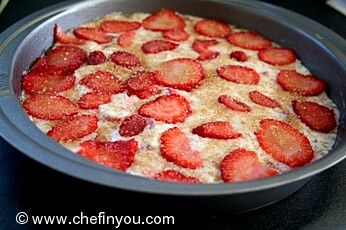 9
Bake until cake is golden and a wooden pick inserted into center comes out clean, 25 to 30 minutes (depends on your oven).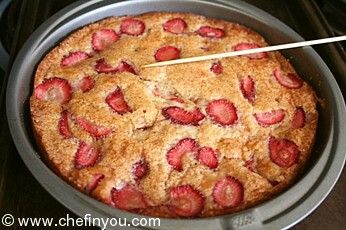 Cool in pan 10 minutes, then turn out onto a rack and cool to warm, 10 to 15 minutes more.You can enjoy it with whipped cream on top, ice cream or just on its own.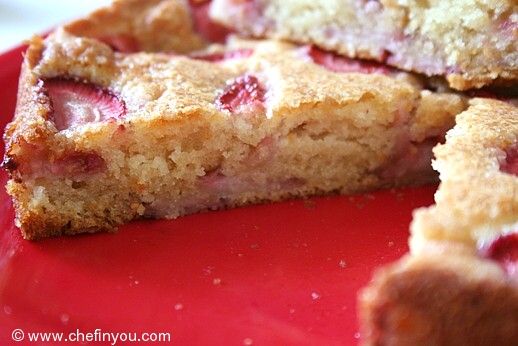 Related Recipes You May Like
Did you make this recipe?
Please click below to share your experiences while you were making this recipe. Thanks for your input!
Have a favorite recipe?
Know a family recipe your mom used to make? Or maybe a go to recipe that works everytime? Share it with your fellow foodies!