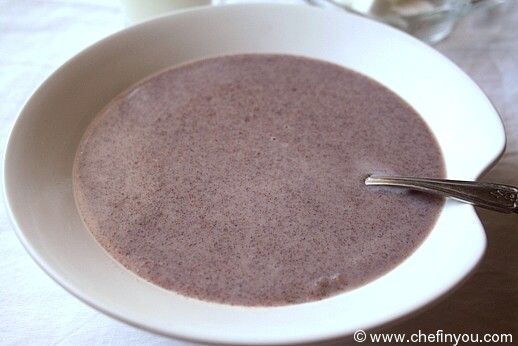 For a long time I wondered why a normal porridge was called "
Malt
". I asked around but everyone who made showed me the recipe/method for making regular porridge. I wondered then why was it called "malt"? But then those were the days of eating and not asking questions - that too on food. And then came a time when it fell on me to cook for my family and the need to know what I was cooking (or for that matter - why) became important. I realized that when a grain is germinated (or to simply put - Sprouted), dried which in turn is ground into powder - then this process is called as Malting (or Malt Powder). This process makes the end product browner, sweeter, shinier and adds more nutrition cos of sprouting. Unfortunately, I have come across many articles in the net where whole grain finger millet is roasted and powdered but they call this porridge as Ragi Malt. No germination is done to those whole grains. If you want
Raagi malt
then make the flour right at home after sprouting the grain (
I have shown how here
). Otherwise this method can be followed with regular store bought finger millet powder. But technically that wont be a Ragi malt (except if that packet says its Ragi malt ;)) but a porridge (if you said who cares, well, I would agree with that too! :) I love the porridge either-ways)
My mother often teases me that  this raagi porridge practically raised me :)  That's how regular this was in every breakfast table. I have enjoyed it as long as I can remember. In the US, I tried to find the
Ragi whole grain
, but couldn't find it at all. Then  a dear neighbor gave me a generous packet of the grain that she had got from India and I was thrilled to bits.
Among the many recipes that I tried with it
, this
Malt
was a regular with the flour I made right at home. There is no specific amount or proportion per se to make this porridge. It mostly depends on your taste buds. This is how I make it for us.
Basic Information
Yield
:
Makes a hearty portion for 2
Ingredients
1/2 cup Ragi (Finger Millet) Powder, make it at home or store bought
1 cup milk , or as needed(see note)
2 cups water
1/4 tsp cardamom powder (or as per taste)
sugar to taste
Tips
Note:
Variation:
To make
salted version
- instead of milk add buttermilk and replace sugar with salt. Skip the cardamom powder in this case. This version is ideal for those suffering from Diabetes.
Method
1
Slightly roast the powder first in medium flame till aromatic, around 3-5 minutes. Make sure you dont burn the powder. This step is to eliminate any raw smell from the porridge. Set aside.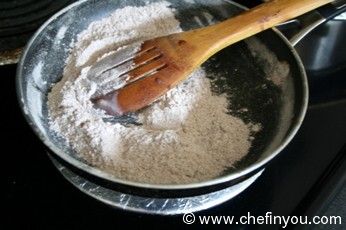 2
Alternatively take a saucepan and heat the water till lukewarm. You can add the roasted powder without heating the water directly but I personally find that heating the water (even slightly) helps to avoid lumps. Add the powder to the water.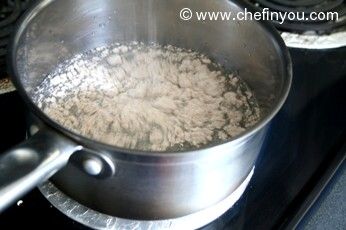 3
Keep stirring until it gets well mixed. Add the cardamom powder to it.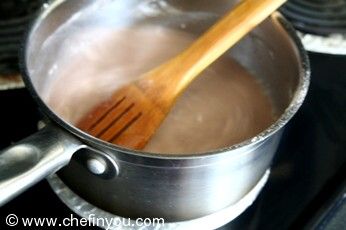 4
Bring it to a boil.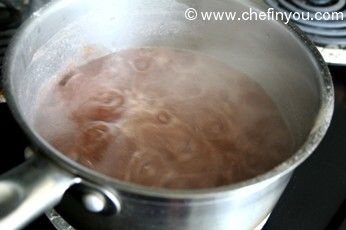 5
Add milk. You can add more or less milk depending on your taste.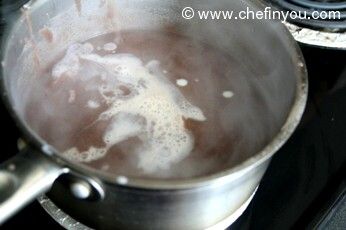 Add sugar to taste and serve hot. A hearty and very nutritious breakfast and that which keeps me full until lunch. (Less chance of binging on something in between :))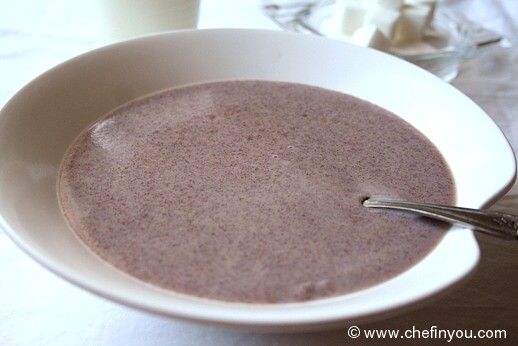 Related Recipes You May Like
Did you make this recipe?
Please click below to share your experiences while you were making this recipe. Thanks for your input!
Have a favorite recipe?
Know a family recipe your mom used to make? Or maybe a go to recipe that works everytime? Share it with your fellow foodies!