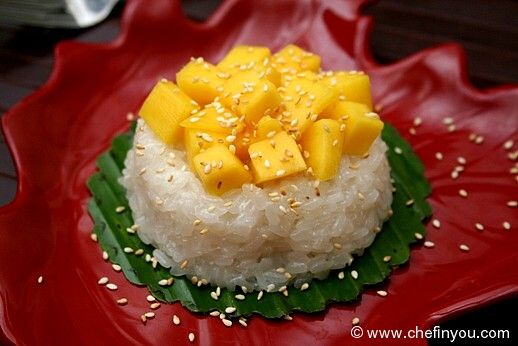 For something as delicious, the recipe is ridiculously simple. I mean, I bet that the thought - "
why in God's name did I not make it before
" - will surely arise when you make it for the first time. I totally dig such recipes. Easy on time, effort and money! May be I am just biased with this dessert. I dunno - I don't call myself a mango lover without a reason. By the way, have I told you I love coconut too? So you see - between coconut and mango, I totally go ga-ga (nope - not
this one
) over this Thai delicacy.
As soon as the mango season started - or to be more specific, as soon I saw the first mango in the shop I pounced upon them like a starved person! I was in some ways - mango starved! After relishing them as it is, the foodie in me started thinking of recipes to use this in that I have
not blogged before.
And by btw, if you get a chance, take a gander at the other
mango recipes
I have posted in this blog. You will be convinced at my
mango passion
for sure then.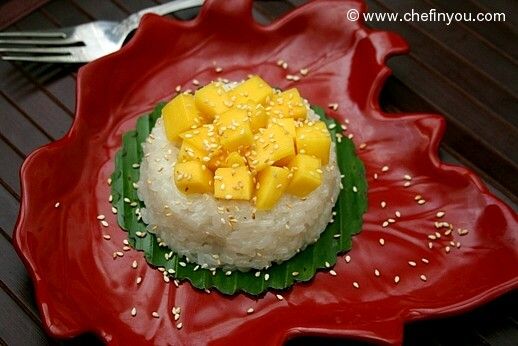 I call this recipe simple also cos of the number of ingredients used in it. It has - wait for it- Mangoooo (duh!)..., Coconut milkkkkk.....Sugarrrr...., Sticcckyyyy rice..........(what? are u still looking for more?) That's it! Shocking isn't it?. Well, if you really feel dissapointed, you can throw in some sesame seeds. Happy Now? ;) The effort involved is v minimal. Other than the time taken to prepare the sticky rice (which the steamer can take care for you), rest of the stuff will be done under 10-15min. The prep time is a joke! And the cooking time is astoundingly minimal for something so delicious, I say! Have I done a good PR for this dessert already? Hope so :)
References
my kitchen notes (put together from various online sources )
Ingredients
1-2 large ripe Mango(es)
1 cup coconut milk, Thai brand recommended. (You might need 1/2 cup more depending on the quality of the rice)
1/4-1/2 cup sugar
3 cups cooked Sticky Rice (see how to cook sticky rice)
1 tbsp sesame seeds (optional)
Method
1
Peel the mango and cut them into bite sized pieces.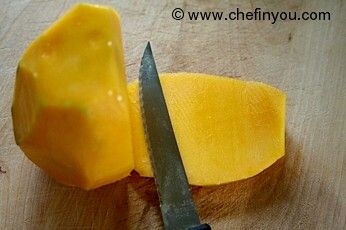 2
Talking about which, try to use Asian mangoes - the ones available in the Asian market (!!). The ones that are slightly small, yellow with thin skin and are so much more sweeter than the other varieties. Those are the ones that work the best with this recipe. I have tried with local Mexican Mangoes (the reddish tinged ones). They were OK but not as good as the Asian ones. Since this dessert is all about Mangoes and Coconut milk, good quality ones are a must to make it a lip smacking good dessert. Think Alphonso! :) YUM.
3
Dry toast the sesame seeds. set aside.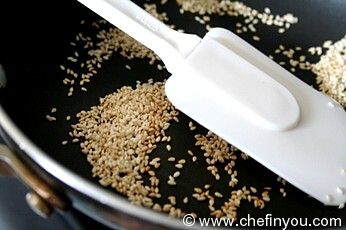 4
Warm up the coconut milk over medium heat.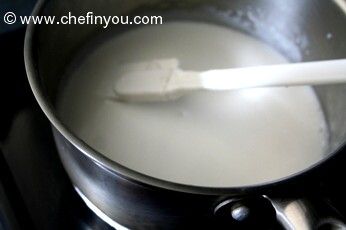 5
Add 1/4 cup (or more, as per taste) of sugar to the coconut milk and stir until dissolved.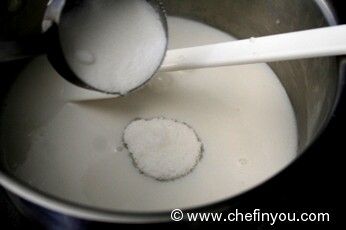 6
Now add the cooked sticky rice to the mixture.Stir it until there are no lumps
7
Soon you will see that the rice has absorbed the coconut milk and it thickens into one mass or a thick porridge like consistency.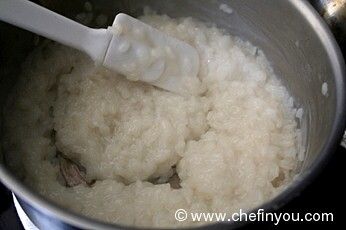 8
Turn the heat off and cool this rice to room temperature.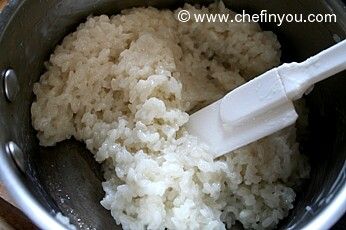 Place the rice in individual serving dishes, place the mango slices on top (add them before serving) and garnish with the toasted sesame seeds. It speaks of health and  Elegance with its simplicity. In short its - Ambrosia on a humble plate! I LOVE this dessert to death (does it show? ;)) BTW, make sure to eat it as soon as you make it since the rice tends to get drier with time. Its best when made.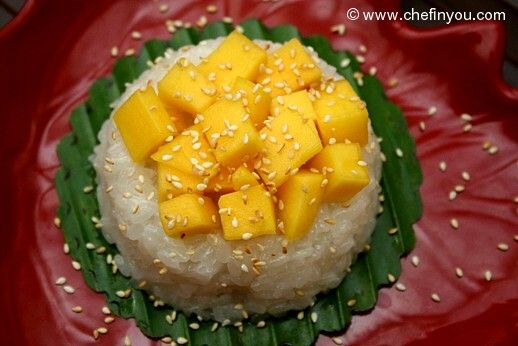 Related Recipes You May Like
Be the first to showcase this recipe!

Your Name
Did you make this recipe?
Please click below to share your experiences while you were making this recipe. Thanks for your input!
Have a favorite recipe?
Know a family recipe your mom used to make? Or maybe a go to recipe that works everytime? Share it with your fellow foodies!