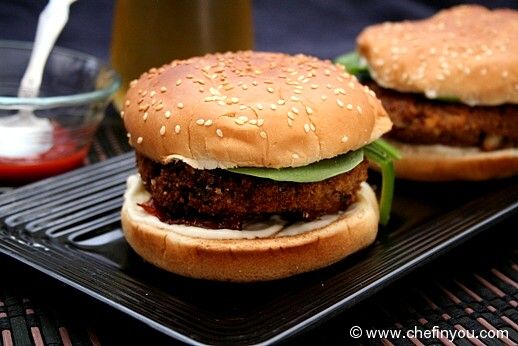 I have searched for umpteeth tofu burger recipes. Even tried a bunch of them to "Blech!" results! One thing that beats me is why in the name of "health" yucky recipes are created. Either you find sinfully rich recipes that you hate to indulge cos of the calories or you find "healthy" recipes that are so bland and sub standard that you don't want it. How about - something in between?! Sounds logical doesn't it? Well you would think so, wont you?. When I had all but given up my search for a good tofu burger , came this recipe from this cookbook called Vegetarian - tasty Recipes for Everyday that I happened to find in an acquaintance's  house. I made a note of it and oh boy! Am I glad that burger gods have finally blessed me with a 'never-to-part-with' recipe. We loved it immensely.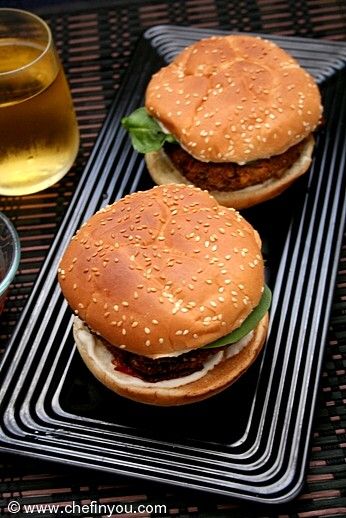 The Changes I Made
Since we all have our tastes, I made the following changes from the original recipes. It keeps in mind both our requirements and also the fact that I made use of what was available in my pantry. Instead of Swiss Brown mushrooms that the recipe called for, I used cremini mushrooms. The Basil got replaced with cilantro. The regular wholemeal breadcrumbs was replaced with wholegrain flax seeds bread crumbs that I had in hand and which I freshly ground to make the crumbs. The 1 egg used in the original recipe got replaced with 1 heaped spoon of tomato paste. Also I did not have either the sweet chilli sauce/ arugula or semi dried tomatoes. So I used chilli garlic sauce to our taste, spinach leaves and sun dried tomatoes in oil respectively.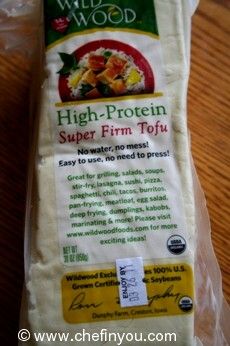 I am guessing you can use Extra firm Tofu, pressed well with paper towel to drain the water , for this recipe. But I use the one which does not come with water. This is a super firm variety and it holds up very well when it comes to grilling, frying, stir fries, burgers etc and I use it regularly. I get it from
Whole Foods.
Please note that I am not paid by the company to talk about them. I mention it cos I use it regularly and it works well for my needs.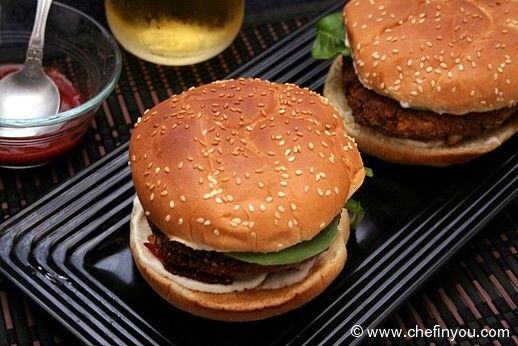 Basic Information
Prep Time
:
30 min to 1 hour
Ingredients
1 red onion, finely chopped
200 gms (6-1/2oz) cremini mushrooms,finely chopped
350 gms (11oz) hard tofu (see my notes above)
2-3 cloves of garlic
3-4 tbsp cilantro
2 cups (200gms/6-1/2oz) wholegrain flaxseed bread crumbs (or use gluten free)
1 heaped tbsp tomato paste
2 tbsp balsamic vinegar
2 tbsp chilli garlic sauce , or to taste
1-1/2 cups (150gms/5oz) wholegrain flaxseed bread crumbs, extra
6 wholegrain bread rolls (or gluten free rolls)
1/2 cup Mayo (try Vegan Mayo to make this eggless)
Sun dried tomatoes in olive oil to taste
60 gms (2oz) baby spinach leaves
hot chilli sauce to serve
Method
1
In a pan, heat about a tsp of olive oil and sauce the onions until soft. Add the mushrooms and cook for another 3-4 minutes and cool slightly.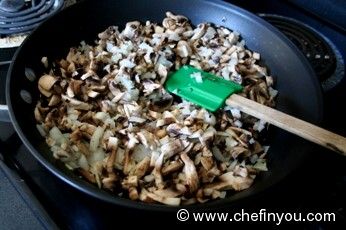 2
In a food processor, blend 250 gms (8 oz) of the tofu with garlic and cilantro. Or you can use basil like in the original recipe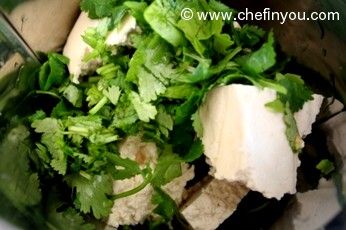 3
Blend until smooth.
4
transfer this to a bowl and stir in the onion- mushroom mixture, breadcrumbs, tomato paste, vinegar and hot sauce (or sweet chilli sauce).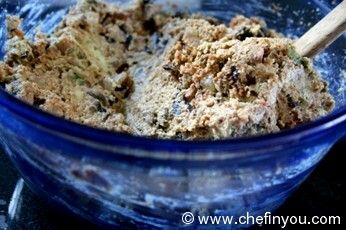 5
Grate the remaining tofu and add it to this mixture.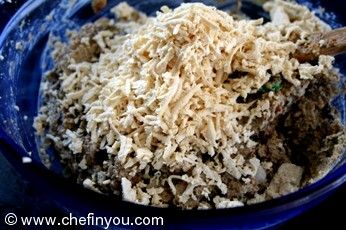 6
Stir until well mixed and then refrigerate for about 30 minutes.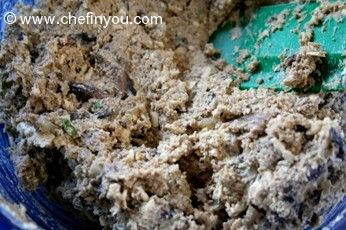 7
Divide this mixture into 6 patties, pressing together well.
8
Coat them well all around with the extra breadcrumbs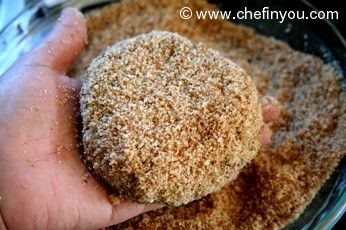 9
In a pan ( i used the same where I sauted the onion and mushroom mixture), add some olive oil to coat the pan and shallow fry or pan fry the patties. Preferably you would want 1 cm (1/2 inch) oil in a deep frying pan.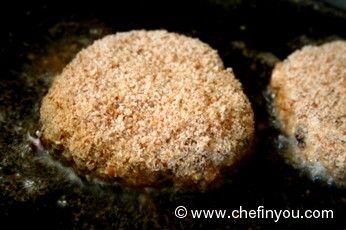 10
Cook them 4-5 minutes on each side or until they are golden. Make sure to turn them carefully to prevent them from breaking up. Drain on paper towels. (you can also season them with salt now)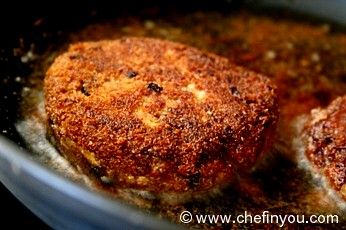 11
Now starts the assembly. I know you dont need pictures for this - but in the spirit of this website I thought I will humor myself and you :) Toast the bread. Spread some mayo on one side of each roll.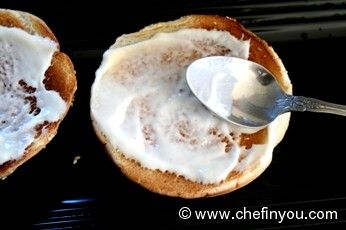 12
Layer the semi dried tomatoes - as many as you like :)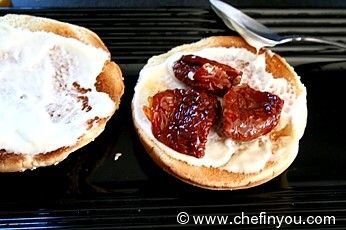 13
Then comes the tofu patty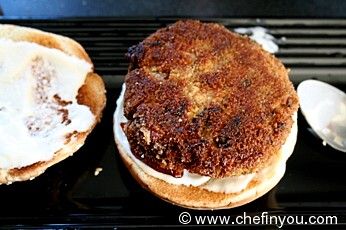 14
top it off with spinach/rocket leaves. You can drizzle some more of the chilli sauce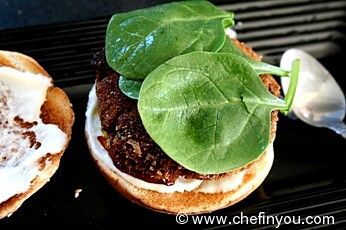 15
Press it down with another roll with the spread facing below.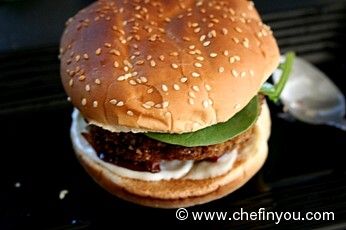 The Burger all dressed up and ready for Super Bowl/Potluck/Picnic/or lazy movie day :) Dont forget a chilled beverage to go with these :)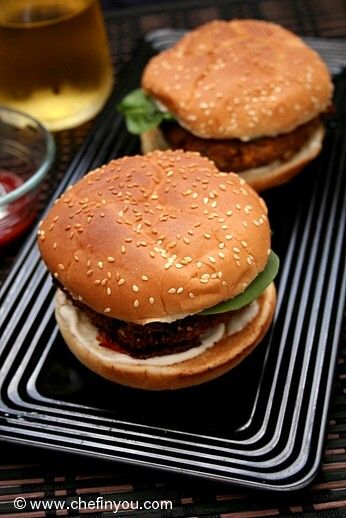 Related Recipes You May Like
Did you make this recipe?
Please click below to share your experiences while you were making this recipe. Thanks for your input!
Have a favorite recipe?
Know a family recipe your mom used to make? Or maybe a go to recipe that works everytime? Share it with your fellow foodies!