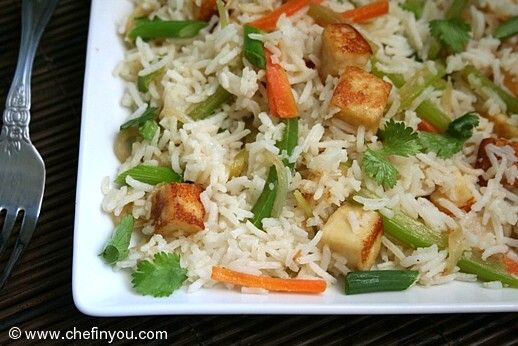 An
Indo Chinese cuisine
is to an Indian what an
icecream
or a
chocolate
is to a kid. ... Or something close. We love this beautiful fusion that may not have much to do with typical
Chinese food
, but draws the inspiration from, to create this nation wide favorite.  Needless to say, (especially since
I already spoke in length about it here
), my world was almost shattered when I tasted the typical Chinese food here for the first time. Of course, with years and mind better equipped, I have come to love the authentic (vegetarian) Chinese cuisine a lot more, enough for it to become a common affair in our home.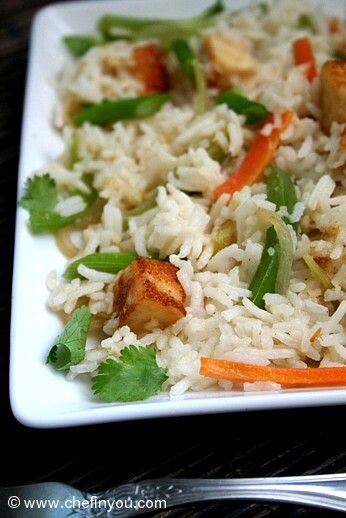 There is an occasional demand for the comforting Indo Chinese  of course, which I tend to do more often now, thanks to two reasons. Leftover rice and the fact that Indo Chinese mostly is fast and easy to make. This is a one pot dish, hence easy to clean afterwards.Regular readers of this site know of my undying passion for
paneer
. So naturally Paneer Fried Rice is a given at our table. I personally think, this was developed by the vegetarians who substituted it for Chicken in the recipe. I am not complaining. :) Its easy to put in your own touches and spin off variations in this recipe.  Serve this  with
vegetable manchurian
or with
green beans with garlic.
Or enjoy just as it is. Its wholesome. Its colorful. Most importantly, its very appetizing for the minimal effort put in.
References
Recipe from my kitchen notes
Ingredients
3 cups cooked Basmati Rice (see Note)
1-1/2 cups (about 200 gms) Paneer, cubed
1 Onion, sliced
1 Bell Pepper,julienned
1 Celery, thinly sliced into matchsticks
3 Spring Onions, sliced - whites and greens separated
1 Carrot,julienned
1/2 tbsp Butter (see Note)
1 tsp Sesame Oil
1 tbsp Soy Sauce/Tamari (see Note)
Salt and Pepper to taste (see Note)
Few Sprigs Cilantro to garnish
Tips
1.
Basmati Rice
: Leftover cooked rice works best for fried rice recipes. If that is not an option, then make sure your freshly cooked rice is cold/not hot. Cook with little water so that the grains are not mushy.
2.
Soy Sauce:
The amount of soy sauce will vary depending upon the brand, quality and your taste preference. So use accordingly. If you are not sure, add 1 tsp, do a taste test and then add more if required.
3.
Butter:
The butter is optional and is added to give this rice the richness. You can use regular oil instead.
4.
Salt:
Soy sauce is very salty and mostly you might not need additional salt. If you think you need more, start with a pinch and then adjust accordingly.
5.
Red Chile Peppers:
Since we don't consume "Hot" foods, I haven't added any spice to this. But you can add hot sauce/ sliced green chillies/ or even chilli oil to add heat to this dish.
6.
Vinegar
: For some unknown reason I have never added Vinegar to this particular rice. But for those, do add 1-2 tsp (or as per taste) before adding in the rice
Method
1
Though this is optional, I tend to do this with store bought paneer. I cube them, place them in a bowl and pour some boiling water on top - enough to cover the paneer. I let it sit for about 30 seconds or so and drain the water. I do this 'cos I find that not only does it make the paneer soft but it also gets rid of impurities, if any. Don't soak for long otherwise the paneer will get mushy.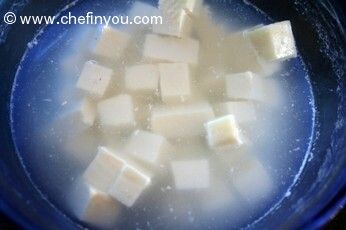 2
Make sure to keep all the chopped Vegetables and sauce nearby. From here on, since the cooking is on high heat, everything needs to go in quick. Delay will cause the food to burn. Heat a wok medium - high heat and when hot, add butter and oil. Drop the paneer and saute it for 1 min or so.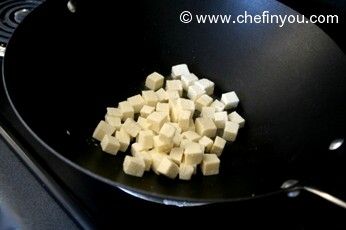 3
Stir it occasionally until you see it browned/golden. It enough even if its only one side.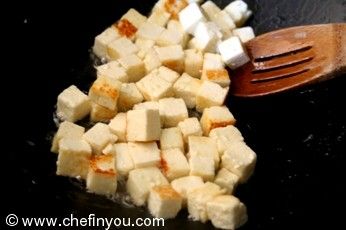 4
Increase the heat to little less than high and drop the onion along with the paneer.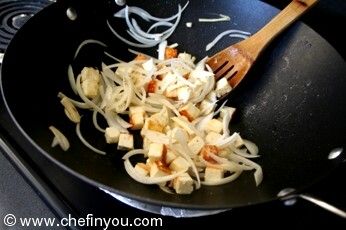 5
Keep stirring for 10-15 seconds and then add the carrots, bell pepper, celery and onion whites.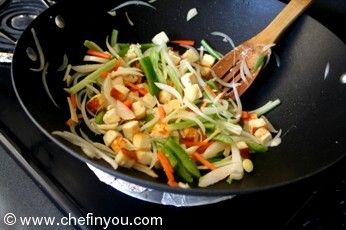 6
Stir until you find the vegetables softening lightly. The vegetables should still be crisp. Next add the soy sauce and keep stirring until the sauce is well combined.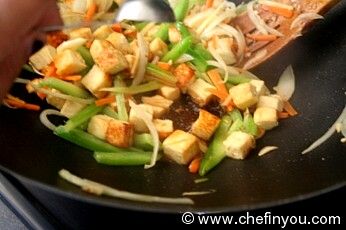 7
Next add the rice.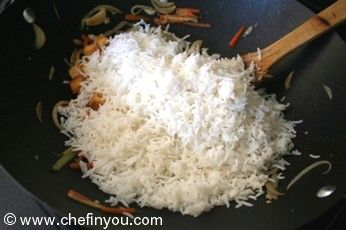 8
Stir to combine. Taste to see if it needs salt and adjust accordingly. Add pepper.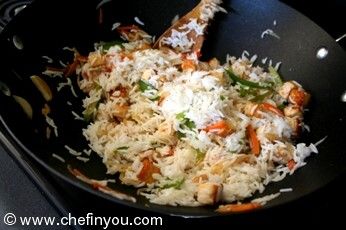 Remove from heat, sprinkle with spring onion greens and cilantro. Simple and easy
Indo Chinese
fare ready for lunch or dinner
Related Recipes You May Like
Did you make this recipe?
Please click below to share your experiences while you were making this recipe. Thanks for your input!
Have a favorite recipe?
Know a family recipe your mom used to make? Or maybe a go to recipe that works everytime? Share it with your fellow foodies!