Vegetable Manchurian with gravy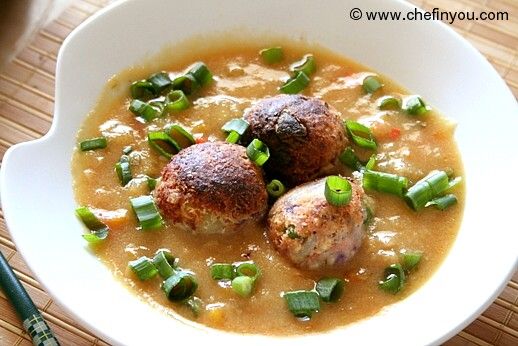 For a long time, I believed that Gobi/Vegetable Manchurian was a Chinese dish. I am sure I have, at least more than a few, fellow Indians backing me up on that. I remember visiting my first ever authentic Chinese restaurant and being amazed at the menu. 'Cos it was nothing like I was aware or comfortable with. I was ready to question the authenticity of the restaurant rather my own judgment! Naivety to the core ;) It took a bit of reading to know, what I thought was authentic, was no where close to the reality. It was an amazing Indian's mindset to bring out such mind boggling "Chinese" dishes on to the Indian soil customizing it in such a way that it did not feel "
blech
".  The
Indo-Chinese fusion
is one craze that exists to date where Indians enjoy an encore of dishes.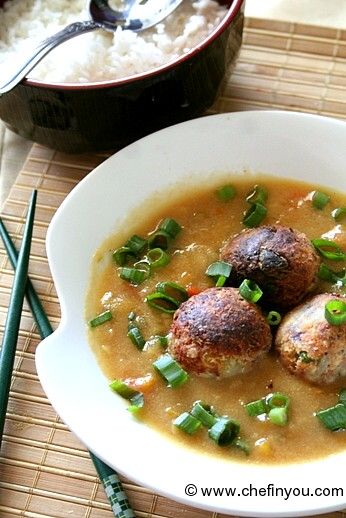 Among such recipes, this Vegetable Manchurian is one such gem. Vegetable Balls deep fried and served on a gravy accompanied by fried rice or
noodles
.  Perfect! Except that for me personally there is one small hitch. Deep frying! :(  I am not among those who shy away from deep frying completely looking at it as if its a sin or something. I enjoy my deep fried goodies - but try to keep it at minimum. I don't believe in skipping anything - just enjoying everything in moderation. And there is always Gym or local park to burn away those additional calories right? Better this method than skipping it altogether is my motto. But there are many recipes out there where additional fat is just not required. If you can achieve almost the same results with a healthier method, then why not? Like these Balls for instance. Instead of deep frying soaking up all that oil, or baking it that it ends up "looking" and "tasting" like healthy and not like the real thing - I choose to go the middle route.
Yup, out with my Pancake Puff pan (Kuzhi Paniyaram Pan in Tamil). Those have been a blessing in disguise for such a long time. I have made Koftas, bondas and god knows what else with them with so much little oil.  My better half loves all good food, but he of course does not mind cutting out unnecessary fat. So in order to keep him happy, I make use of these pans for such similar recipes. Enjoy them guilt free - your family and your health will thank you for it :) I have added colorful variety of vegetables - Like I say often enough, vibrant looking dishes not only are pleasing to the eye and palate but also nutrition wise. But go ahead and use whatever vegetables you have on hand.
Basic Information
Cook Time
:
30 min to 1 hour
Yield
:
Makes around 12-15 koftas depending on the shape
Ingredients
For Koftas (balls)
1/4 cup purple cabbage,grated
1/4 cup carrots, grated
1/4 cup frozen beans, chopped
1/4 cup frozen peas
1/4 cup paneer, grated
1 potato, steamed and mashed (or boil it)
1 spring onion, chopped
1 tbsp soy flour, as needed (or use cornflour)
1 green chilli, thinly sliced (or as per taste)
1-2 garlic, minced (as per taste)
1 inch ginger, peeled and grated
little salt and pepper (remember the gravy will need salt too)
For the Manchurian Gravy/Sauce
2-3 garlic, minced(as per taste)
1 inch ginger, peeled and grated
3 spring onions, greens and whites separated
1/4 cup mixed colored bell peppers, finely chopped (or use whatever you have on hand)
1-2 green chilli, as per taste (optional)
1-2 tbsp Soy sauce (depending on the brand of soy sauce)
2 tbsp soy flour mixed with 1 cup of water (or cornflour)
about 1/2 tsp of sugar
salt to taste
Method
1
Lets start with the Vegetarian Balls shall we? I have added as many colorful vegetables as possible. You can use whatever you have on hand. I also steam the potatoes and mash them with skin on to retain the nutrition. But you can choose to boil the vegetables like beans and peas. I went the shortcut route and used frozen (and thawed) beans and peas. Saves time for me :) Add all the ingredients for the balls together in a bowl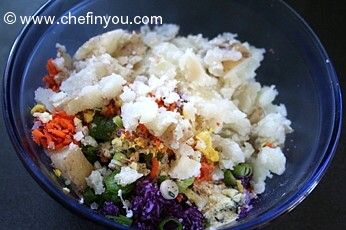 2
Mash them well with a masher or your hands until it comes together. It should be a firm dough holding enough for you to shape them into balls. If loose, add more soy flour or paneer to help it bind. If too tight, add few drops of water (or vegetable stock) to make them into required consistency. You can do a taste test at this point to see if the seasoning is right for you. Make sure the salt is little less. The gravy will have salt too and you don't want the dish to end up salty.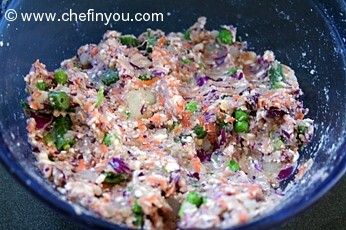 3
Shape them into small balls. Refrigerate them for about 15-20 minutes. Its an optional step, but I find it helps the balls to retain their shape while frying without breaking apart.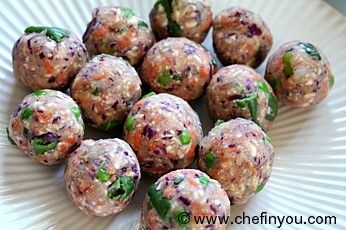 4
In a plate, add few tbsp of all purpose flour and coat the balls lightly with it. Dust off the excess. This is also optional but it helps to give it a nice crispy surface.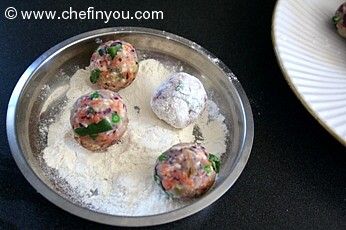 5
Heat your Pancake puff pan (Kuzhi Paniyaram Pan), add few tsp. of oil and when hot, drop your balls in it. The amount of oil needed would depend on the size of your ball. I think I used about 1 tsp of oil for frying up one ball completely on all sides. Make sure the oil is hot, otherwise the ball will fall apart. Oil should be med-high.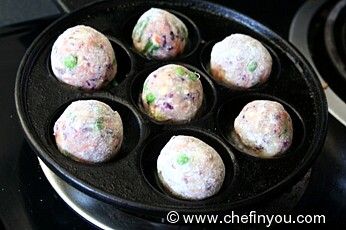 6
Rotate the ball on all sides to cook evenly on all sides. Drain on paper towels and set aside.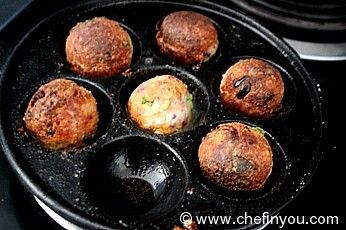 7
Meanwhile, lets prepare the gravy. In a skillet heat 1 tsp of oil. If you have a wok, it works great too. I used a non stick. When the oil starts smoking, add the ginger, garlic, onion whites, bell peppers, chilli and saute for few seconds.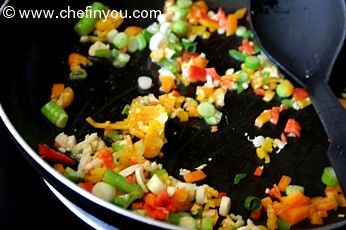 8
Add 1 cup of water along with cornflour water, soy sauce, sugar, (v little salt since soy sauce is also salty - add salt only if necessary), half of spring onion greens. Simmer for few minutes until it all comes together as a gravy/ thick sauce. You can do a taste test and season with more salt/soy sauce if needed. Adjust the gravy as per your needs. To0 thick, add more water. Too runny, add a little more cornflour paste making sure that you season the gravy accordingly with increase in qty.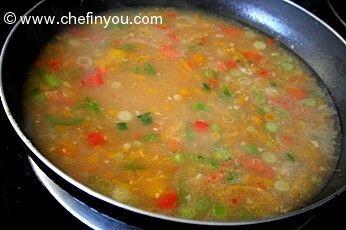 Just before serving, add the vegetable balls to the sauce. You don't want to add it beforehand since the balls might disintegrate in the sauce. I served it with plain rice - but Vegetable Fried Rice /
Vegetable Hakka Noodles
would be perfect with it.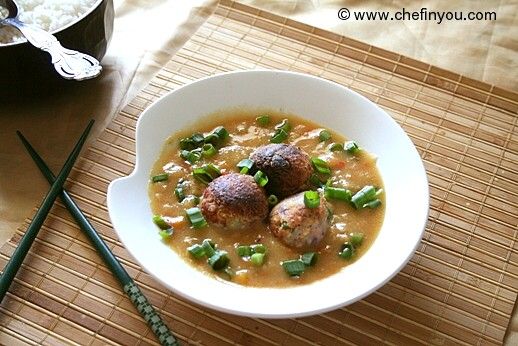 Related Recipes You May Like
Did you make this recipe?
Please click below to share your experiences while you were making this recipe. Thanks for your input!
Have a favorite recipe?
Know a family recipe your mom used to make? Or maybe a go to recipe that works everytime? Share it with your fellow foodies!