Cheese & Green Garlic Paratha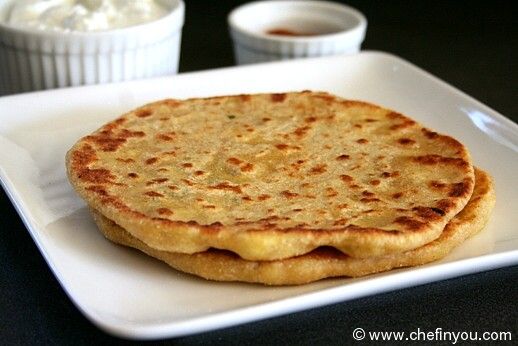 I know I have insisted it countless times already but can't help and say once more - we are
paratha
lovers.  Given that there are varieties galore ( and also the ones you make thanks to your imagination and creativity), the chances of these getting mundane and boring is minimal. Each season, I have fresh and myriad produce to create a  different flavored flatbread. I had some fresh
Green garlic
waiting for me this time around. The husband loves his cheese (esp.
Paneer
), so needless to say I always have some in my fridge.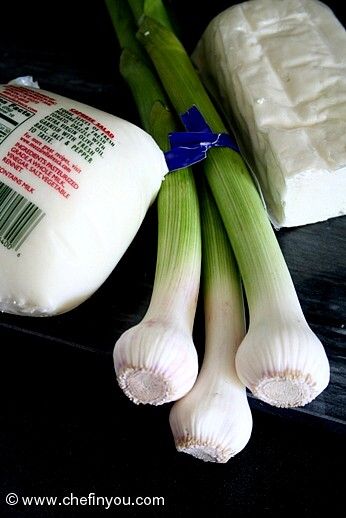 I am a fresh Mozzarella girl. I L.O.V.E it. To me, nothing tastes better than that. So, its no surprise that I found a way to combine both our favorites into one humble paratha. The fresh mozzarella especially adds so much flavor to this paratha that it could get addictive. The slight garlic flavor complimented the cheese. And trust me (..oh you def. must) when I say that adding (even just little bit of..) room temperature butter to the warm paratha, takes this to new delicious heights. Add it and then tell me, if those teeny tiny sweet talkers of your house with (apparently) no appetite are fussy when it comes to eating these. Mine, sure was the best dinner companion on this particular day....!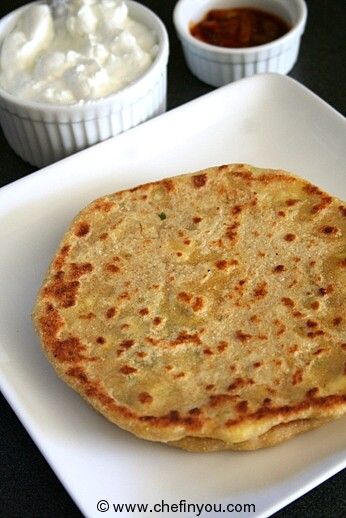 References
from my kitchen notes
Basic Information
Prep Time
:
30 min to 1 hour
Yield
:
Makes around 8-12 Parathas depending on the size
Ingredients
For the Cover
2-1/2 to 3 cups wheat flour, with little set aside for dusting
Salt to taste (see Tips)
For the Stuffing
1-1/2 cups (6.5 oz/180 grams) grated Paneer
1 generous cup (5.5 oz/160 grams) crumbled fresh Mozzarella (see Tips)
1-2 green Chillies, thinly sliced (or as per taste, optional)
1 tsp Cumin seeds
1 large (abt 3 oz/80 grams) Green Garlic, trimmed and chopped
pinch of Turmeric
Salt to taste (see Tips)
Tips
1.
Salt :
Make sure to use only little salt for both the cover and filling. Otherwise together it might taste too salty.
2.
Mozzarella :
If the fresh is not available, I guess you can use the regular cheese. You might need to add only half of 1 cup. But I personally have to insist and recommend the fresh mozzarella since it makes such a delicious difference.
Method
1
Add all the ingredients for the stuffing together and mix until combined. Set aside. If you like a very hot climate, then keep the mixture in the fridge until you are ready to fill.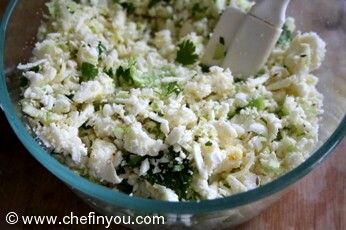 2
Add the flour and salt in a bowl. Combine.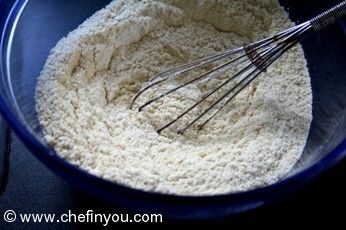 3
Add enough water to make it into a pliable dough.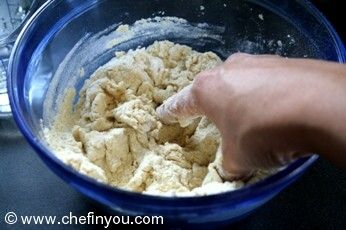 4
Knead well in a floured surface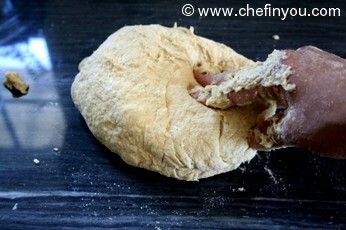 5
until smooth.
6
I let it rest for about 10-15 minutes.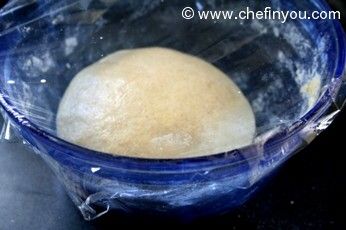 7
Now pinch a small ball from the dough.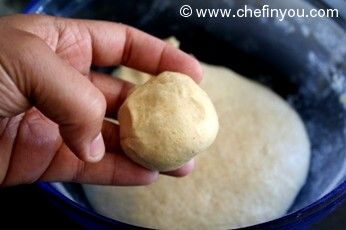 8
Pat it with little flour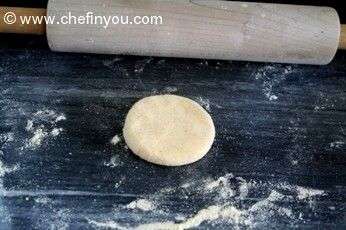 9
Using a rolling pin, roll it out into a small circle.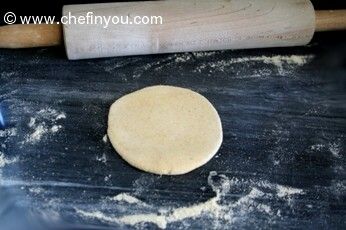 10
Remove a small amount of stuffing and place it in the middle of this circle.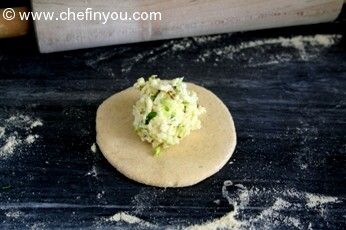 11
Now bring the sides of the dough above the stuffing to enclose it.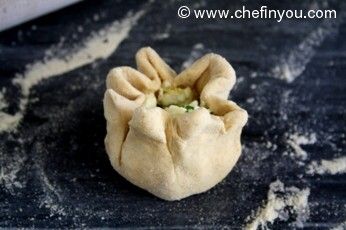 12
Pinch the top to keep the stuffing in.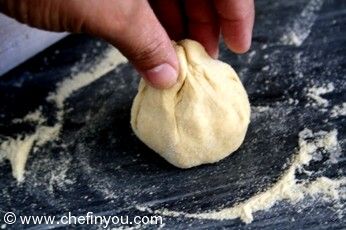 13
Pat it down with your palm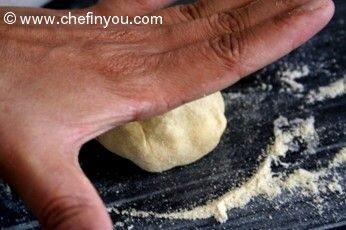 14
Sprinkle some flour on top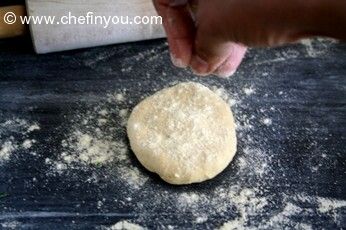 15
and roll it gently
16
to make a flatbread.
17
Drop this on a hot (med-high) skillet. Add few drops of oil around the sides.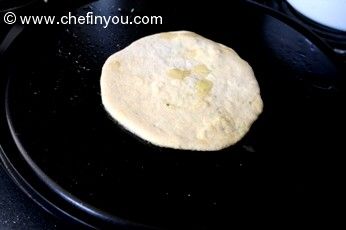 18
In a minute or two, check the underside for brown spots.  Turn over the other side. Cook likewise.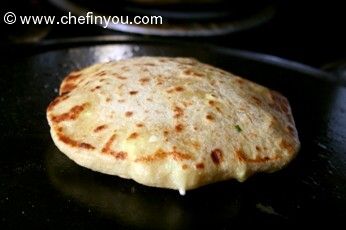 Serve warm/hot along with simple raita or plain yogurt and pickle. Of course some room temperature butter on top doesn't hurt at all.... :)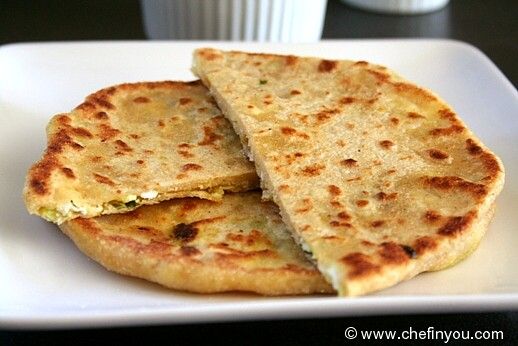 Related Recipes You May Like
Be the first to showcase this recipe!

Your Name
Did you make this recipe?
Please click below to share your experiences while you were making this recipe. Thanks for your input!
Have a favorite recipe?
Know a family recipe your mom used to make? Or maybe a go to recipe that works everytime? Share it with your fellow foodies!