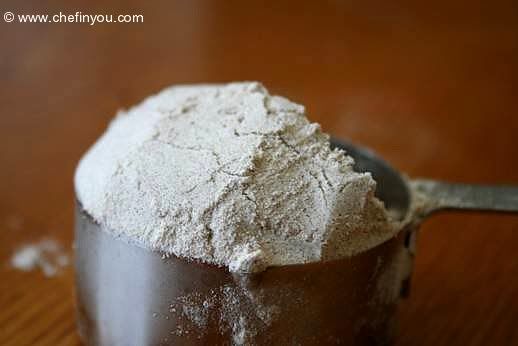 When I last posted about
sprouting Ragi (finger millet)
, I got many mails asking me for making Ragi Flour. I couldn't remember taking a photo while making some, so was waiting for the next time I make them. But then just recently, while I was clearing up some of my files in the computer, I came across few drafts and these flour making process steps in them. They were for some other posts - but I was able to mix and match these to give you an idea of how to make some Raagi flour at home.
There are basically two methods by which you could make Raagi flour
Method 1 - Quick Method
It is quite simple where you just dry roast the millet seeds (ragi) on a skillet, cool them completely and then grind it up into flour. Its not time consuming and gets done in a jiffy. Use them as required in recipes.
Method 2 - Longer Method, But Nutritious
This method is what I like to go for. Yes Agreed that it takes time, but the enhanced nutrition that it has to provide is immense and the time put in is totally worth it. This method involves sprouting the seeds and then following Method 1. This is what I have shown below.
Step 1 :
Sprout Ragi - See How to Sprout Ragi here
Step 2:
Dry roast the Ragi in a skillet on low heat.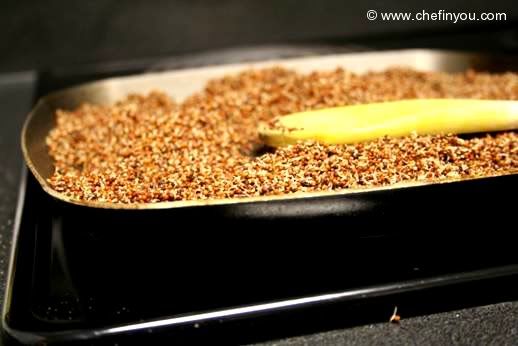 It roasts pretty fast, hence regular stirring on the side with full attention is required.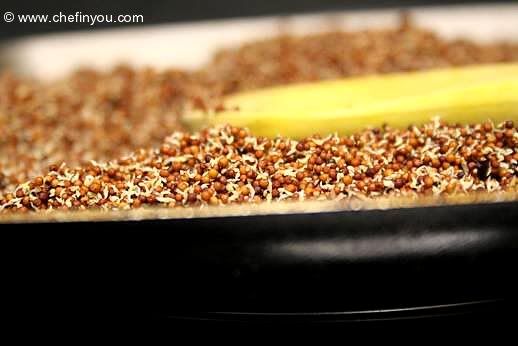 Step 3:
Cool it completely. Otherwise it will lump up while grinding.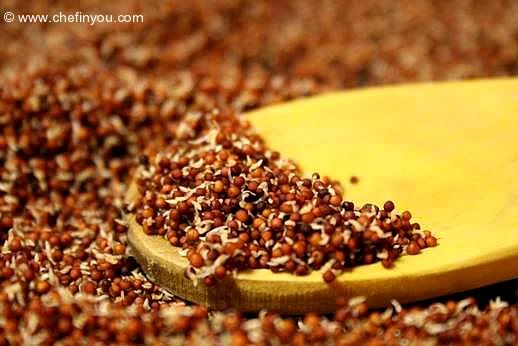 Step 4:
Back in India we would usually go to a food mill where they break it down into fine powder. You can try to replicate it at home too, though it takes longer, more effort and careful monitoring.
I do it in intervals. I do so, to avoid the heat of the processor from getting transferred to the sprouts.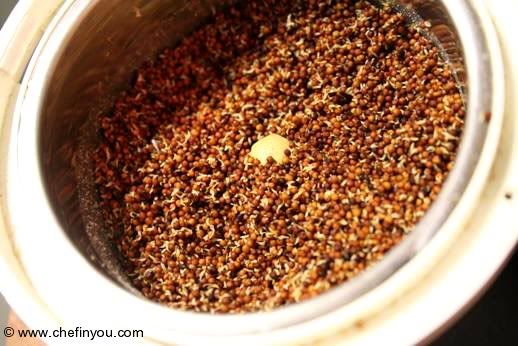 Run it for few seconds, give it a quick stir with a spoon, let it sit for few more seconds to avoid overheating the processor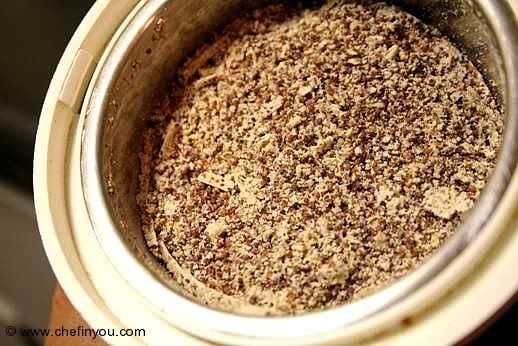 and then grind again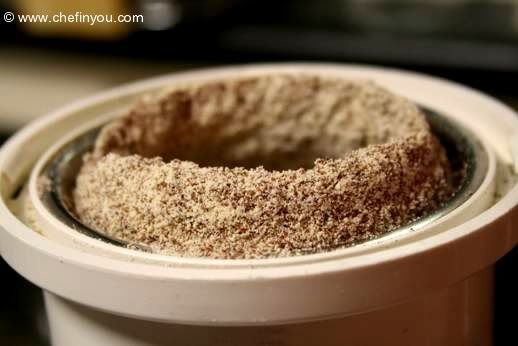 It sure takes a while to complete it - but its worth it- isnt it.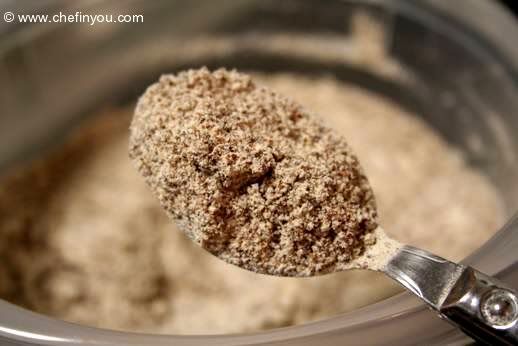 You can see the process pictures
It takes me a complete 20-30 minutes to bring it to the Food mill powder consistency. Its not must that it should be a complete powder. Sometimes I leave it with little bits and pieces like the picture one above this one...but few of you might not prefer hence you can grind it finely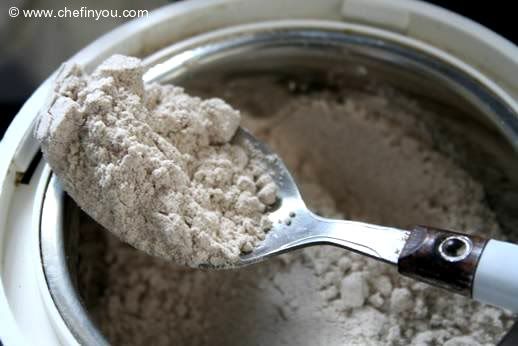 Make sure the flour is cooled (if warm) and then store it in an air tight container. I store my powder in a zip lock bag in the freezer section.
* UPDATED * Method 3 - Longer Method and even more Nutritious
After Bee's comment
, I tried avoiding the Step 2 in the Method 2. I know I roasted it at v v v low heat, the lowest I could muster - but why take chances? I don't want any essential enzymes being destroyed - that's not the point in sprouting is it? Hence I kept the sprouts covered with cheese cloth under the sun for a while until there wasn't any iota of moisture in the them. We are blessed with sunny weather in the place where I live - Make sure its not too hot.
From Bee's comment here
, I tried to keep it in such a place where it was warm enough but not too warm. It took me almost a day - and then ground up the sprouts to make the flour. It works well too. Food Science! What do we do without it!
Hope this helps all of you in eating more nutritious and healthy food day to day :)