Ganapati bappa moriya, Pudhchya Varshi Lavkar yaa
Vinayaka Chaturthi
is round the corner -
August 22nd to be precise.
Having grown up in the Northern parts of India, I know how much of a celebration it is for 10 whole days. During all those years, I was lucky enough to witness the "Ganesh Visarjan" ritual - a procession that takes place on the 11th day
where the statue of Lord Ganesha ( the Hindu Elephant God) is taken and "drowned" in the local lake or at sea. The drowning is to symbolize - "send off/farewell" for the God, back to his abode, while taking away all the suffering of his devotees along with him (like washing away the sins and misfortunes of his devotees). Being a child at that time, I used to cry every single time he was immersed in the water. My mother had tough time convincing me that nothing would happen to him and that he was just given farewell since he wanted to be with his parents (Lord Shiva and Parvathi) after spending the last few days with his devotees :)
I dunno why, but I think I started developing a special liking to Ganesha cos we both "seemed" to share the liking for
Modaks
/
Kozhukattai
's. How is that for a coincidence ;) That remarkable brilliance of the childhood has struck to me ever since. Also Lord Ganesha is a symbol for knowledge and wisdom. I got this picture in my mail like years ago which I still have retained . This image shows for what HE stands for.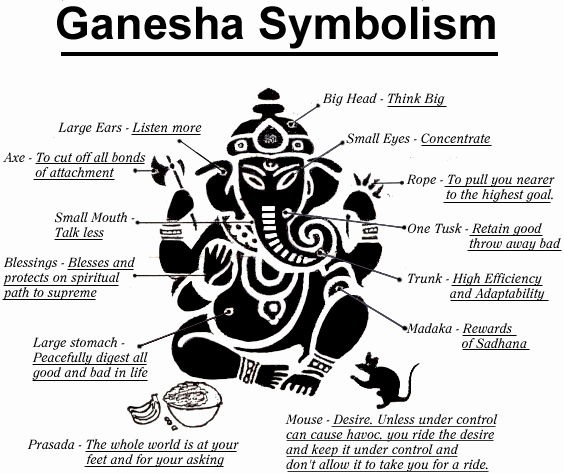 Though I am much wiser now, I still have the fondness for the festival and its recipes. One thing that I insist every non-Indian do when they want to learn about Indian culture is to start with the stories behind our festivals (trust me - we have an impressive number of festivals throughout the year). The more you hear, better the familiarity of the soil. They make for an interesting session and a few people that I have managed to reach out to with such stories - have had that astonished look in their eyes and a curiosity to know more. Lets go to one of the best things about the festival - Of course I meant the food :)
Traditional Recipes
---
-------------------------------<<< See all Ganesh Chaturthi Recipes Recipes >>>
Image sources:
1.
http://www.indianspice.co.za
2.
http://cache.boston.com