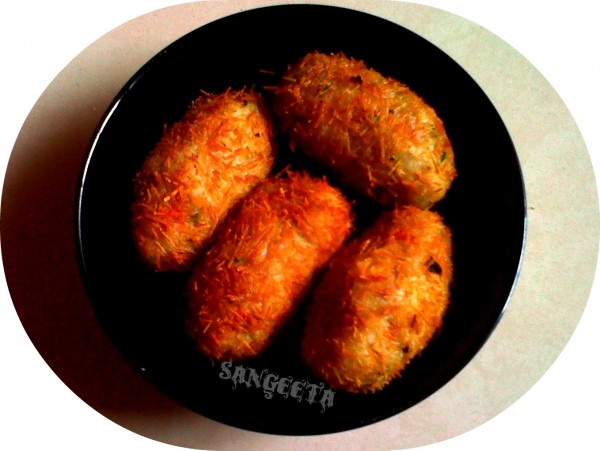 I made this,for Saturday brunch........quick fix,full of cheese yummmm!!! Yes I know it is loaded with calories,than so what once in a while it"s ok,and along with calories,Cheese is high in calcium content and rich in vitamin B. This is especially good for the bones of children, elderly people, and pregnant and lactating women for strengthening bones and cartilages. the vitamin B in cheese helps the body absorb and distribute calcium......:)
Ingredients
1/2 cup potatoes (boiled,peeled and grated)
1 apple ( peeled and grated)
1/2 cup cottage cheese (grated)
1/4 cup mozzarella cheese (grated)
1/4 cup goat cheese (crumbled)
1/4 cup cheddar cheese (grated)
1/4 cup processed cheese (grated)
1/4 cup mix tuti fruity
1/4 cup dry bread crumbs
2 tablespoon all purpose flour
1 tablespoon cornflour
1 tablespoon saffron milk
1 teaspoon crushed pepper / as per taste
1 teaspoon red chilli flakes
1/2 teaspoon oregano
1/2 teaspoon sugar
1/8 teaspoon cinnamon powder
salt to taste
cornflour slurry as needed
Sevai as needed
oil as needed
Method
1
In a bowl mix all ingredients except oil,sevai and corn flour slurry.Mix well and refrigerate for 1/2 an hour.
2
Make big oval balls,dip in cornflour slurry and coat in crushed sevai and fry in hot oil on high flame.
3
Serve hot.....with salsa / ketchup or any spicy dip:)
This recipe was contributed by a ChefInYou member.
Related Recipes You May Like
Be the first to showcase this recipe!

Your Name
Did you make this recipe?
Please click below to share your experiences while you were making this recipe. Thanks for your input!
Have a favorite recipe?
Know a family recipe your mom used to make? Or maybe a go to recipe that works everytime? Share it with your fellow foodies!