Is it raining outside? Then you got to make this dish to get the sunshine within you :) no kidding :) If you know about Aloo Bonda, then you should feel comfortable with Batata Vada, the difference though is that, the latter uses garlic as one of the main ingredients.Technically, I feel it is more a Bonda than Vada :) Batata (Potato)Vada (fritters)is a Maharashtrian delight. I associate this to something like Falafel. Just as how Falafel forms a part, but yet good enough as stand alone, of Pita bread, so is Batata Vada.

It is eaten enclosed within what it is called as "Pav" which is nothing but bun, yet the Vada by itself is delicious enough to be eaten all by itself.Suppose guests come all of a sudden or at v short notice, then this is one dish, I rely on to be a hit without any effort. This is much better than rushing those 10 minutes to your nearby shops to get something. There is hardly any work involved, most of it done by the burner :)
Basic Information
Yield
:
Makes around 10-15 bondas depending on the size
Ingredients
2 potatoes,boiled
3-4 garlic cloves,minced
1-2 green chillies (or as per taste)
1/4 tsp turmeric
1/2 tsp mustard seeds
1/2 tsp cumin seeds (optional)
few sprigs of curry leaves and cilantro
salt to taste
For the batter
About1-1/2 cups of gram flour
pinch of Baking Soda
little salt to taste ( take care since the filling has some salt too)
1/4 tsp of chilli powder (as per taste)
Method
1
Add the potatoes along with the rest of the ingredients for the filling and mash them well till there are no lumps
2
Make small balls out of them.
3
Mix all the ingredients for the Batter, add some water till you get a thick batter. It should be thick enough to make a smooth coating for the potato balls.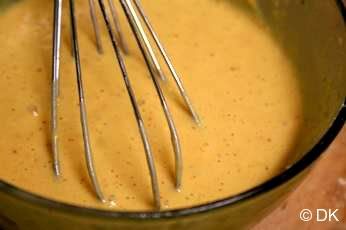 4
Drop the prepared balls in the batter, coat them with all over.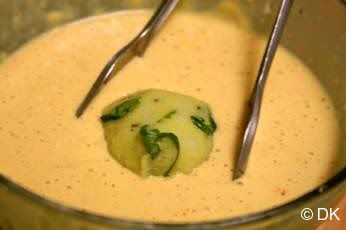 5
Drop these balls in a skillet with hot oil. Fry them. Take care to see that oil is not too hot. Keep it med-high and once you drop the vada inside lower the heat a bit.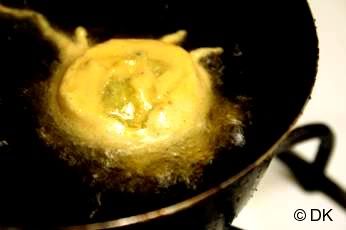 6
Remove when reddish yellow. Serve them either with Pav, or all by itself with some ketchup or green chutney.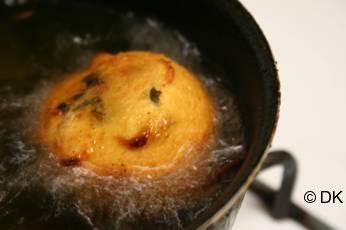 Related Recipes You May Like
Be the first to showcase this recipe!

Your Name
Did you make this recipe?
Please click below to share your experiences while you were making this recipe. Thanks for your input!
Have a favorite recipe?
Know a family recipe your mom used to make? Or maybe a go to recipe that works everytime? Share it with your fellow foodies!