Spiced Chutney Powder / Idli powder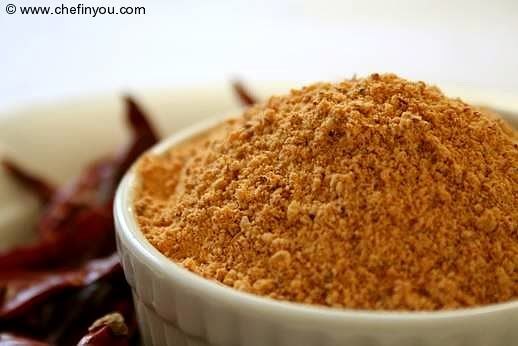 The other day I was returning after dropping TH at his work place. The weather was just the way I like it - cloudy, threatening to rain although not meaning it, the scent of wet ground wafting through helped by the blowing breeze. Yes I love such weather - I am not what you could call as "love the sun" kinda person cos I don't. So I had this window down and driving along with some Tamil music on. I usually hate to blast songs with windows down but with this kinda environment, I cared less. I have my ARR music collection - yes the same
A R Rahman
who's gotten himself an worldly entity thanks to his recent Slumdog Millionaire. I have been his fan ever since his first movie - Roja and I have grown up with my mom scolding me for playing his songs like
stotrams
. Anyways, I had this song playing and while waiting on a signal, an elderly woman alongside me, gave me a smile and asked me which album was I listening to - "I like that tune. Can you tell me the name of the Album? is it new?" Such scenes are rare in America I would say - people don't usually bother enough to talk to you, esp in a traffic signal. Anyways, I couldnt contain my pride when I said that it was A R R and obviously she dint know him - guess he is not that famous yet.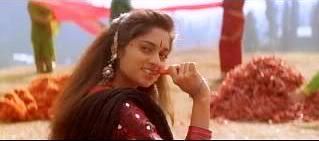 Any tamilian with even a little interest in movies would surely remember this pic. A pic of Actress shalini biting off a red chilli - from the movie Alaipayuthey in Pachai Niramey song - This was the song I was listening to. Talking of red chillies, today's recipe is also all about red chillies. The hotness of dish is of special significance with people in South of India - we like our dishes not very spicy but hot ( pls. note the difference between spicy and hotness). The day to day food affair of a typical South Indian is not all about using Garam Masalas and lot of spices. They are very mild and the only thing that actually stands out most often is the hotness level. Having said this, in our family while growing up, we were not used to too much hot food. (well after marriage I feel that we probably did! TH is (not)equal to anything hot). I love to eat food with lots of heat and i especially love this Idli powder called Milaga Podi where Milaga stands for "Chilli" and Podi stands for "Powder".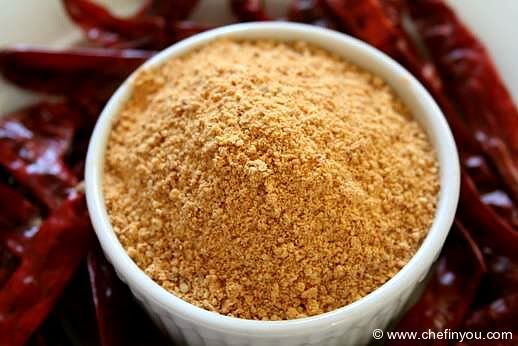 This chilli powder is not same as the ones you get at the stores under that name. This one has a blend of lentils and that which is most often enjoyed with typical South Indian dishes like
Idli's
and
Dosa's
At one point I was so crazy about it that I used to have it with E V E R Y T H I N G - even curd rice! The recipe is immensely simple and quick to make
Basic Information
Yield
:
Makes around 2 cups
Ingredients
Approx 2 cups dried red chillies, with stems removed (or more if you like heat)
about 1/2 cup split black gram (urad dal)
1/2 tsp mustard seeds
1/2 cup bengal gram (channa dal)
1/4 tsp asafoetida
salt to taste
Method
1
In a skillet, heat 1 tsp of vegetable oil and saute all the ingredients together until the lentils turn aromatic and lightly red.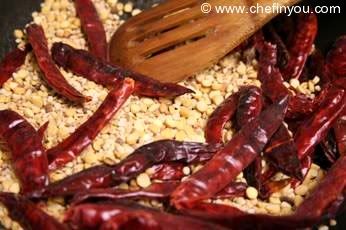 2
Cool well and then blend it in a food processor after adding salt to taste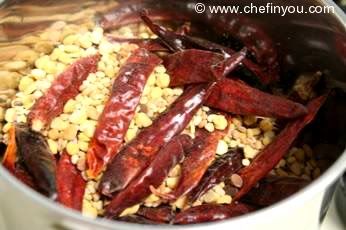 3
If not cooled properly, the powder will have lumps.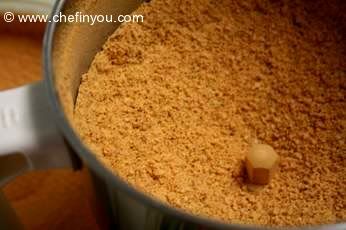 And thats it - store in an air tight container and every time you go for idli's/dosa's, take required amount of powder, add some vegetable oil/sesame oil, mix and then scoop it with a dosa/idli piece and enjoy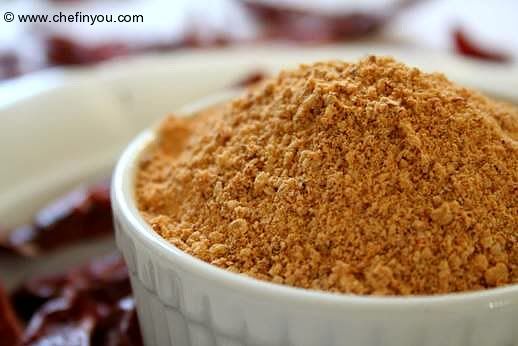 Related Recipes You May Like
Did you make this recipe?
Please click below to share your experiences while you were making this recipe. Thanks for your input!
Have a favorite recipe?
Know a family recipe your mom used to make? Or maybe a go to recipe that works everytime? Share it with your fellow foodies!