Wholewheat Blueberry Buttermilk Pancakes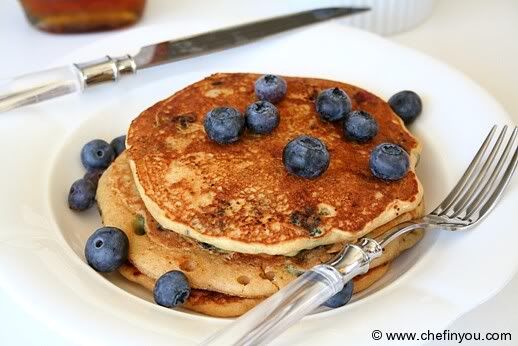 There is nothing to be said about starting the day with some fresh fruits. And if they happen to be berries, its even better. I love all types of berries, but I tend to be wee biased towards blueberries. They are luscious and totally yummy and their taste is only enhanced with these pancakes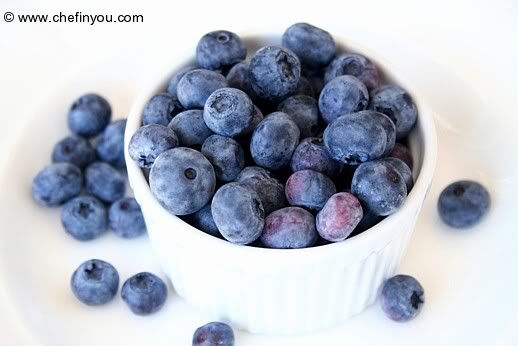 It's a wholewheat pancake with little wheatgerm and oat flour thrown in for enhanced nutrition, a tangy buttermilk bringing it all together to form these pancakes. Such recipes are the ones which time and again prove that Healthy need not be associated with something bland and tasteless. You wont even know that something as delicious as this does not have any fat. No butter, no oil and no egg yolks to fatten you up. No all purpose flour without any nutrition either. And what more - you get protein (from egg whites and buttermilk), loads of fiber and major disease fighting properties from the wholegrains and punch of anti-oxidant richness from Blueberries.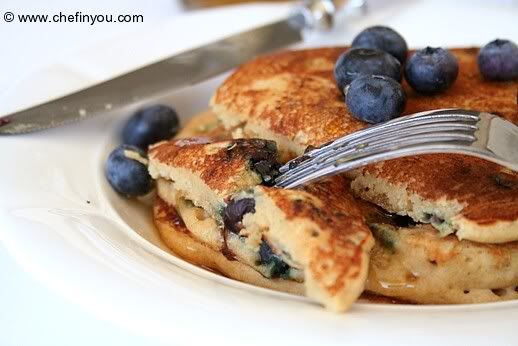 Do you still need convincing? I got this recipe from some Health and Nutrition mag which I modified to enhance its health benefits.
Basic Information
Yield
:
Makes about 6 med-large pancakes
Ingredients
1 cup whole wheat pastry flour
2 tbsp Wheat germ
1/2 cup Oat flour
1-1/2 tsp. baking powder
3/4 tsp. baking soda
1 tbsp honey (if you want more sweet, add another tbsp.)
2 egg whites, beaten slightly  (see substitutes)
1-1/2 cups low fat buttermilk ( or fat free - I personally prefer low fat. Tastes better )
1 tsp vanilla extract
1 cup fresh blueberries, rinsed
Method
1
Add all the dry ingredients together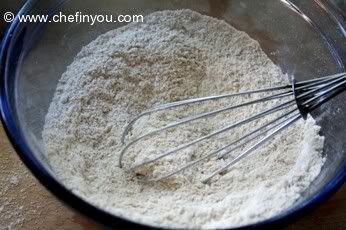 2
Add all the wet together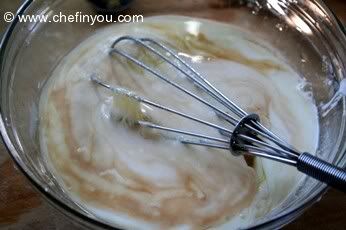 3
Gently mix in both together.
4
Stir in the blueberries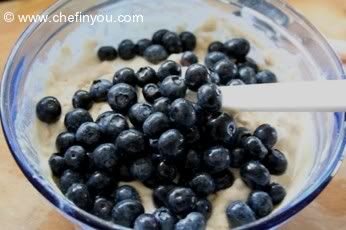 5
In a non stick (you don't need oil for non stick - but if you do, use Pam spray and lightly coat the pan), pour out 1/4 cup of the batter.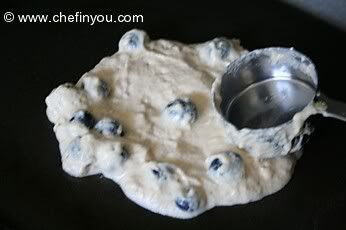 6
Make any geographical area that catches your fancy - well yeah rounds are great too ;). When the surface gets bubbly(!!), flip it over.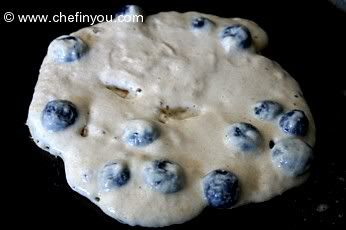 7
Make sure you do this in medium heat. Cook on the other side for few minutes and serve warm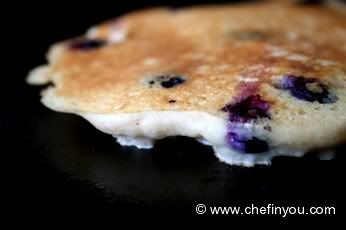 Dont reduce the nutrition by adding lots of maple syrup - a little goes a long way.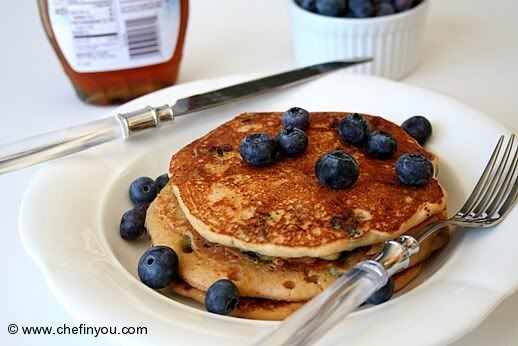 Related Recipes You May Like
Be the first to showcase this recipe!

Your Name
Did you make this recipe?
Please click below to share your experiences while you were making this recipe. Thanks for your input!
Have a favorite recipe?
Know a family recipe your mom used to make? Or maybe a go to recipe that works everytime? Share it with your fellow foodies!