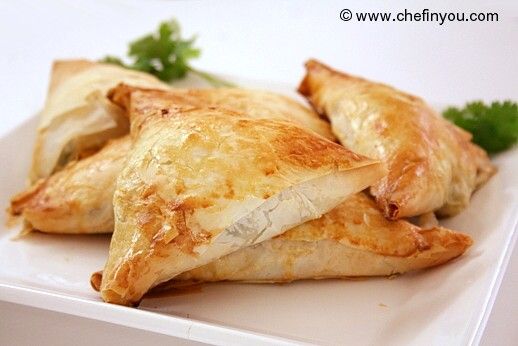 There is something to be said for combining Spinach with feta and ricotta cheese. The sensation that it creates is amazing. The Greek do know how to eat! The creaminess of ricotta and the saltiness of feta combine with earthy spinach to create a wholesome taste. Spanakopita is a Greek savory pastry belonging to the Burek family (may be that's where borekas come from?) enjoyed either by way of Pie or cut into triangles.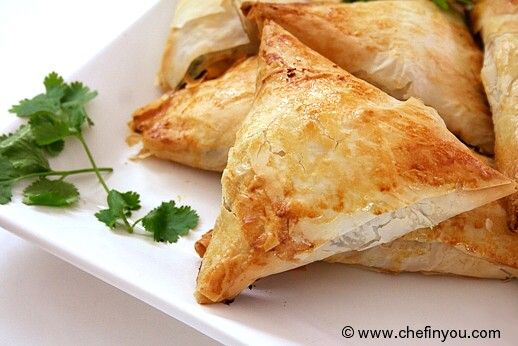 According to Wikipedia "Spanakopita is similar to torta pasqualina, a traditional dish from Liguria, that is very common in Argentina and Uruguay." The world gets closer and closer in so many ways than just internet. Since I was planning it for a potluck, I thought of shaping them as triangles which makes for a great appetizer. Personally, a pie is more of a main course than a quick bite. But if you want to make the pie version see this video (thanks to you tube) below.
In my version, instead of boiling the spinach, I steam them. Also I have omitted the eggs usually present in most of the spanakopita recipes. It dint cause any binding problems since I thought the cheese would do it perfectly by themselves (which they did).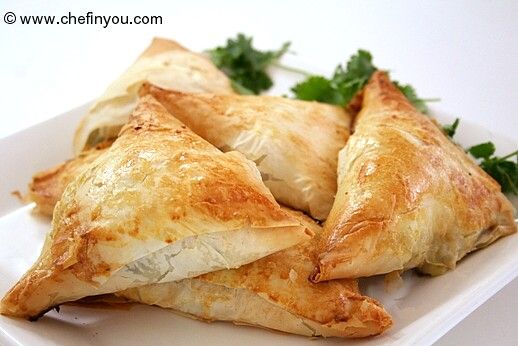 I also eliminated lots of fat by way of cutting down on large quantities of butter which is normally used for this recipe and added Olive oil to compensate for some of the butter. It does not affect the taste as such. Instead it helps the taste of spinach and cheese to shine through.I haven't followed any one particular recipe - just bits and pieces from quite a few available in the net.
References
my kitchen notes
Basic Information
Yield
:
Makes around 8 triangles
Ingredients
About 3 bunches of fresh spinach (about 2 lbs, I think)
1 onion, chopped finely
6-8 spring onions (scallions),chopped
5 oz (150g) feta cheese, crumbled
3 oz (90g) ricotta cheese
1/3 cup (35g or 1-1/4 oz) freshly grated vegetarian parmesan
1 tbsp fresh dill,chopped
1 generous pinch of nutmeg
about 1/2 cup fresh parsley,chopped (cilantro works well too)
12 sheets of filo pastry, thawed (Make your own from here)
about 3-4 tbsp of unsalted butter, melted + some olive oil (or more if required)
Method
1
Trim the stems of spinach and clean them well in cold water. I find that filling the kitchen sink with lots of water and then submerging and rinsing the spinach works well in cleaning out the mud and debris. Drain. Roughly chop and them place it in a steamer.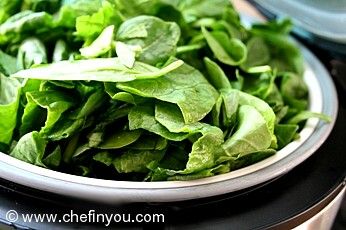 2
Steam for 5-8 minutes or until the leaves are wilted.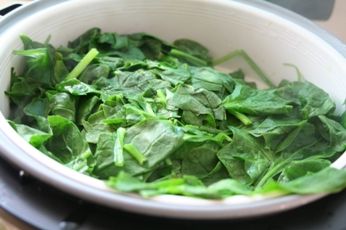 3
Drain. Squeeze out the excess water from the spinach. This step is extremely important to avoid a soggy filling. set aside.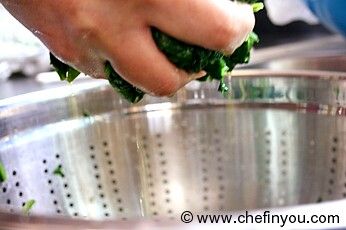 4
Take a skillet and heat 1 tsp of Olive oil and saute the onion until tender.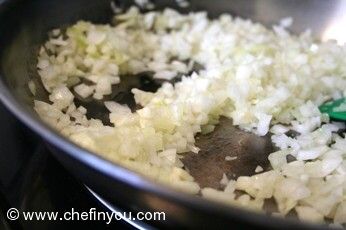 5
Add the spring onions and cook for another 2-3 minutes.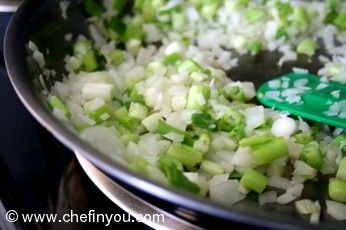 6
Remove from heat and then add the spinach, herbs, cheeses and nutmeg. Season with salt and pepper if required. You can taste it to see if it does not have enough salt from the feta cheese.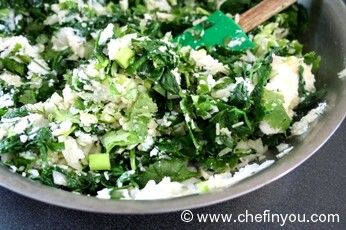 7
Preheat the Oven to 350F (or 180C). Place the 3 sheets of filo at a time (keeping others covered to avoid drying out). Mix the butter and 2 tbsp Olive oil in a small bowl. Brush each sheet with butter mixture and lay on top of another.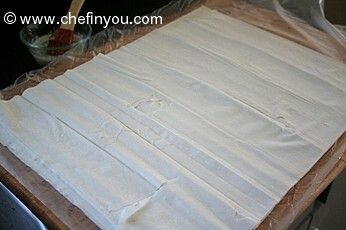 8
Cut into equal thirds lengthwise.
9
Spoon a little filling on an angle at the end of the each strip. You don't want to be overzealous here with the portion since it will slip out later.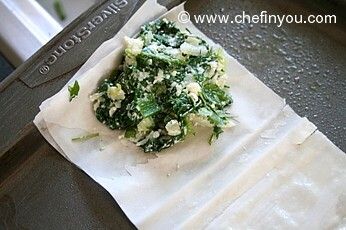 10
Fold the pastry over to enclose the filling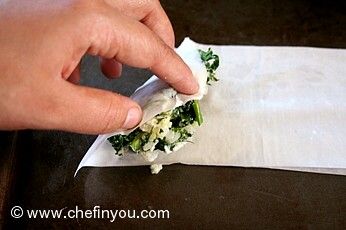 11
to form a triangle.
12
Now take it upwards to form another triangle
13
Repeat this process until you reach the end.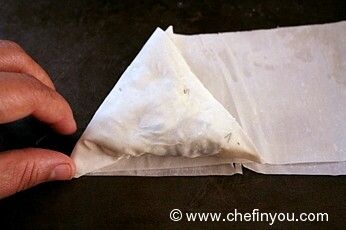 14
You will have a small strip at the end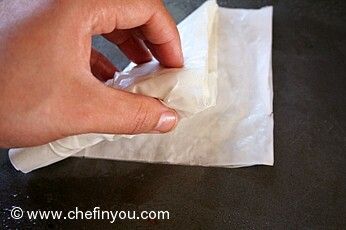 15
which you can grease with little butter mixture and stick to the pastry.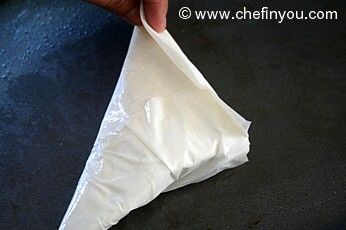 16
Brush the top lightly with butter mixture.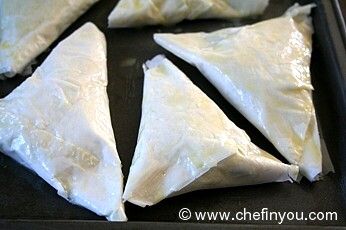 Grease two baking sheets.Bake the triangles for 20-25 minutes or until the pastry is golden brown.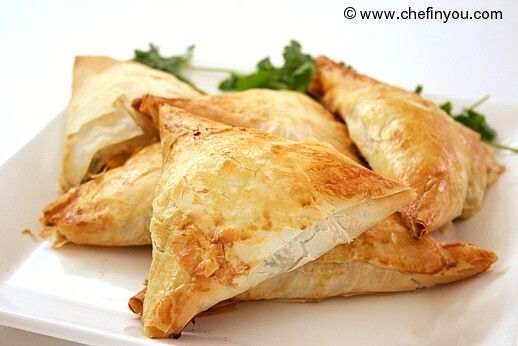 Don't count on leftovers! I assure you, you would be hard pressed to have any left!
Related Recipes You May Like
Did you make this recipe?
Please click below to share your experiences while you were making this recipe. Thanks for your input!
Have a favorite recipe?
Know a family recipe your mom used to make? Or maybe a go to recipe that works everytime? Share it with your fellow foodies!