Chocolate and Hazelnut Bread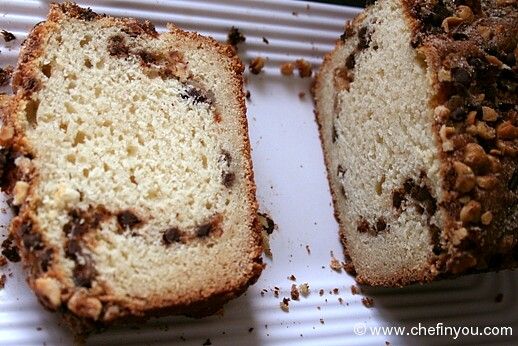 I do not usually bake as and when desire strikes fancy! Its usually planned out. I have this list of to-do bakes for every month with specific ones planned for each week. I have to do it to accommodate my time and schedule not to mention the availability of ingredients in my pantry! Another thing, I try to generally avoid blogging/blogging based activities like drafting, researching, photos, cooking etc. during weekends. For a good reason of course! The reason - 'my better half'.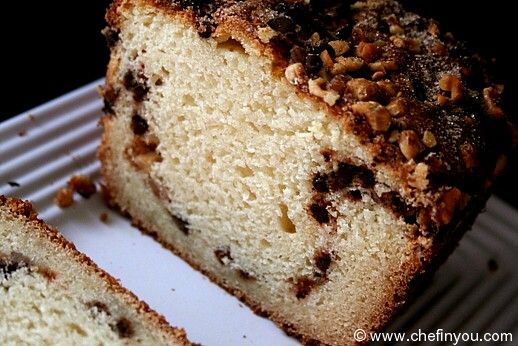 If I don't like to cook when he is around, he doesn't like me to do blogging while he is around! Works fantastic ;). Another thing I don't do is to take photos at night! I like a healthy dose of light around esp. since I do not own those fancy photography lights/ studio. That so called white light in my kitchen makes all my food look yellow which I hate! With so many "no-no's", this chocolate bread is sure a first timer. Yesterday, while I was watering my plants, I heard this sudden wail from the other side of the fence. The kid was crying its heart out and
after straining my ears to eavesdrop
after few minutes, I heard the mother's voice shouting at the kid "NO MORE NUTELLA! You finished half the bottle already"! I don't know why, but after hearing that I had this sudden craving for chocolate and nuts. I do not have nutella at home (OK don't look shocked! I don't like chocolate that much remember?)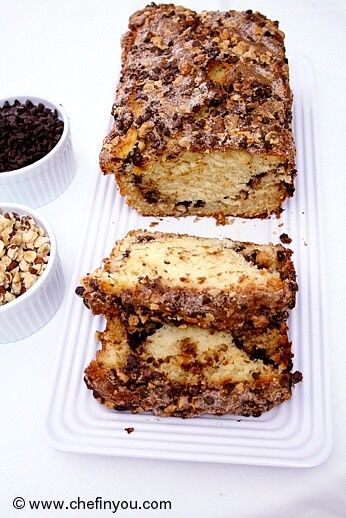 I slowly walked up to my husband, who was home for President's day holiday, and was like I want to bake something chocolaty! He was taken aback and was like "I sent my wife to water some plants and suddenly someone else walks in! Who the heck are you? Chocolate? In this house?". But he played along for a change (!!!) - after effects of Valentine's day may be! - and I sent out to try this recipe I had been meaning to but was not scheduled for this month. It was this amazing hazelnut bread and I checked my pantry thinking I may not have all the ingredients. I was in for a surprise - I had almost all of it! This is a rich bread what with chocolates, butter, sour cream and eggs. I wanted to reduce its calories a bit. Did not want to cut down everything since I wanted to retain the rich taste. But instead of 2 eggs, I used egg whites (protein without unwanted calories) and replaced plain fat free yogurt for the rich sour cream.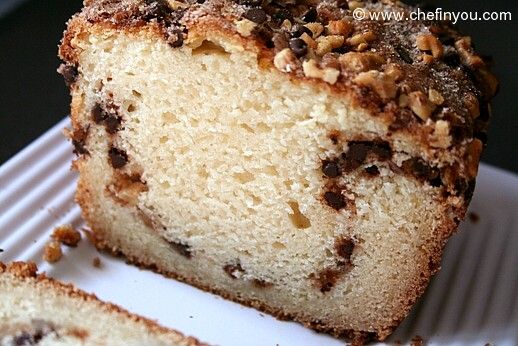 The result was MIND BLOWING! I knew I had a winner in my hands the minute the whole house started smelling delicious while it was baking in the oven. The texture is close to a pound cake. The crust was amazingly crunchy with nuts and chocolate which melted when you put a piece in your mouth. There is this slight hint of almond extract and is moist with egg whites and yogurt. The whole bread was almost over in the next 90 minutes. This was in the evening around 6:00 pm! I took few photos and had to struggle to keep aside one small piece so that I can take a better one the next day! But I was astounded when my husband requested that piece for work!!!! Hence having no time to take photos I just clicked few snaps and packed them off! You have to give this a try!
References
adapted from
taste of home
- yield: 1 loaf (12 slices)
Basic Information
Yield
:
Makes one 9X5 inch loaf
Ingredients
1/2 cup butter, softened
1 cup sugar
4 egg whites (0r 2 whole eggs) [ See egg substitutes]
1 teaspoon almond extract
1 teaspoon vanilla extract
2 cups all-purpose flour
1 teaspoon baking powder
1 teaspoon baking soda
1/4 teaspoon salt
1 cup (8 ounces) thickened plain fat free yogurt
TOPPING
1/3 cup finely chopped hazelnuts
1/3 cup miniature semisweet chocolate chips
3 tablespoons sugar
3/4 teaspoon ground cinnamon
Method
1
In a large bowl, cream butter and sugar until light and fluffy.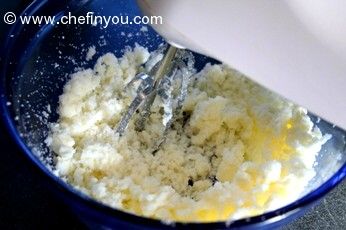 2
Beat the egg whites slightly
3
Add it to the butter mixture and then beat in extracts.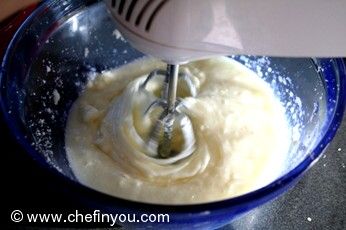 4
Combine the flour, baking powder, baking soda and salt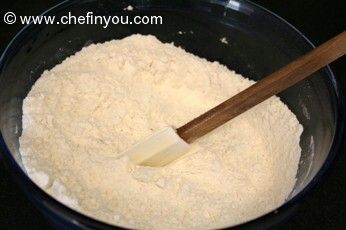 5
gradually add to the creamed mixture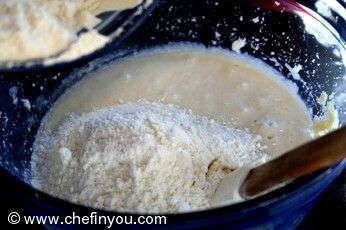 6
alternately with yogurt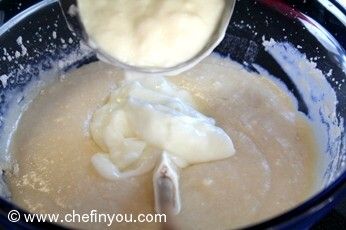 7
Pour half of the batter into a greased 9-in. x 5-in. loaf pan.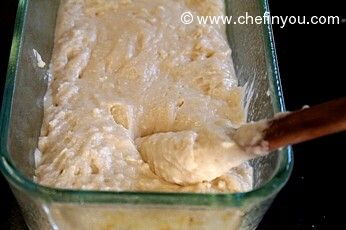 8
Combine topping ingredients;
9
sprinkle two-thirds over the batter.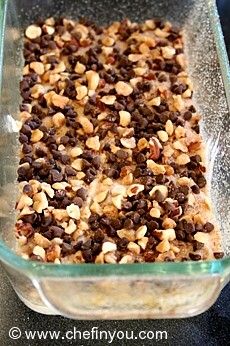 10
Top with remaining batter.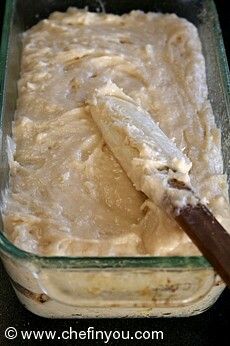 11
Sprinkle with remaining topping; press down lightly.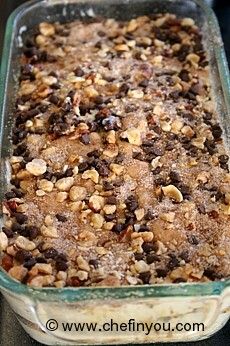 Bake at 350° for 60-70 minutes or until a toothpick inserted near the center comes out clean.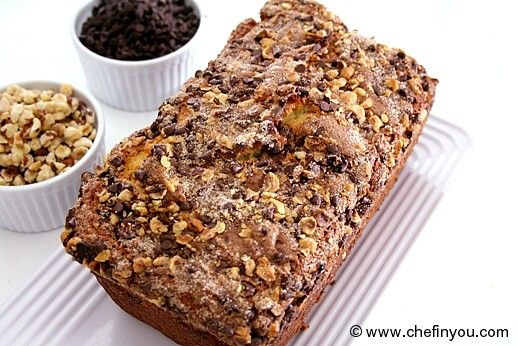 Cool for 10 minutes before removing from pan to a wire rack.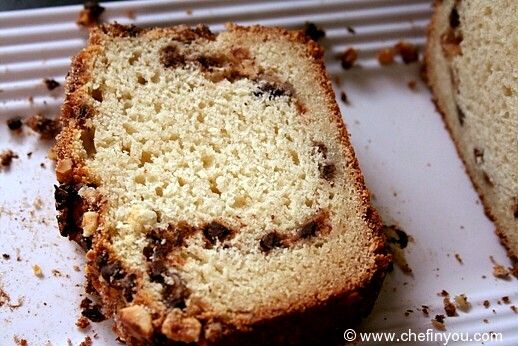 Related Recipes You May Like
Did you make this recipe?
Please click below to share your experiences while you were making this recipe. Thanks for your input!
Have a favorite recipe?
Know a family recipe your mom used to make? Or maybe a go to recipe that works everytime? Share it with your fellow foodies!