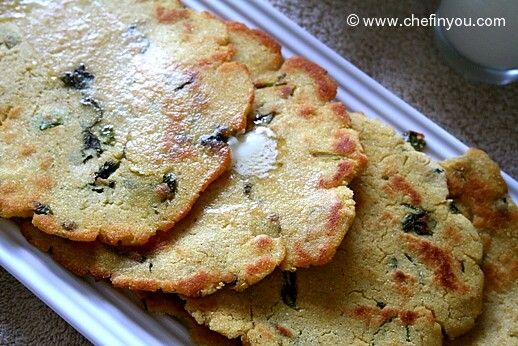 Some people are great when working individually, while few others simply get fantastic results when in a team. Similarly few recipes are amazing all on their own, while the beauty of few others comes out when complimented by a fellow recipe. In this category falls these famous Indian Makki Ki Roti. Yes, you got it right. Nothing beats out the combo of Makki Ki Roti and
Sarson Ka Sag
.
Makki
in Punjabi stands for
Maize
and roti is Indian flatbread. These are prevalent during the North Indian winters. If you are an expert in making Corn Tortillas, then you have it easy while making this too. This is a unleavened bread and the lack of gluten makes it hard to roll out and make it like a traditional roti.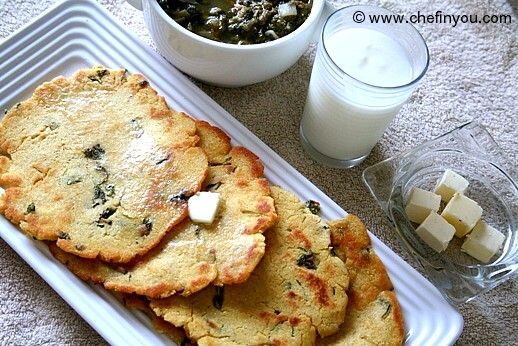 The traditional way of making it would be make balls of the dough, flatten and shaped using the palms of both the hands, where there is a to and fro transfer of the dough between the palms. Thus flattened, it is dropped on a hot Tawa (griddle). It is near impossible to roll this out using a rolling pin. Check out this video to see it in action. But no cause for panic if you find that method hard. Another comparatively easier method is on its way below :) And if you want to make it even more easier get a
Tortilla press!
You can dish out not only the Mexican Corn tortillas but can also enjoy some Indian cornmeal pancakes too :) These Makki Di Roti are usually made plain with the Maize flour, salt and most importantly Ghee. It tends to be little bland although complimenting the
Saag
. You can make it more tasty by adding grated Radish, onions, cilantro etc. Don't skip out on the ghee or the butter ;) Keep your dieting for some other time since this dish needs it for that classic touch. These warm Maize Pancakes topped with butter (which melts in the heat like the first pic), a warm bowl of
Sarson Ka Saag
and a large glass of buttermilk is a picture perfect Punjabi meal. Of course few pieces of butter additionally by the side does not hurt either ;)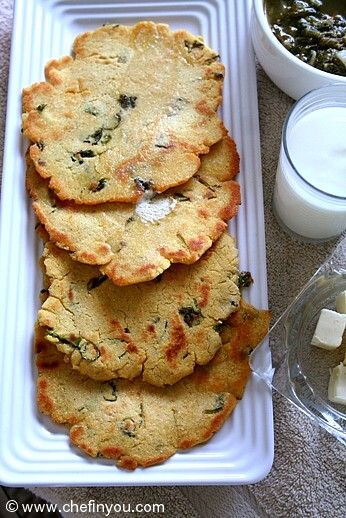 Basic Information
Yield
:
Around 12-15 rotis depending on the size and thickness
Ingredients
3 cups Maize * (available in Indian stores by name of Makki Atta)
1-2 green chillies, sliced thinly (or as per taste)
salt to taste
Hot water to knead the dough
Few sprigs of chopped cilantro/Coriander leaves **
Tips
* Use a combination of fine cornmeal and coarse cornmeal/cornflour, the one used to make polenta if you cannot find Makki Ka Atta -
info courtesy here
** You can use grated radish instead of cilantro. Make sure you squeeze out excess water from the radish since it will turn the dough into a soggy mess! ** Adding very finely chopped onion/scallions instead of radish also make excellent rotis
Method
1
Mix the all the dry ingredients together.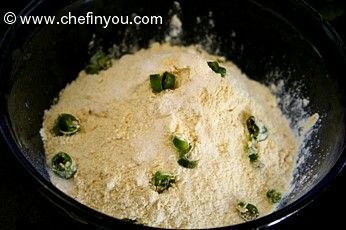 2
Make a hole in the middle and pour hot boiling water to it. Mix it lightly with a spatula (you dont want to burn your hand). Let it sit for few minutes or until you can handle the dough. Why hot water? Well, a friend once informed me that this helps the flour to settle well and also makes it easier to flatten it without getting the edges all frazzled looking. I am not sure but I think I used about 1/2 -3/4 cup of water. Make sure you add carefully. You want a thick smooth dough which is not too tight or soggy. You should be able to shape the dough into a ball without it sticking all over your palm.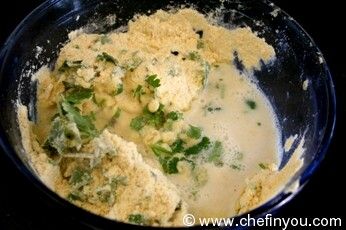 3
Knead it well until smooth.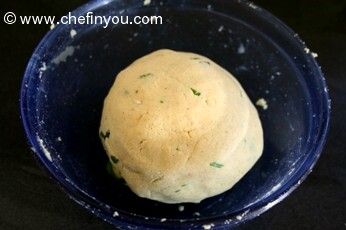 4
Divide the dough into small balls. Place it on a lightly greased zip lock bag or any plastic sheet you have on hand.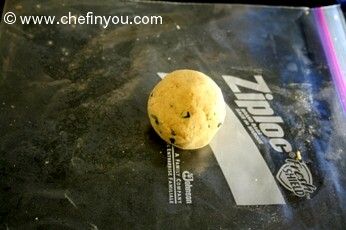 5
Flatten it slightly with your palm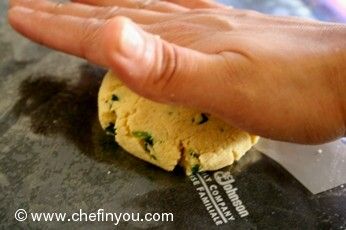 6
Now place another plastic sheet on top of the flattened dough and slowly pat it down to flatten it further.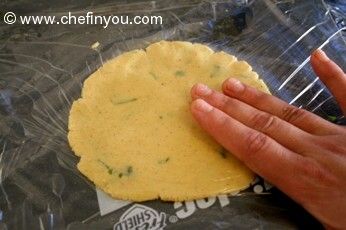 7
I usually flatten it to a size which fits my palm. I do that to make it easier on me to transfer this to a tawa.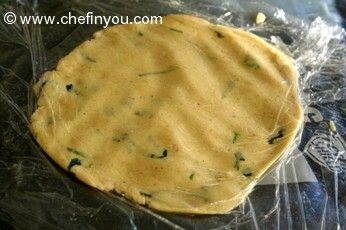 8
Remove the top plastic sheet. Now very slowly transfer the pancake on to your palm. Be careful since the dough can break easily at this point. Thats why the one fitting in your hands will make this process easier. The plastic sheet will peel away easily since you have greased it.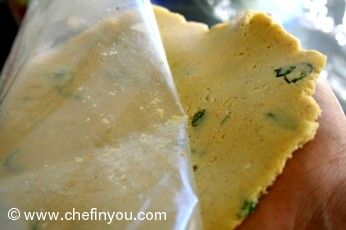 9
Now drop this on to a hot (med-high heat) pan. Drizzle some ghee all around it.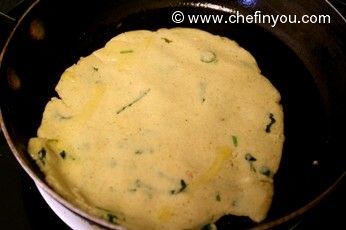 10
Turn it on the other side after about 3-4 minutes of cooking or when you see it turn a deeper shade of yellow and brown red spots.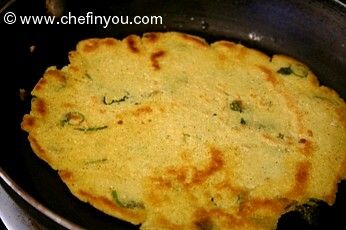 Serve hot topped with some butter. And oh yes, don't forget the
saag!
Related Recipes You May Like
Did you make this recipe?
Please click below to share your experiences while you were making this recipe. Thanks for your input!
Have a favorite recipe?
Know a family recipe your mom used to make? Or maybe a go to recipe that works everytime? Share it with your fellow foodies!